Donati 360 Electric Rotation Swing Jib Crane GBR Series
The GBR Jib crane by
Donati
has a column of polygonal press-forged steel for excellent stability. With 360 degree continuous electrical rotation, lifting capacities up to 10000kg, this Jib crane is ideal for high and/or very bulky loads.
Brand::

Donati

Product Code:

Donati-360-Electric-Rotation-swing-jib-crane

Availability:

In Stock
Call 01384 76961 for price.
These are typically used outdoors, perhaps on wharves for unloading boats or hauling boats onto ramps. They are also great for servicing large operating units of assembling big machinery. Don't need the power? try our custom swing jibs.
Key Features of the Donati 360◦ Electric Rotation Swing Jib Crane
There are a good range of lifting capacities available for the GBR swing jib crane series which starts at 1000kg and goes up to a huge 10000kg. The slewing arm of the jib can be any length from 4 metres up to 10.5 metres long. The longer the length the longer the reach and operational range of the jib.
The highly rigid column has excellent stability and incorporates a base plate for a series of bolts & log-bolts for fixing to the ground securely.
The topmost part of the column is fitted with a special flange where the rotation thrust bearing is fitted.
The slewing jib arm can be made from 'H' beam or a box beam depending on the length and lifting capacity required. High resistance bolts are used for fixing the arm to the thrust bearing where rotation is ensured by the motor reducer.
Though the arm can slew through 360 degrees it is possible to limit the movement with electrical slewing limit switches. The jib crane can rotate in each direction thanks to both base and thrust bearings. The motor-reducer is fitted to the arm and includes a braking motor.
There are two electrical control panels operate the jib rotation and the hoisting system. A hanging push button control panel will operate the hoist and trolley systems.
Need More Information?
If you need any additional information or just a quotation then simply contact the sales team at Lifting Gear Direct by calling 01384 76961 or fill out the contact form with your details.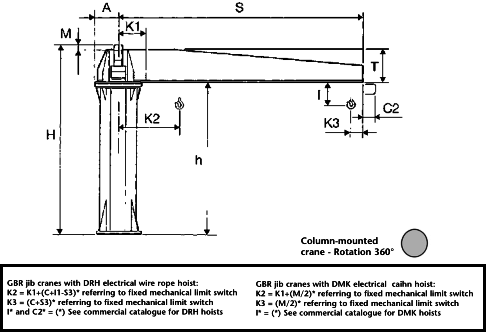 Lifting Capacity
Under beam
Overall Dimensions (mm)
 
Lifting Capacity
Under beam
Overall Dimensions (mm)
kg
h
H
K1
A
M
T
L
L1
kg
h
H
K1
A
M
T
L
L1
1000
4000
4665
525
425
335
330
160
–
4000
4000
4785
575
475
112
673
–
300
4000
4665
525
425
305
360
170
–
4000
4785
575
475
112
673
–
300
4000
4665
525
425
305
360
170
–
4000
4785
575
475
112
673
–
300
4000
4785
525
425
385
400
180
–
4000
4820
588
488
147
673
–
300
4000
4785
525
425
385
400
180
–
4000
4820
588
488
47
773
–
300
4000
4785
525
425
220
565
–
300
4000
4820
686
586
47
773
–
300
4000
4785
525
425
220
565
–
300
4000
4820
686
586
44
776
–
300
4000
4785
525
425
220
565
–
300
4000
4820
686
586
44
776
–
300
4000
4850
575
475
233
617
–
300
4000
4826
686
586
-6
826
–
300
4000
4850
575
475
233
617
–
300
4000
4915
686
586
89
826
–
300
4000
4850
575
475
227
623
–
300
4000
4915
686
586
89
826
–
300
4000
4850
575
475
227
623
–
300
4000
4902
700
600
72
830
–
300
4000
4850
575
475
227
623
–
300
4000
4902
700
600
72
830
–
300
4000
4850
575
475
227
625
–
300
4000
4902
700
600
72
830
–
300
2000
4000
4665
525
425
265
400
180
–
5000
4000
4785
725
475
112
673
–
300
4000
4785
525
425
335
450
190
–
4000
4820
738
488
97
723
–
300
4000
4785
525
425
335
450
190
–
4000
4820
738
488
97
723
–
300
4000
4785
525
425
220
565
–
300
4000
4915
836
586
192
723
–
300
4000
4785
525
425
220
565
–
300
4000
4915
836
586
139
776
–
300
4000
4850
575
475
227
623
–
300
4000
4915
836
586
89
826
–
300
4000
4850
575
475
227
623
–
300
4000
4915
836
586
89
826
–
300
4000
4850
575
475
177
673
–
300
4000
4915
836
586
89
826
–
300
4000
4850
575
475
177
673
–
300
4000
4902
850
600
72
830
–
300
4000
4820
588
488
147
673
–
300
4000
4952
850
600
122
830
–
300
4000
4820
588
488
147
673
–
300
4000
4952
850
600
122
830
–
300
4000
4820
588
488
97
723
–
300
4000
4952
923
673
122
830
–
300
4000
4820
686
586
97
723
–
300
4000
4952
923
673
122
830
–
300
4000
4820
686
586
97
723
–
300
4000
4952
923
673
122
830
–
300
3200
4000
4785
525
425
335
450
190
–
6300
4000
4820
738
488
97
723
–
300
4000
4785
575
475
168
617
–
300
4000
4820
836
586
97
723
–
300
4000
4785
575
475
168
617
–
300
4000
4820
836
586
47
773
–
300
4000
4850
575
475
227
623
–
300
4000
4965
836
586
192
773
–
300
4000
4850
575
475
227
623
–
300
4000
4965
836
586
189
776
–
300
4000
4820
588
488
147
673
–
300
4000
4952
850
600
176
776
–
300
4000
4820
588
488
147
673
–
300
4000
4952
850
600
126
826
–
300
4000
4820
686
586
97
723
–
300
4000
4952
923
673
126
826
–
300
4000
4820
686
586
47
773
–
300
4000
4952
923
673
122
830
–
300
4000
4820
686
586
44
776
–
300
4000
4952
923
673
122
830
–
300
4000
4820
686
586
44
776
–
300
4000
4915
686
586
89
826
–
300
8000
4000
5003
736
586
177
826
–
300
4000
4915
686
586
89
826
–
300
4000
5003
736
586
177
826
–
300
4000
4915
686
586
89
826
–
300
4000
5003
736
586
173
830
–
300
 
4000
5080
750
600
250
830
–
300
4000
5080
750
600
250
830
–
300
4000
5080
823
673
250
830
–
300
10000
4000
5080
750
600
250
830
–
300
4000
5080
750
600
250
830
–
300
4000
5080
750
600
250
830
–
300
4000
5080
823
673
250
830
–
300
Lifting Capacity

Arm

Speed of Arm

Motor Power

Tilting momentum

Max. Fall on the logbolt

Weight

crane

Column by m

Lifting Capacity

Arm

Speed of Arm

Motor Power

Tilting momentum

Max. Fall on the logbolt

Weight

crane

Column by m

kg

s

m

r.p.m.

Peripheric

m/min

KW

kNm

kN

kg

kg

kg

s

m

r.p.m.

Peripheric

m/min

KW

kNm

kN

kg

kg

1000

4

0.93

23.4

0.25

62

79

1100

122.5

4000

4

0.91

22.9

0.37

208

126

1575

141.6

4.5

0.93

26.3

0.25

71

79

1140

122.5

4.5

0.91

25.7

0.37

239

126

1770

176.5

5

0.93

29.2

0.25

81

79

1170

122.5

5

0.91

28.6

0.37

270

126

1835

176.5

5.5

0.57

19.7

0.25

90

79

1300

122.5

5.5

0.64

22.1

0.55

301

183

2415

273.5

6

0.57

21.5

0.25

102

79

1335

122.5

6

0.64

24.1

0.55

335

183

2525

273.5

6.5

0.57

23.3

0.25

112

79

1460

122.5

6.5

0.53

21.6

0.55

367

183

2510

183.6

7

0.57

25

0.25

125

79

1500

122.5

7

0.53

23.3

0.55

402

183

2805

229

7.5

0.57

27.3

0.25

135

79

1540

122.5

7.5

0.53

25

0.55

435

183

2860

229

8

0.43

26.9

0.25

149

126

1800

141.6

8

0.53

26.6

0.55

471

183

2965

229

8.5

0.43

23

0.25

160

126

1850

141.6

8.5

0.44

23.5

0.55

505

183

3280

274

9

0.43

24.3

0.25

181

126

2280

141.6

9

0.44

24.9

0.55

540

183

3350

274

9.5

0.43

25.6

0.25

195

126

2360

141.6

9.5

0.44

26.2

0.55

578

183

3575

274

10

0.43

27

0.25

208

126

2440

141.6

10

0.35

22.1

0.55

619

183

3655

341.6

10.5

0.43

28.3

0.25

221

126

2520

176.5

10.5

0.35

23.2

0.55

648

183

3725

341.6

2000

4

0.87

21.9

0.37

109

79

1160

122.5

5000

4

0.91

22.9

0.37

253

126

1705

176.5

4.5

0.78

22

0.37

126

79

1300

122.5

4.5

0.77

21.7

0.55

291

183

2105

219.7

5

0.78

24.5

0.37

142

79

1340

122.5

5

0.77

24.1

0.55

328

183

2150

219.7

5.5

0.78

27

0.37

161

79

1380

122.5

5.5

0.66

22.7

0.55

365

183

2415

183.6

6

0.78

29.4

0.37

179

79

1530

152.6

6

0.66

24.8

0.55

405

183

2560

183.6

6.5

0.53

21.5

0.37

202

126

1860

141.6

6.5

0.53

21.5

0.55

446

183

2850

229

7

0.53

23.2

0.37

221

126

2045

176.5

7

0.53

23.1

0.55

485

183

2910

229

7.5

0.53

24.8

0.37

241

126

2130

176.5

7.5

0.53

24.8

0.55

525

183

2980

229

8

0.53

26.5

0.37

260

126

2185

176.5

8

0.53

26.5

0.55

567

183

3360

274

8.5

0.49

26.4

0.37

282

183

2550

219.7

8.5

0.36

19.3

0.75

608

183

3715

341.6

9

0.49

27.9

0.37

303

183

2590

219.7

9

0.36

20.4

0.75

649

183

3785

341.6

9.5

0.49

29.5

0.37

326

183

2870

273.5

9.5

0.41

24.4

0.75

691

183

4025

311.5

10

0.4

25.4

0.37

348

183

2880

183.6

10

0.33

20.6

0.75

733

183

4110

311.5

10.5

0.4

26.6

0.37

372

183

2925

183.6

10.5

0.33

21.6

0.75

777

183

4180

311.5

3200

4

0.93

23.4

0.37

164

79

1380

152.6

6300

4

0.96

24.1

0.55

327

183

2050

219.7

4.5

0.91

25.7

0.37

191

126

1490

141.6

4.5

0.98

27.7

0.55

376

183

2250

183.6

5

0.91

28.6

0.37

215

126

1525

141.6

5

0.78

24.6

0.55

425

183

2340

183.6

5.5

0.63

21.8

0.37

242

126

1755

141.6

5.5

0.66

22.7

0.75

475

183

2470

183.6

6

0.63

23.8

0.37

268

126

1940

176.5

6

0.66

24.8

0.75

526

183

2740

229

6.5

0.59

24.2

0.37

295

183

2330

219.7

6.5

0.53

21.5

0.75

577

183

3045

274

7

0.49

21.8

0.37

322

183

2585

273.5

7

0.53

23.1

0.75

630

183

3425

341.6

7.5

0.5

23.8

0.37

353

183

2575

183.6

7.5

0.48

22.5

0.75

682

183

3675

311.5

8

0.5

25.4

0.37

381

183

2695

183.6

8

0.48

24

0.75

736

183

3820

311.5

8.5

0.4

21.6

0.37

411

183

2990

229

8.5

0.48

25.5

0.75

788

183

3910

311.5

9

0.4

22.8

0.37

440

183

3055

229

9.5

0.35

21

0.55

472

183

3235

229

8000

4

0.88

22.1

1.5

401

183

2365

183.6

10

0.35

22

0.55

502

183

3485

274

4.5

0.88

24.9

1.5

461

183

2425

183.6

10.5

0.35

23.2

0.55

535

183

3555

274

5

0.7

22.1

1.5

522

183

2725

229

5.5

0.59

20.4

1.5

583

183

3130

274

6

0.59

22.3

1.5

644

183

3470

341.6

6.5

0.54

21.9

1.5

705

183

3670

311.5

10000

4

0.88

22.2

1.5

487

183

2750

229

4.5

0.88

25

1.5

560

183

2985

274

5

0.74

23.2

1.5

633

183

3060

274

5.5

0.67

23.1

1.5

707

183

3540

311.5