Donati DMK Electric Hoist
The Donati DMK electric hoist system offers a good range of configurations with a variety of sizes and capacities, lifting speeds and mounting options.
Brand::

Donati

Product Code:

donati-dmk-electric-hoist

Availability:

In Stock
Call 01384 76961 for price.
Designed with reliability in mind and built by a reputable manufacturer, this family of hoisting equipment is well suited to lifting jobs of all shapes and sizes.
You can purchase the Donati DMK electric hoist as a standard fixed execution hoist with eye (as standard) or hook suspension point; fitted with a push travel trolley; electric trolley; low headroom electric trolley or as a climbing hoist.

The range of configuration options makes it suitable for many types of lifting operations. There are a good range of lifting capacities to choose from up to 4000kg, with one or two lifting speeds.
Depending upon the model chosen single chain fall hoists with single lifting speeds have a 4 pole motor with lifting speeds of 4, 6.3, 8 or 16 m/min and 2,5, 3.2 or 4 m/min for the double fall models.
Double speed electric hoists incorporate pole change motors with single chain fall speeds of 4 ½ or 8/2,5 m/min and double fall hoists with 2,5/0,8 or 3,2/1 m/min speeds.
Donati DMK Electric Hoist Maintenance & Lifting Capacities
The modular make up of the Donati hoisting system means an easy to maintain and set up hoist arrangement, it is also a very compact hoist.
Hoists with lifting capacities up to 2000kg will have one chain fall, these models incorporate a bottom block which joins the chain to the turning hook. Over 2000kg the hoist will have two chain falls and a cast aluminium hook block, this is totally enclosed and has a steel transmission reel (thermally treated) and has pockets for housing the chain.
Limiting switches come as standard for hoists over 2000kg, but only on request for hoists less than 2000kg. For overload protection the single fall hoists incorporate a clutch device and double chain fall hoists incorporate an electro-magnetic device.
The standard hook run length is 3 metres although we can usually do other lengths on request.
The Donati DMK has an epicyclical crown wheel reduction gear and conical braked self braking motor for highly efficient braking.
Other key DMK Electric Hoist properties include:
400v – 3 phase – 50 Hz voltage supply
Low control voltage at 48v
IP55 motor protection with class 'F' insulation
Less than 85dB noise levels
FEM (ISO) ; 2M (M5)
You can find a range of other hoists from Donati and top brands like
Yale
and
Demag
on our site. So if this model does not fit the bill then there are plenty of other options available.
Contact Us for All Your Hoisting Equipment Needs
If you are in the dark about any aspect of the
electric hoists
we sell
, whether they are
hoists built by Donati
or any other manufacture, get in touch with
Lifting Gear Direct
. For a friendly, informative conversation on the phone you can call 01384 76961. You can also
email us
via our online contact form to learn more about our varied products and services.
Size

Chain falls

Type DMK

*Hoist weight (KG)

Overall Dimensions (mm)

 
 
 
 

A

A1

B

C

C1

C2

D

E

F

G

H

I

1

1

154C

23

285

23

253

355

19

177

120

138

80

70

14

27

1

132D/M

23

285

23

253

355

19

177

120

138

80

70

14

27

1

134C

23

285

23

253

355

19

177

120

138

80

70

14

27

1

112D/M

23

285

23

253

355

19

177

120

138

80

70

14

27

2

1

232C

33

320

23

268

438

19

237

135

160

92

70

14

27

1

234C/M

33

320

23

268

438

19

237

135

160

92

70

14

27

1

234D

33

320

23

268

438

19

237

135

160

92

70

14

27

1

214C/M

33

320

23

268

438

19

237

135

160

92

70

14

27

1

214D

33

320

23

268

438

19

237

135

160

92

70

14

27

3

1

332C

50

392

28

293

514

25

274

160

202

114

70

14

30

1

334C/M

50

392

28

293

514

25

274

160

202

114

70

14

30

1

334D

50

392

28

293

514

25

274

160

202

114

70

14

30

1

314C/M

50

392

28

293

514

25

274

160

202

114

70

14

30

1

314D

50

392

28

293

514

25

274

160

202

114

70

14

30

4

1

432C

80

483

32

332

583

27

317

200

245

146

90

20

35

1

434C

80

483

32

332

583

27

317

200

245

146

90

20

35

1

434D

80

483

32

332

583

27

317

200

245

146

90

20

35

1

424L

80

483

32

332

583

27

317

200

245

146

90

20

35

1

414C

80

483

32

332

583

27

317

200

245

146

90

20

35

1

414D

80

483

32

332

583

27

317

200

245

146

90

20

35

2

434L.I

105

670

25

395

583

50

317

200

432

71

90

25

/

2

424D.I

105

670

25

395

583

50

317

200

432

71

90

25

/

2

434L.J

105

670

25

395

583

50

317

200

432

71

90

25

/

2

424D.J

105

670

25

395

583

50

317

200

432

71

90

25

/

2

424L.J

105

670

25

395

583

50

317

200

432

71

90

25

/

2

454D.J

105

670

25

395

583

50

317

200

432

71

90

25

/

2

424L.K

105

670

25

395

583

50

317

200

432

71

90

25

/

2

454D.K

105

670

25

395

583

50

317

200

432

71

90

25

/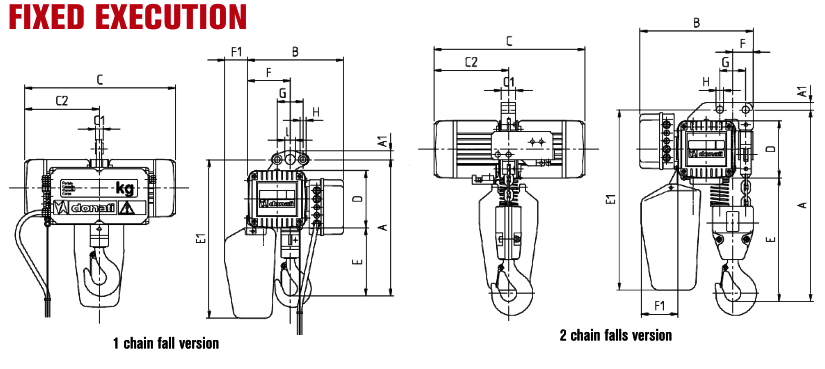 DIMENSIONS WITH TROLLEY:
DMK size

Chain falls

DMT trolley type

*Hoist trolley weight (KG)

Overall dimensions (mm)

 
 
 
 

J

L

M

M1

ØN

O

P

**Q

R

S

ØT

1

1

SM2

29

340

100

236

54

52

72

20

/

/

/

M16

1

EM3

58

355

135

362

-10

80

98

54

260(280)

165

90

M14

1

CM3

41

355

135

362

-10

80

98

54

240

108

/

M14

2

1

SM2

39

375

100

236

58

52

72

20

/

/

/

M16

1

EM3

68

390

135

362

-6

80

98

54

260(280)

165

90

M14

1

CM3

51

390

135

362

-6

80

-98

54

240

108

/

M14

3

1

SM3

62

456

135

362

-3

80

98

54

/

/

/

M14

1

EM3

85

456

135

362

-3

80

98

54

260(280)

165

90

M14

1

CM3

68

456

135

362

-3

80

98

54

240

108

/

M14

4

1

SM4

105

560

160

402

-15

100

120

60

/

/

/

M20

1

EM4

130

560

160

402

-15

100

120

60

266(286)

165

96

M20

1

CM4

115

560

160

402

-15

100

120

60

264

160

/

M20

2

SM5

160

755

201

510

70

125

155

55

/

/

/

M24

2

EM5

190

755

201

510

70

125

155

55

260(280)

208

110

M24

2

CM5

170

755

201

510

70

125

155

55

340

198

/

M24

* Weight referred to 3m hook-run hoist

 
 

** Dimensions for 2-speed trolley in brackets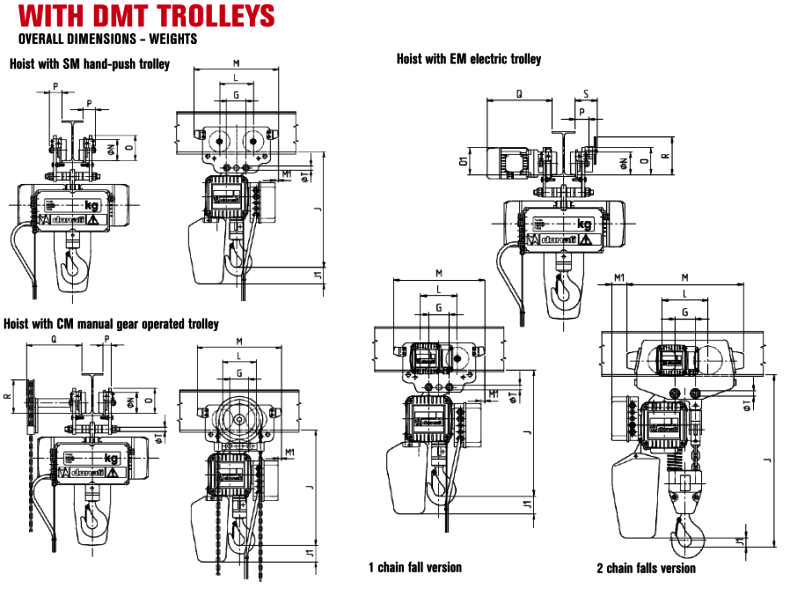 Capacity (KG)

FEM Group

Type DMK

Chain falls

Lifting speed (m/min)

Lifting motor power (KW)

DMT trolley for hoist and related speed (m/min) E= electric trolley S= manual push trolley C= manual gear operated trolley

Trolley motor power (KW) Speed (m/min)

Chain type

Weight of 1 meter of chain (KG/M)

 
 
 
 

1 speed

2 speed

1 speed

2 speed

S

C

11

14

22

7 22

11

14

22

7 22

 
 

125

2m

154C

1

8

/

0.2

/

SM2

CM3

EM3

EM3

EM3

EM3

0.12

0.18

0.25

0.08

4 x 12

0.38

0.25

2m

132D

1

8

2.5

0.2

0.06

SM2

CM3

EM3

EM3

EM3

EM3

0.12

0.18

0.25

0.08

4 x 12

0.38

0.25

2m

232C

1

16

/

0.4

/

SM2

CM3

EM3

EM3

EM3

EM3

0.12

0.18

0.25

0.08

5 x 15

0.58

0.25

250

2m

134C

1

4

/

0.2

/

SM2

CM3

EM3

EM3

EM3

EM3

0.12

0.18

0.25

0.08

4 x 12

0.38

0.25

2m

112D

1

4

1.2

0.2

0.06

SM2

CM3

EM3

EM3

EM3

EM3

0.12

0.18

0.25

0.08

4 x 12

0.38

0.25

2m

234C

1

8

/

0.4

/

SM2

CM3

EM3

EM3

EM3

EM3

0.12

0.18

0.25

0.08

5 x 15

0.58

0.25

2m

234D

1

8

2.5

0.4

0.12

SM2

CM3

EM3

EM3

EM3

EM3

0.12

0.18

0.25

0.08

5 x 15

0.58

0.25

2m

332C

1

16

/

0.8

/

SM3

CM3

EM3

EM3

EM3

EM3

0.12

0.18

0.25

0.08

7 x 21

1.16

0.25

500

2m

214C

1

4

/

0.4

/

SM2

CM3

EM3

EM3

EM3

EM3

0.12

0.18

0.25

0.08

5 x 15

0.58

0.25

2m

214D

1

4

1.2

0.4

0.12

SM2

CM3

EM3

EM3

EM3

EM3

0.12

0.18

0.25

0.08

5 x 15

0.58

0.25

2m

334C

1

8

/

0.8

/

SM3

CM3

EM3

EM3

EM3

EM3

0.12

0.18

0.25

0.08

7 x 21

1.16

0.25

2m

334D

1

8

2.5

0.8

0.24

SM3

CM3

EM3

EM3

EM3

EM3

0.12

0.18

0.25

0.08

7 x 21

1.16

0.25

2m

432C

1

16

/

1.6

/

SM4

CM4

EM4

EM4

EM4

EM4

0.12

0.18

0.25

0.08

10 x 28

2.42

0.25

1000

2m

314C

1

4

/

0.8

/

SM3

CM3

EM3

EM3

EM3

EM3

0.12

0.18

0.25

0.08

7 x 21

1.16

0.25

2m

314D

1

4

1.2

0.8

0.24

SM3

CM3

EM3

EM3

EM3

EM3

0.12

0.18

0.25

0.08

7 x 21

1.16

0.25

2m

434C

1

8

/

1.6

/

SM4

CM4

EM4

EM4

EM4

EM4

0.12

0.18

0.25

0.08

10 x 28

2.42

0.25

2m

434D

1

8

2.5

1.6

0.5

SM4

CM4

EM4

EM4

EM4

EM4

0.12

0.18

0.25

0.08

10 x 28

2.42

0.25

1600

2m

424L

1

6.3

/

2.5

/

SM4

CM4

EM4

EM4

EM4

EM4

0.12

0.18

0.25

0.08

10 x 28

2.42

0.25

1Am

424D

1

6.3

2.1

2

0.65

SM4

CM4

EM4

EM4

EM4

EM4

0.12

0.18

0.25

0.08

10 x 28

2.42

0.25

2000

2m

414C

1

4

/

1.6

/

SM4

CM4

EM4

EM4

EM4

EM4

0.12

0.18

0.25

0.08

10 x 28

2.42

0.25

2m

414D

1

4

1.2

1.6

0.5

SM4

CM4

EM4

EM4

EM4

EM4

0.12

0.18

0.25

0.08

10 x 28

2.42

0.25

2500

2m

434L.I

2

4

/

2.5

/

SM5

CM5

EM5

EM5

EM5

EM5

0.17

0.25

0.37

0.08

10 x 28

2.42

0.25

2m

424D.I

2

3.2

1

2

0.65

SM5

CM5

EM5

EM5

EM5

EM5

0.17

0.25

0.37

0.08

10 x 28

2.42

0.25

3200

1Am

434L.J

2

4

/

2.5

/

SM5

CM5

EM5

EM5

EM5

EM5

0.17

0.25

0.37

0.08

10 x 28

2.42

0.25

1Am

424D.J

2

3.2

1

2

0.65

SM5

CM5

EM5

EM5

EM5

EM5

0.17

0.25

0.37

0.08

10 x 28

2.42

0.25

2m

424L.J

2

3.2

/

2.5

/

SM5

CM5

EM5

EM5

EM5

EM5

0.17

0.25

0.37

0.08

10 x 28

2.42

0.25

2m

454D.J

2

2.5

0.8

2

0.65

SM5

CM5

EM5

EM5

EM5

EM5

0.17

0.25

0.37

0.08

10 x 28

2.42

0.25

4000

1Am

424L.K

2

3.2

/

2.5

/

SM5

CM5

EM5

EM5

EM5

EM5

0.17

0.25

0.37

0.08

10 x 28

2.42

0.25

1Am

454D.K

2

2.5

0.8

2

0.65

SM5

CM5

EM5

EM5

EM5

EM5

0.17

0.25

0.37

0.08

10 x 28

2.42

0.25
SINGLE PHASE SPECIFICATIONS:
Capacity (KG)

FEM Group

Type DMK

Chain falls

Lifting speed (m/min)

Lifting motor power (KW)

DMT trolley for hoist and related speed (m/min) E= electric trolley S= push trolley C= manual gear operated trolley

Trolley motor power (KW)

Speed (m/min)

Chain type

Weight of 1 meter of chain (KG/M)

 
 
 
 

1 speed

2 speed

1 speed

2 speed

S

C

11

14

22

7

22

11

14

22

7

22 

 
 

100

1Bm

132M

1

8

/

0.2

/

SM2

CM3

EM3

/

/

/

0.1

/

/

/

4 x 12

0.38

200

1Bm

112M

1

4

/

0.2

/

SM2

CM3

EM3

/

/

/

0.1

/

/

/

4 x 12

0.38

1Bm

234M

1

8

/

0.4

/

SM2

CM3

EM3

/

/

/

0.1

/

/

/

5 x 15

0.58

400

1Bm

214M

1

4

/

0.4

/

SM2

CM3

EM3

/

/

/

0.1

/

/

/

5 x 15

0.58

1Bm

334M

1

8

/

0.8

/

SM3

CM3

EM3

/

/

/

0.1

/

/

/

7x 21

1.16

800

1Bm

314M

1

4

/

0.8

/

SM3

CM3

EM3

/

/

/

0.1

/

/

/

7 x 21

1.16