Donati Manually Rotated Jib Crane GBA / GBP Series
Brand::

Donati

Product Code:

Donati-Manually-Rotated-jib-crane

Availability:

In Stock
Call 01384 76961 for price.
What Donati Manually Rotated Jib cranes Are Available?
Donati Manually rotated Jib cranes come in 2 main variations; the GBA which is column mounted and the GBP which is wall mounted.
They are available in 3 types, "C" "T" & "H"
The "C" version is made from special folded sheet metal to create a trolley run inside. This makes the crane lighter and so is much easier to handle and slew. A specific type of trolley will be needed for this type. These swing jibs are available in SWL from 63kg up to 1000kg and with Jib arms from 2m up to 7m.
The "T" version is cantilevered using a "T" beam. This enables maximum height and jib arm run capabilities. The self supporting cantilevered arm fits straight to the rotation tube. A more standard type of trolley can be used on these cranes. They are available in SWL from 63kg up to 2000kg and with Jib arms from 2m up to 5m.
The "H" version is over braced from "H" beam section to enable a trolley to carry the hoist on the lower flange. Stay bolts connect the beam to the rotation tube. This is the largest swing jib in this range and is available in SWL from 125kg up to 2000kg and with Jib arms from 4m up to 8m.
Power for the Hoist
Electrical power supply will be needed to power an electric hoist and maybe a powered beam trolley. A connection box will be positioned near to the top of the column or wall bracket; a festoon system will carry the power line along the beam safely to the hoist.
The column mounted models can be fitted with a main on/off switch on request; this can be locked for extra safety.
Call LGD for more Details.
Please refer to tables below for all the different variations on offer, if you need more assistance then please give us a call on 01384 76961 or email us your requirements. Remember we also stock a wide range of other lifting equipment which will compliment your jib crane.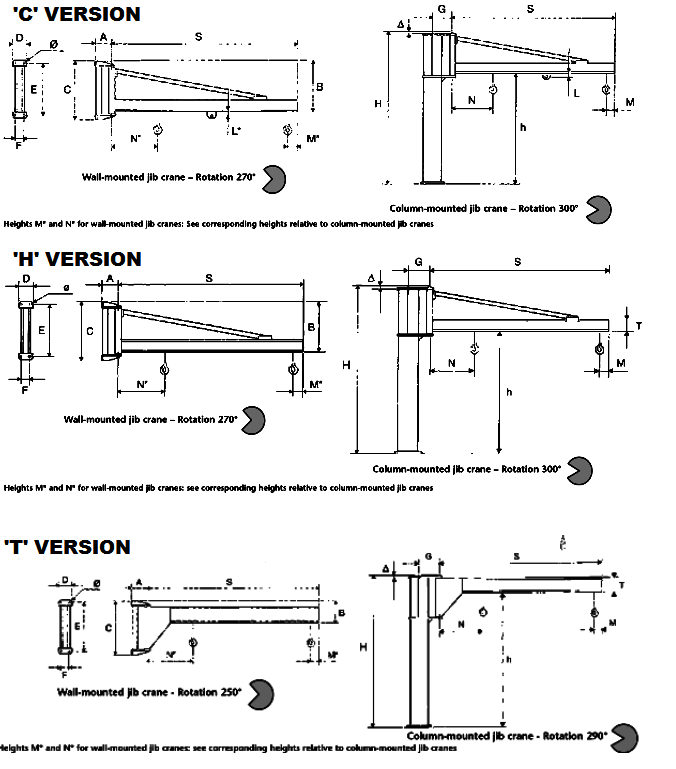 H - Version
                                                                                                      GBP Wall- Mounted                                             GBA Column Mounted
Lifting Capacity
Arm (S)
Size of Jib Crane
 
Type
Overall Dimensions (mm)
 
Weight of Crane
 
Total Height - H (m)
Type
Under Beam
Overall Dimensions (mm)
Weight
(KG)
(m)
Bracket
Column
 
A
B
C
D
E
F
Ø
kg
Base
Max.
 
h
G
M
N
T 
?
Crane (kg)
Column by m (kg)
125
6
C
T
H02C60
210
820
930
250
870
190
22
160
3.5
5.5
H35T60
2738
323
190
900
160
17
285
35
7
C
T
H02C70
210
820
930
250
870
190
22
180
3.5
5.5
H35T70
2738
323
190
960
160
17
305
35
8
D
U
H02D80
210
820
930
250
870
190
22
251
3.5
5.5
 H35U80
2738
386
190
1070
200
17
425
43.5
250
4
C
T
H02C40
210
820
930
250
870
190
22
122
3.5
5.5
 H35T40
2738
323
190
780
160
17
247
35
5
C
T
H02C50
210
820
930
250
870
190
22
141
3.5
5.5
 H35T50
2738
323
190
840
160
17
266
35
6
D
U
H02D60
210
820
930
250
870
190
22
200
3.5
5.5
 H35U60
2738
386
190
950
200
17
374
43.5
7
D
U
H02D70
210
820
930
250
870
190
22
226
3.5
5.5
 H35U70
2738
386
190
1010
200
17
400
43.5
8
E
V
H03E80
255
1100
1240
300
1160
220
34
303
4
6
H40V80
2980
443
190
1140
200
20
620
64
500
4
D
U
H02D40
210
820
930
250
870
190
22
149
3.5
5.5
 H35U40
2738
386
190
830
200
17
323
43.5
5
D
U
H02D50
210
820
930
250
870
190
22
175
3.5
5.5
 H35U50
2738
386
190
890
200
17
349
43.5
6
E
V
H03E60
255
1100
1240
300
1160
220
34
262
4
6
H40V60
2980
443
190
1020
200
20
559
64
7
E
V
H03E70
255
1100
1240
300
1160
220
34
293
4
6
H40V70
2980
443
190
1080
200
20
590
64
8
F
Z
H03F80
255
1100
1240
300
1160
220
34
389
4
6
H40Z80
2980
513
190
1140
240
20
771
75.2
1000
4
E
V
H03E40
255
1100
1240
300
1160
220
34
200
4
6
H40V40
2980
443
190
900
200
20
497
64
5
E
V
H03E50
255
1100
1240
300
1160
220
34
231
4
6
H40V50
2980
443
190
960
200
20
528
64
6
F
Z
H03F60
255
1100
1240
300
1160
220
34
312
4
6
H40Z60
2980
513
190
1020
240
20
694
75.2
7
F
Z
H03F70
255
1100
1240
300
1160
220
34
351
4
6
H40Z70
2980
513
190
1080
240
20
733
75.2
8
F
Z
H03F85
255
1100
1240
300
1160
220
34
430
4
6
H40Z85
2980
513
190
1140
152
20
812
75.2
1600
6
F
Z
H03F67
255
1100
1240
300
1160
220
34
312
4
6
H40Z67
2980
513
210
1040
240
20
694
75.2
2000
4
F
Z
H03F40
255
1100
1240
300
1160
220
34
233
4
6
H40Z40
2980
513
210
920
240
20
615
75.2
5
F
Z
H03F50
255
1100
1240
300
1160
220
34
272
4
6
H40Z50
2980
513
210
980
240
20
654
75.2
T - Version
                                                                                                  GBP Wall- Mounted                                             GBA Column Mounted

Lifting Capacity
Arm (S)
Size of Jib Crane
 
Type
Overall Dimensions (mm)
Weight of Crane
 
Total Height - H (m)
Type
Under Beam
Overall Dimensions (mm)
Weight
(KG)
nominal (m)
Bracket
Column
 
A
B
C
D
E
F
Ø
kg
Base
Max.
 
h
G
M
N
T (IPE)
?
Crane (kg)
Column by (m)
63
4
A
R
T01A40
170
248
644
200
594
150
15
95
3
5
T30R40
2800
228
190
655
160
12
148
18.2
5
A
R
T01A50
170
248
644
200
594
150
15
111
3
5
T30R50
2800
228
190
715
160
12
164
18.2
125
2
A
R
T01A20
170
248
644
200
594
150
15
63
3
5
T30R20
2800
228
190
595
160
12
116
18.2
3
A
R
T01A30
170
248
644
200
594
150
15
79
3
5
T30R30
2800
228
190
655
160
12
132
18.2
4
B
S
T01B40
170
288
644
200
594
150
15
125
3
5
T30S40
2760
274
190
725
200
12
200
22.8
5
B
S
T01B50
170
288
644
200
594
150
15
147
3
5
T30S50
2760
274
190
785
200
12
222
22.8
250
2
B
S
T01B20
170
288
644
200
594
150
15
81
3
5
T30S20
2760
274
190
665
200
12
156
22.8
3
B
S
T01B30
170
288
644
200
594
150
15
103
3
5
T30S30
2760
274
190
725
200
12
178
22.8
4
C
T
T02C40
210
346
930
250
870
190
22
195
3.5
5.5
T35T40
3212
323
190
800
240
17
320
35
5
C
T
T02C50
210
346
930
250
870
190
22
226
3.5
5.5
T35T50
3212
323
190
860
240
17
351
35
6
D
U
T02D62
210
406
930
250
870
190
22
340
/
/
/
/
/
190
1000
300
/
/
/
6
E
V
T03E62
255
500
1240
300
1160
220
34
410
4
6
T40V62
3640
443
190
1065
300
20
705
64
7
E
V
T03E72
255
500
1240
300
1160
220
34
555
4
6
T40V72
3580
443
190
1135
360
20
852
64
500
2
C
T
T02C20
210
346
930
250
870
190
22
134
3.5
5.5
T35T20
3212
323
190
740
240
17
260
35
3
C
T
T02C30
210
346
930
250
870
190
22
165
3.5
5.5
T35T30
3212
323
190
800
240
17
290
35
4
D
U
T02D40
210
406
930
250
870
190
22
256
3.5
5.5
T35U40
3152
386
190
880
300
17
430
43.5
5
D
U
T02D50
210
406
930
250
870
190
22
298
3.5
5.5
T35U50
3152
386
190
940
300
17
472
43.5
6
E
V
T03E65
255
500
1240
300
1160
220
34
482
4
5
T40V65
3580
443
190
1140
360
20
779
64
6
F
Z
/
/
/
/
/
/
/
/
/
4
6
T40Z62
3580
513
190
1140
360
20
864
75.2
7
E
V
T03E75
255
540
1240
300
1160
220
34
596
4
4
T40V75
3540
443
190
1270
400
20
893
64
7
F
Z
/
/
/
/
/
/
/
/
/
4
6
T40Z72
3540
513
190
940
1270
400
978
75.2
1000
2
D
U
T02D20
210
406
930
250
870
190
22
172
3.5
5.5
T35U20
3152
386
190
820
300
17
346
43.5
3
D
U
T02D30
210
406
930
250
870
190
22
214
3.5
5.5
T35U30
3152
386
190
880
300
17
388
43.5
4
E
V
T03E40
255
499
1240
300
1160
220
34
381
4
6
T40V40
3580
443
190
945
360
20
678
64
5
E
V
T03E50
255
499
1240
300
1160
220
34
438
4
6
T40V50
3580
443
190
1005
360
20
735
64
6
F
Z
T03F65
255
540
1240
300
1160
220
34
530
4
4
T40Z65
3540
513
190
1190
400
20
912
75.2
7
F
Z
T03F75
255
499
590
1240
300
1160
34
688
/
/
/
/
/
190
1270
450
/
/
/
2000
2
E
V
T03E20
255
499
1240
300
1160
220
34
267
4
6
T40V20
3580
443
210
900
360
20
564
64
3
E
V
T03E30
255
499
1240
300
1160
220
34
324
4
6
T40V30
3580
443
210
960
360
20
621
64
4
F
Z
T03F40
255
540
1240
300
1160
220
34
400
4
6
T40Z40
3540
513
210
1070
400
20
780
75.2
5
F
Z
T03F50
255
590
1240
300
1160
220
34
535
/
/
/
/
/
210
1220
450
/
/
/
 C - Version
                                                                                                        GBP Wall- Mounted                                             GBA Column Mounted
Lifting Capacity
Arm (S)
Size of Jib Crane
 
Type
Overall Dimensions (mm)
Weight of Crane
 
Total Height - H (m)
Type
Under Beam
Overall Dimensions (mm)
Weight
(KG)
nominal (m)
True length (mm)
Bracket
Column
 
A
B
C
D
E
F
Ø
kg
Base
Max.
 
h
G
L
M
N
?
Crane (kg)
Column by (m)
63
4
4056
A
R
C01A40
170
552
644
200
594
150
15
74
3
5
C30R40
2496
228
34
140
585
12
127
18.2
5
5056
A
R
C01A50
170
552
644
200
594
150
15
87
3
5
C30R50
2496
228
34
140
645
12
140
18.2
6
6056
B
S
C01B60
170
552
644
200
594
150
15
100
3
5
C30S60
2496
274
34
140
705
12
175
22.8
7
7056
B
S
C01B70
170
552
644
200
594
150
15
113
3
5
C30S70
2496
274
34
140
765
12
188
22.8
125
2
2056
A
R
C01A20
170
552
644
200
594
150
15
48
3
5
C30R20
2496
228
34
140
525
12
101
18.2
3
3056
A
R
C01A30
170
552
644
200
594
150
15
61
3
5
C30R30
2496
228
34
140
585
12
114
18.2
4
4056
B
S
C01B40
170
552
644
200
594
150
15
74
3
5
C30S40
2496
274
34
140
585
12
149
22.8
5
5056
B
S
C01B50
170
552
644
200
594
150
15
87
3
5
C30S50
2496
274
34
140
645
12
162
22.8
6
6066
C
T
C02C60
210
820
930
250
870
190
22
135
3.5
5.5
C35T60
2738
323
34
140
785
17
260
35
7
7066
C
T
C02C70
210
820
930
250
870
190
22
150
3.5
5.5
C35T70
2738
323
34
140
845
17
275
35
250
2
2056
B
S
C01B20
170
552
644
200
594
150
15
48
3
5
C30S20
2496
274
34
140
525
12
123
22.8
3
3056
B
S
C01B30
170
552
644
200
594
150
15
61
3
5
C30S30
2496
274
34
140
585
12
136
22.8
4
4066
C
T
C02C40
210
820
930
250
870
190
22
105
3.5
5.5
C35T40
2738
323
34
140
665
17
230
35
5
5066
C
T
C02C50
210
820
930
250
870
190
22
120
3.5
5.5
C35T50
2738
323
34
140
725
17
245
35
6
6066
D
U
C02D60
210
820
930
250
870
190
22
202
3.5
5.5
C35U60
2738
386
43
156
820
17
376
43.5
7
7066
D
U
C02D70
210
820
930
250
870
190
22
228
3.5
5.5
C35U70
2738
386
43
156
880
17
402
43.5
500
2
2066
C
T
C02C20
210
820
930
250
870
190
22
75
3.5
5.5
C35T20
2738
323
34
265
730
17
200
35
3
3066
C
T
C02C30
210
820
930
250
870
190
22
90
3.5
5.5
C35T30
2738
323
34
265
790
17
215
35
4
4066
D
U
C02D40
210
820
930
250
870
190
22
113
3.5
5.5
C35U40
2738
386
34
265
820
17
287
43.5
5
5066
D
U
C02D50
210
820
930
250
870
190
22
129
3.5
5.5
C35U50
2738
386
34
265
880
17
303
43.5
6
6076
E
V
C03E60
255
1100
1240
300
1160
220
34
270
4
6
C40V60
2980
443
43
156
880
20
567
64
7
7076
E
V
C03E70
255
1100
1240
300
1160
220
34
300
4
6
C40V70
2980
443
43
156
940
20
597
64
1000
2
2066
D
U
C02D20
210
820
930
250
870
190
22
93
3.5
5.5
C35U20
2738
386
60
306
790
17
267
43.5
3
3066
D
U
C02D30
210
820
930
250
870
190
22
163
3.5
5.5
C35U30
2738
386
60
306
850
17
337
43.5
4
4076
E
V
C03E40
255
1100
1240
300
1160
220
34
212
4
6
C40V40
2980
443
60
306
910
20
509
64
5
5076
E
V
C03E50
255
1100
1240
300
1160
220
34
241
4
6
C40V50
2980
443
60
306
970
20
538
64
6
6076
F
Z
C03F60
255
1100
1240
300
1160
220
34
298
4
6
C40Z60
2980
513
60
306
1100
20
680
75.2
7
7076
F
Z
C03F70
255
1100
1240
300
1160
220
34
331
4
6
C40Z70
2980
513
60
306
1160
20
713
75.2