GIS GPM Electric Chain Hoist
Buy the GIS GPM electric chain hoist from Lifting Gear Direct to get the best prices and back up services around.
Brand::

GIS

Product Code:

GIS GPM

Availability:

In Stock
Call 01384 76961 for price.
The GPM electric hoist is a new, light but powerful hoist offered by GIS. This is a high quality electric chain hoist from a name you can trust.
The new profile chain carries heavier loads with a lower wear rate, it is grade 8 and phosphate coated and is 7% smaller in diameter than round steel chain. Because of the smaller chain the drive mechanism can be reduced in size too, this in turn makes the hoist even lighter at just 14kg.
Available in 125 & 250 kg capacities this compact hoist is quick and easy to use with easy maintenance.
Key Features of the GIS GPM Electric Hoist
aluminium housing
2 lifting speeds
easy opening eye on top of top hook available
quiet operation
5 pocket chain wheel
slip clutch
DC spring brake
3metres height of lift as standard
long life even with heavy use.
8:1 safety factor
IP65 protection
3 phase, low voltage controls with geared limit switches as standard
single phase models are direct control - without controllers or limit switches
The GIS GPM electric hoist is a simple lifting device and uses no sensitive electronics. Maintenance is simple with no special tool needed. All connections within the hoists housing are polygonal. This enables much quicker access and disassembly during maintenance procedures. There is a dry running slip clutch as standard which is located outside the drive train for convenience.
The controller is ergonomically designed to fit in the palm comfortably and has parallel switches for easier use. The GPM hoist has a permanently lubricated gearbox to provide excellent longevity and smooth running. The geared limiters have high positioning accuracy. Operation is quiet thanks to the 3 step drive with helical gears.
The loading hooks are of the swivel variety for easier load attachment and handling.
Also available is the versatile chain handy (as shown in picture library) enabling easy product positioning through two speed toggle switch & flexible hand guide control. It can be used for both left & right hand operation.
Standard GPM Hoist Features
Eye suspension comes as standard though you can specify a hook suspension if required. The control voltage is a low 42V with a single phase motor with 1 speed or a 3 phase motor with dual speeds. The standard height of lift is 3 metres. The controller pendant includes a 1.8m control cable as standard.
Optional extras
Direct control
Different voltages
Chain handy tool – for single handed operation
Hook suspension
Locking load hook
Geared limit switch with 2 extra emergency stops
Parallel switching of several chain hoists
Operational hours counter
Brake with manual release
Push trolleys
Lifting slings
Chain containers
Contacting LGD
Lifting Gear Direct can supply all you need in an electric hoist, call us today if need more information. Remember we also carry out services and inspections on all hoisting devices.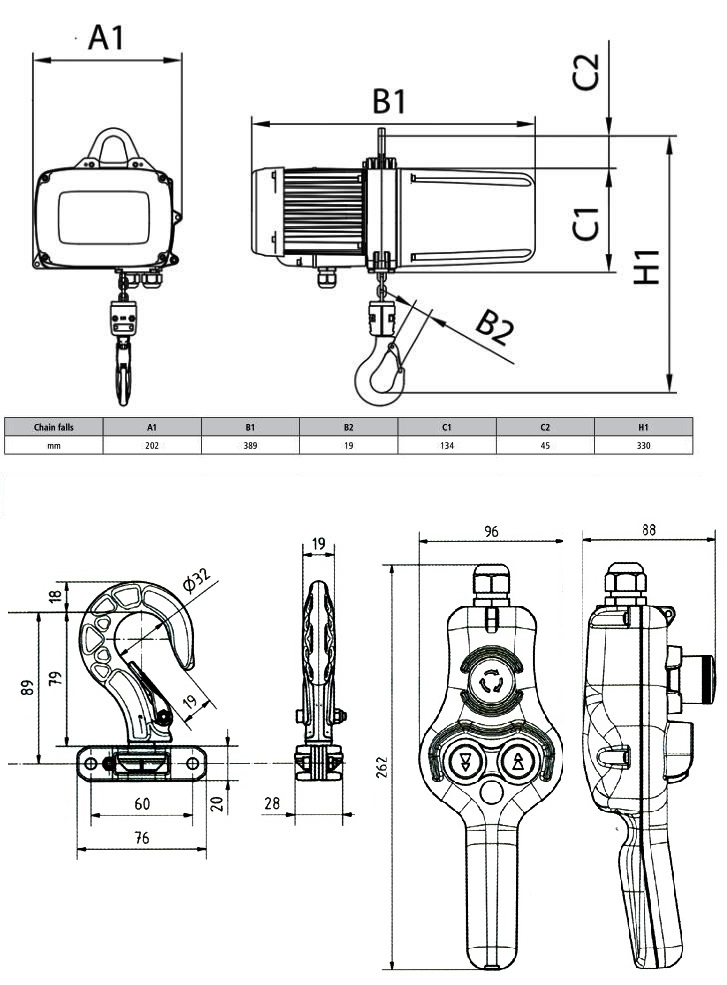 GPM 400v, 3PH, 50Hz
Type

Lifting capacity (KG)

Lifting speed (m/min)

FEM/ISO Group

Power (kW)

GPM 250/1NF

125

8/2

4m/M7

0.37/0.1

GPM 250/1SF

125

16/4

2m/M5

0.37/0.1

GPM 250/1NF

160

8/2

4m/M7

0.37/0.1

GPM 250/1NF

200

8/2

3m/M6

0.37/0.1

GPM 250/1NF

 

250

8/2

2m/M5

0.37/0.1
GPM 220v, 1PH, 50Hz
| | | | | |
| --- | --- | --- | --- | --- |
| Type | Lifting capacity (KG) | Lifting speed (m/min) | FEM/ISO Group | Power (kW) |
| GPM 250/1NL 1Ph | 250 | 4 | 2m/M5 | 0.25 |