GT Viper Horizontal Plate Clamp
Buy a pair of standard horizontal plate lifting clamps today, we always have great prices at Lifting Gear Direct.
Brand::

George Taylor

Product Code:

GT viper Horizontal plate clamp

Availability:

In Stock
About the GT Viper Horizontal Plate Clamp
The GT (George Taylor) GQ viper horizontal plate clamps are always used in pairs and are the ideal way to lift sheet materials in a horizontal position.
With a range of lifting capacities available up to 20000kg per pair these heavy duty plate clamps are ideal for lifting 1 plate at a time. The jaw opening is adjustable with the maximum size going up as the model size increases. The maximum jaw opening is 125mm for the largest model.
Both the jaws & serrated teeth are produced from specially hardened steel.
Easy to use with a 2-leg sling with a maximum angle allowed of 90 degrees.
The steel plate must be under HRC 37 (HB 345) and you must not lift loads under 20% of the rated capacity.
All requirements are met and certification is available on request.
Other Lifting Clamps & Equipment
There are many other types of lifting clamps available including many that are suitable for lifting plate materials. We have a variety of models to choose from including other branded models as well as for lifting plate in other orientations such as a vertical plate clamp.
Lifting Magnets are another way to lift plate materials easily and we have a great range of both permanent magnets and battery powered magnets. Lifting Dogs can also be made to order, these are ideal for lifting multiple plate materials.
Get in touch if you need more help, call 01384 76961 or email us.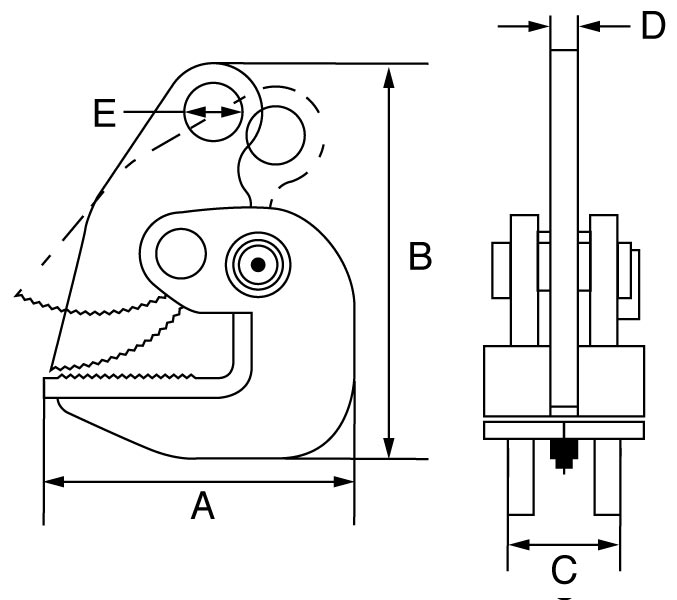 | | | | | | | | | |
| --- | --- | --- | --- | --- | --- | --- | --- | --- |
| Product Code | Capacity Per Pair | Jaw Opening | A | B | C | D | E | Weight |
| | kgs | mm | mm | mm | mm | mm | mm | kgs |
| VHPC1.5 | 1500 | 0 - 25 | 125 | 175 | 38 | 14 | 22 | 2.5 |
| VHPC2 | 2000 | 0 - 30 | 155 | 205 | 38 | 16 | 25 | 3.5 |
| VHPC3 | 3000 | 0 - 30 | 158 | 205 | 42 | 16 | 25 | 4 |
| VHPC4 | 4000 | 0 - 40 | 180 | 252 | 46 | 18 | 30 | 5 |
| VHPC5 | 5000 | 0 - 45 | 185 | 252 | 50 | 18 | 30 | 6 |
| VHPC6 | 6000 | 0 - 45 | 185 | 252 | 50 | 18 | 30 | 6 |
| VHPC8 | 8000 | 0 - 50 | 180 | 260 | 52 | 18 | 30 | 6.5 |
| VHPC10 | 10000 | 0 - 55 | 185 | 260 | 56 | 20 | 30 | 7.5 |
| VHPC12 | 12000 | 0 - 65 | 210 | 308 | 62 | 22 | 37 | 10.5 |
| VHPC16 | 16000 | 0 - 100 | 282 | 400 | 65 | 25 | 55 | 22 |
| VHPC20 | 20000 | 0 - 125 | 325 | 500 | 75 | 28 | 55 | 33 |