GT Viper Vertical Plate Clamp - CD Type
Buy this standard GT Viper Vertical Plate Clamp from Lifting Gear Direct today, always the best prices.
Brand::

George Taylor

Product Code:

GT Viper Vertical plate clamp

Availability:

In Stock
About the GT Viper Vertical Plate Clamp - CD type
The CD Viper Vertical plate clamp by GT (George Taylor) is for lifting plate materials in a vertical position.
It has good durability due to the specially hardened serrated jaws.
This clamp is designed to lift 1 plate at a time.
Steel plate must be under the HRC 37 (HB345)
With a minimum breaking load at 4x the working load limit you can be assured of safe lifting.
Lifting Gear Direct can supply this vertical plate lifting clamp in a range of lifting capacities ranging from 500kg up to 16000kg with the jaw opening span increasing through out the sizes, check out the specifications for more details.
NOTE:
Lifting under 20% of the rated capacity is strictly forbidden
Overloading not permitted.
Always read operating instructions prior to use.
Other Plate Lifting Equipment
We have a great range of products that are suitable for lifting plate and sheet materials. We have camlok branded plate clamps as well as a vast selection of plate lifting magnets. We can also manufacture plate lifting dogs if you would prefer those.
Get in touch if you need any more help or information.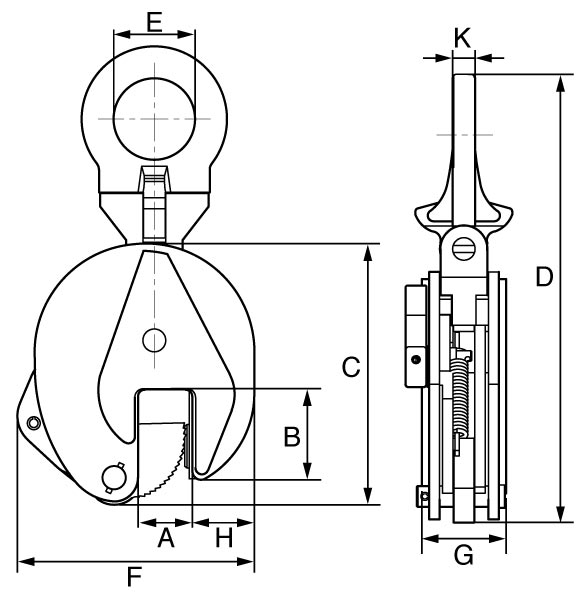 | | | | | | | | | | | | | | |
| --- | --- | --- | --- | --- | --- | --- | --- | --- | --- | --- | --- | --- | --- |
| Product Code | Part No. | Capacity | Jaw Opening | A | B | C | D | E | F | G | H | K | Weight |
| | | kgs | mm | mm | mm | mm | mm | mm | mm | mm | mm | mm | kgs |
| VVPC0.5 | CD0.5T | 500 | 0 - 15 | 25 | 37 | 128 | 212 | 30 | 98 | 40 | 29 | 10 | 2 |
| VVPC1 | CD1T | 1000 | 0 - 20 | 33 | 63 | 170 | 295 | 48 | 145 | 54 | 42 | 12 | 5 |
| VVPC2 | CD2T | 2000 | 0 - 25 | 35 | 76 | 205 | 370 | 68 | 175 | 56 | 54 | 18 | 8 |
| VVPC3 | CD3T | 3000 | 0 - 25 | 45 | 83 | 237 | 418 | 76 | 215 | 78 | 59 | 20 | 15 |
| VVPC5 | CD5T | 5000 | 0 - 30 | 55 | 90 | 262 | 480 | 76 | 232 | 90 | 59 | 20 | 23 |
| VVPC8 | CD8T | 8000 | 0 - 45 | 45 | 112 | 330 | 600 | 85 | 263 | 100 | 77 | 22 | 37 |
| VVPC12 | CD12T | 12000 | 50 - 90 | 90 | 145 | 380 | 700 | 90 | 390 | 113 | 100 | 25 | 50 |
| VVPC16 | CD16T | 16000 | 60 - 100 | 100 | 155 | 410 | 712 | 100 | 425 | 113 | 110 | 30 | 65 |