Hacketts L4 Heavy Duty Pull Winch
This ratchet lever hoist / pull winch manufactured by William Hackett is for heavy duty use in the majority of environments, whether it s a small workshop or large factory. A Lever hoist is an ideal piece of lifting equipment to keep in your work vehicle or tool box.
Product Code:

Hacketts L4 Heavy Duty Lever Hoist

Availability:

In Stock
About the Hacketts Heavy Duty L4 Pull Winch
The design and specifications of the heavy duty L4 pull winch meets or exceeds international standards in the UK, EU, USA, AUS and S. Africa. They can be operated with safety in a wide range of temperatures, from minus 40 up to +55 degrees C.
There are 7 models in the L4 range with incremental working load limits starting at 0.8 tonnes and going up to a huge 20 tonnes. The number of chain falls varies according to the model & lifting capacity with the smallest having 1 chain fall and the largest having 8 chain falls.
The size of the chain also differs across the range to suit the weight of the load; each hoist comes with 1.5 metres height of lift as standard, though other options are available.
Twin pawls, fitted as standard ensure optimum safety. Heavy duty safety latches are fitted to the top and bottom hooks and create a strong closure to ensure the anchorage of the hoist and load remain firmly engaged.
Another beneficial safety feature of this ratchet lever hoist is the overload indicator markings. These are positioned on both hooks, either side of the throat hook. The distance in-between these markings can be measured to see whether any stretch has occurred, if it has then it may have been overloaded and needs checking by a qualified person to see if replacement is necessary.
The housing for the hooks use socket head cap screws/hex head bolts and nyloc locking nuts to secure them.
Travelling end stops are available as an optional extra; this can be fitted in place of the standard end stop. This travelling stop can be moved along slack chain and relocated next to the body. The main benefits of this is to shorten the slack chain as well as stopping a possible run of load chain through the lever hoist when next used.
L4 Ratchet Lever Hoist at a Glance
This Hacketts L4 model is a heavy duty lever hoist; proof loaded to 1.5 x S.W.L.
Heavy duty forged safety catches.
Twin load chain guides for accurate chain guidance when used in any orientation.
Brake lock out test of between 5-7% of the S.W.L.
Hook housing, bolt connected using cap head screws and nyloc nut.
Lightweight for easy handling.
Twin pawls.
Conforms to EU machinery directive; CE marked; EN13157 and endurance tested to 1500 cycles to EN13157.
Corrosion protection on all components.
5 models available with safe working load limits from 0.75 tonne up to 9.0 tonne.
Getting in touch
Call 01384 76961 to talk to our team, they will endeavour to answer your questions and provide a quotation on request. We can also supply additional lifting equipment which you may need to complete your job. Beam clamps and beam trolley's provide an easy means of fitting the hoist to a crane and lifting slings and shackles make load securing easier and they are all readily available.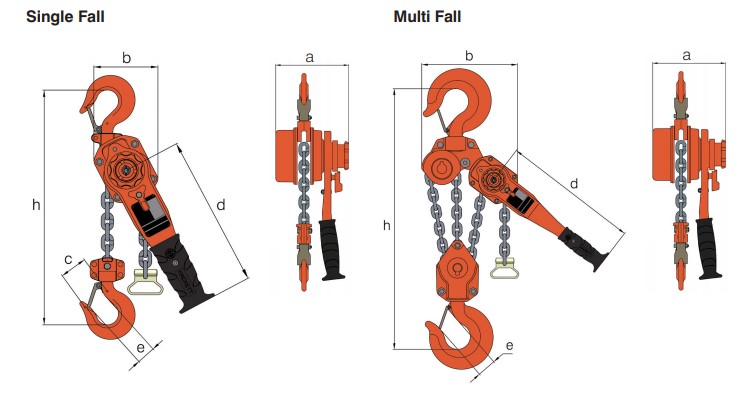 WLL
tonnes

a
mm

b
mm

c
mm

d
mm

e
mm

h
mm

i
mm

0.8

148

121

37.5

265

28

280

14.3

1.6

165.5

141

47

350

33

350

20

3.2

194.5

178

62.5

415

42.5

420

24.8

6.3

194.5

228

78

415

51

570

33.8

9

194.5

310

-

415

56

680

42.2

15

194.5

420

-

415

80

1000

59.2

20

194.5

480

-

415

80

1150

-
WLL
tonnes

No. of Falls

Load Chain
mm

Standard
Lift
m

Mass Kg

Extra Weight
Per M kg

0.8

1

5.6 x 17

1.5

6.2

0.7

1.6

1

7.1 x 21

1.5

9.6

1.1

3.2

1

10.0 x 30

1.5

15.5

2.2

6.3

2

10.0 x 30

1.5

27

4.4

9

3

10.0 x 30

1.5

38.3

6.6

15

6

10.0 x 30

1.5

90

13.2

20

8

10.0 x 30

1.5

195

19.2