C4 Atex Chain Block
Atex rated for zone 2 applications this manual chain block is a good choice for lifting tasks in hazardous environments.
Product Code:

C4 ATEX Chain Block

Availability:

In Stock
Key Features of the Atex C4 Chain Block
The C4 meets British standards to BS EN 13157:2004 + Al:2009 as well as the standards of Australia, USA and South Africa.
This manual chain block comes in a range of safe working load limits starting at half a tonne and ending at 5 tonne. The many parts are copper plated to make them suitable for use in hazardous areas.
Copper plated parts include both hooks, chain end anchor, chain stripper, roller guide and hand wheel. The hand chain is a grade 316L stainless steel and the supplied load chain is zinc plated to EN818-7 but there is an option to have a grade 6 chain on request if you prefer.
The hooks incorporate heavy duty cast safety latches which closes against the hook tip creating a strong and safe closure. Top and bottom hook housing use nyloc insert locking nuts, hex head bolts and socket head cap screws for securement.
The Atex rated C4 chain hoist boasts a twin pawl for twice the safety and an overload limiter is available upon request.
Epoxy coated covers protect the working parts of the C4 chain block which can be used in temperatures ranging from -20 to +140 degrees C.
Fleeting and cross hauling is possible for applications up to 45 degrees from vertical.
Other Atex Rated Lifting Equipment
Lifting Gear Direct can supply a selection of ATEX equipment suitable for hazardous areas. We have a couple of Atex lever hoists including the L4 and the Yale Uno Plus. We also supply Yale Atex chain blocks like the 360 and the Yllhp/g which comes with an integral trolley, as does the Yalelift 360 itp.
Should you need any height safety equipment for these areas then we have a selection of Atex safety equipment too including lanyards, harnesses, fall arrest blocks and connections.
WLL
tonnes

a
mm

b
mm

e
mm

f
mm

g
mm

h
mm

0.5

125

 130

 27.5

 32

 37

280

1

 134

 155

 31.5

 40

 44

 306

2

 157

 185

 36.5

 46

 52

 445

3.2

 157

 235

 42.5

 52

 62

 520

5

 180

 262

 51.0

 60

 77

 600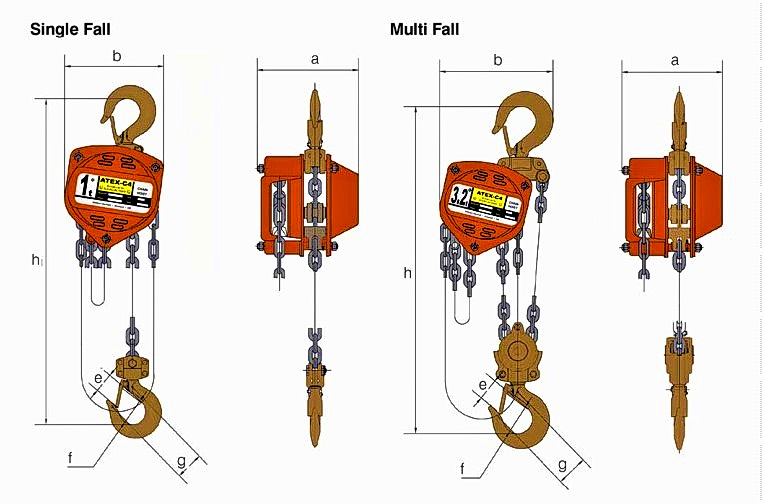 WLL
tonnes

No. of Falls

Load Chain
mm

Hand Chain
mm

Standard Lift
m

Mass
kg

Extra
Weight
per M kg

0.5

1

5 x 15

5 x 25

3

 8.10

 1.38

1

1

6 x 18

5 x 25

3

 11.50

 1.62

2

1

8 x 24

5 x 25

3

 16.80

 2.23

3.2

2

8 x 24

5 x 25

3

 38.40

 3.62

5

2

10 x 30

5 x 25

3

 39.80

 5.18