Demag DC-pro Electric Hoist
Demag DC-pro Electric Hoist at a Glance:
Upper & lower limit switches
Slip clutch with auto cut out.
Elapsed operating time counter
2 suspension brackets for DC 1-10
Aluminium powder coated housing
Low wear brakes
Cylindrical rotor motor with fan
Separate double encapsulated DC brake
Adjustable control cable length & control pendant position.
Available in lifting capacities from 80 - 5000kg.
Brand::

DEMAG

Product Code:

demag-dc-pro-electric-hoist

Availability:

In Stock
Call 01384 76961 for price.
The DC-pro electric chain hoist comes from the top range of Demag Electric Hoists and is a very versatile piece of hoisting equipment with 2 lifting speeds as standard.
Designed for giving a long service life and with loads of features as standard, not add on extras, the Demag DC-Pro electric hoist is a market leader.
Demag DC-pro Electric Hoist Lifting Capacities
The DC-pro electric chain hoist has probably one of the most extensive lifting capacity ranges with no less than 19 SWL capacities to choose from. The finely graded safe working loads enables you to pick a hoist with a SWL closer to the maximum load weight you are likely to lift than other electric hoists, this could save many pounds as the higher the SWL, the higher the price; so for example if your top load will be 600kg, then most other hoist ranges would force you to choose a 1000kg model; with the Demag DC-pro electric hoist system you could choose the 630kg model, saving you money and enabling you to buy a smaller, lighter hoist.
Key Features of the DC-pro
An excellent benefit to the DC-pro hoist is that it requires almost no maintenance, with the main components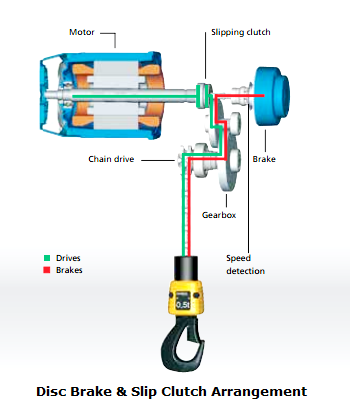 (brake, slipping clutch & gearbox) boasting up to 10 year maintenance free. (DC-pro 10 - 25 brake for 5 years)
The slipping clutch provides the protection against overloading and the arrangement means there is no load dropping; a speed monitoring system also activates the automatic cut out of the clutch if necessary, enhancing the safety features of the hoist.
The double encapsulated DC brake means there is no brake bonding; the motor with a cylinder rotor has a fan and is separate from the brake. If the control system does happen to fail then the brake will automatically be applied.
The ergonomic DC-pro hoist has height adjustable controller pendants for easier operation. The length of the control cable and pendant position can be adjusted to suit the user with no need for messing with re-wiring.
Tech: The Demag DC-pro electric chain hoist has many technical systems, enhancing the operation of the hoist to its maximum. Incorporating a plug & play and plug & drive for all electrical connections. There is an elapsed time counter with statuses and error messages showing on the display. There is an infrared diagnostic interface with IDAPSY software to manage data specifics. Rapid access to the plug in connection points via the pivotal service cover which also has access to a collector for 3 meters of excess control cable and the chain drive.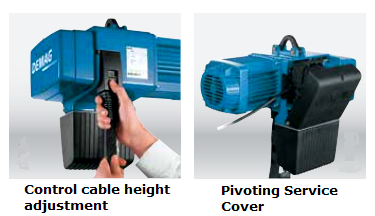 Minimum load sway is another bonus to using a Demag DC hoisting system; this is achieved via the smoothness of cross travel with both starting and braking movements. The speeds for acceleration and braking rate may be adjusted via the pendant controller.
Contacting us for help or a quote.
If you need advice or more information regarding a Demag hoist or any other electric chain hoist all you need to do is call 01384 76961 or email us with your needs.

SWL (KG)

Chain hoist (Typ)

Hoist speed (m/min)

Motor size

Hook path? (m)

Group of mechanisms (FEM)

Reeving 

Max. Weight at H5/H8 respect. H4 (KG)

 

 

at 50Hz

at 60Hz

 

 

 

 

 

80

DC-Pro 1 

8/2

9.6/2.4

ZNK 71 B 8/2

5 and 8 

4m

1/1

22/24

DC-Pro 2

16/4

19.2/4.8

100

DC-Pro 1 

8/2

9.6/2.4

DC-Pro 2

16/4

19.2/4.8

125

DC-Pro 1 

8/2

9.6/2.4

DC-Pro 2

16/4

19.2/4.8

160

DC-Pro 2

8/2

9.6/2.4

DC-Pro 5

16/4

19.2/4.8

ZNK 80 B 8/2 

28/30

200

DC-Pro 2

8/2

9.6/2.4

ZNK 71 B 8/2

3m

22/24

DC-Pro 5

16/4

19.2/4.8

ZNK 80 B 8/2 

4m

28/30

250

DC-Pro 2

8/2

9.6/2.4

ZNK 71 B 8/2

2m+?

22/24

DC-Pro 5

16/4

19.2/4.8

ZNK 80 A 8/2

4m

28/30

315

DC-Pro 5

8/2

9.6/2.4

ZNK 80 A 8/2

4m

28/30

DC-Pro 10

12/3

14.4/3.6

ZNK 100 A 8/2

48/52

400

DC-Pro 5

8/2

9.6/2.4

ZNK 80 A 8/2

3m

28/30

DC-Pro 10

12/3

14.4/3.6

ZNK 100 A 8/2

4m

48/52

500

DC-Pro 5

8/2

9.6/2.4

ZNK 80 A 8/2

2m+?

28/30

DC-Pro 10

12/3

14.4/3.6

ZNK 100 A 8/2

4m

48/52

630

DC-Pro 10

6/1.5

7.2/1.8

ZNK 100 A 8/2

4m

48/52

12/3

14.4/3.6

ZNK 100 B 8/2

56/60

800

DC-Pro 10

6/1.5

7.2/1.8

ZNK 100 A 8/2

3m

48/52

12/3

14.4/3.6

ZNK 100 B 8/2

56/60

1000

DC-Pro 10

6/1.5

7.2/1.8

ZNK 100 A 8/2

2m+?

48/52

12/3

14.4/3.6

ZNK 100 B 8/2

56/60

1250

DC-Pro 10

6/1.5

7.2/1.8

ZNK 100 B 8/2

5 and 8 

4m

2/1

65/73

8/2

9.6/2.4

1Am

1/1

56/60

DC-Pro 16

12/3

14.4/3.6

ZNK 100 C 8/2

4

3m

1/1

111

1600

DC-Pro 10

6/1.5

7.2/1.8

ZNK 100 B 8/2

5 and 8 

3m

2/1

65/73

DC-Pro 16

8/2

9.6/2.4

ZNK 100 B 8/2

4

2m+?

1/1

103

12/3

14.4/3.6

ZNK 100 C 8/2

111

2000

DC-Pro 10

6/1.5

7.2/1.8

ZNK 100 B 8/2

5 and 8 

2m+?

2/1

65/73

DC-Pro 25

8/2

9.6/2.4

ZNK 100 C 8/2

4

1/1

113

2500

DC-Pro 10

4/1

4.8/1.2

ZNK 100 B 8/2

5 and 8 

1Am

2/1

65/73

DC-Pro 25

8/2

9.6/2.4

ZNK 100 C 8/2

4

1/1

113

3200

DC-Pro 16

4/1

4.8/1.2

ZNK 100 B 8/2

4

2m+?

2/1

110

6/1.5

7.2/1.8

ZNK 100 C 8/2

4000

DC-Pro 25

4/1

4.8/1.2

 

4

2m+?

2/1

125

5000

1Am

?2m+ corresponds to 1900 hours at full load  ?Longer hook paths possible, please enquire