Kito EQ Electric Hoist
The Kito EQ electric hoist series is a range of high performance hoists boasting high functionality and a long working life. This is just one hoist of 3 in the
Kito electric hoist range
Brand::

KITO

Product Code:

kito-eq-electric-hoist

Availability:

In Stock
Call 01384 76961 for price.
Kito EQ Lifting Hoist Speed & Power Capabilities
The EQ series has been designed with dual speed inverters to ensure you get the maximum use and versatility from your hoist. The inverter enables changing from mechanical control to electrical control. It also provides smooth transitional speeds and stop & start functions, much smoother than standard pole change motors. The high to low speed ratios may be set to a big value, the standard speed ratio is 6:1.
The hoist is transformer free based on the inverter DC power. There is an electronic overload limit device which will detect an overload with the inverter and stops immediately. Another benefit of the built-in inverter is that it will detect when operated with no load attached and will automatically turn to high speed operation (1.3 x faster). A thermal protection device is also installed within the inverter to prevent motor burn out.
The inverter shows a data display where you can keep track of the number of start ups and total time on etc. The main benefit of this is to enable maintenance and inspections based on actual usage.
Other Features & Benefits of the Kito EQ Electric Hoist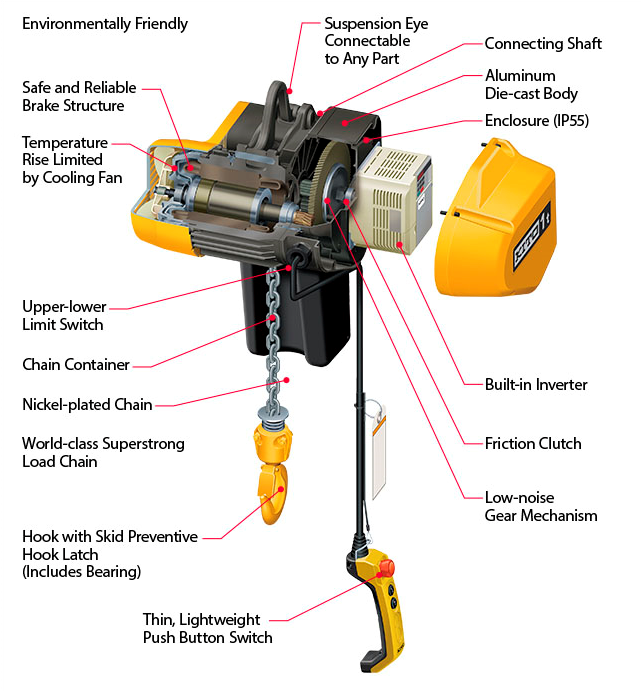 The EQ electric hoist is designed with a long working life in mind, it is suitable for use in arduous conditions. The EQ has M6 (ISO).3m (FEM) class with a duty cycle of 40/20% ED. These heavy duty electric hoists are ideal for high frequency applications as well as longer lifts.
The oil bath lubricated gearbox offers excellent protection by reducing wear and better cooling. The motor (insulation class B) on the Kito EQ electric hoist is fan cooled and has frame fins and fan cover for optimum operation and protection.
The upper and lower limit switches are simple devices which can prevent major damage to the hoist if excessive lifting occurs. The friction clutch provides the overload protection and the pendant control incorporates an emergency shut off button for emergencies. The push button pendant controller is ergonomically designed for optimum comfort and boasts light touch buttons.
Kito EQ Lifting Hoist Reliability & Build Quality
The Kito EQ is a robust hoist with excellent protection against water and dust (IP55), making them ideal in more problematic working conditions.
The load chain on these hoists are Kito specific originals. They are super strong made from special alloy steel with nickel plating to give them superb wear and fatigue resistance.
The simple eye suspension on the EQ has a connecting shaft on the outside to enable easy attachment and removal.
Electric Hoist Maintenance & Capacity Options
The Kito EQ electric hoist series compact and light and has been produced for easier maintenance and environmentally friendliness.
Like the ER hoists, it is easy to gain access to parts like the inverter, as well as to check up on usage statistics. This lets you schedule upkeep tasks at appropriate points. As a result you can avoid unwanted lifting hoist downtime and keep the cost of ownership low.
Lifting Gear Direct can supply all four models in the range which have lifting capacities of 125, 250, 500 & 1000kg. There are also a range of Kito trolleys to suit these hoists with push travel, geared or motorised trolleys to choose from, just let us know your preference when you order. Chain collectors come in two types, a soft canvas chain bag or a rigid plastic container, the choice is yours.
Contact Lifting Gear Direct for More Electric Hoist Info
If you have any unanswered questions about the EQ lifting hoist , other electric hoist or any other of our hoisting systems then do not hesitate to contact us via phone on 01384 76961. You can also email our team directly if you want to get more information on any of our hoists, or for a quick quote.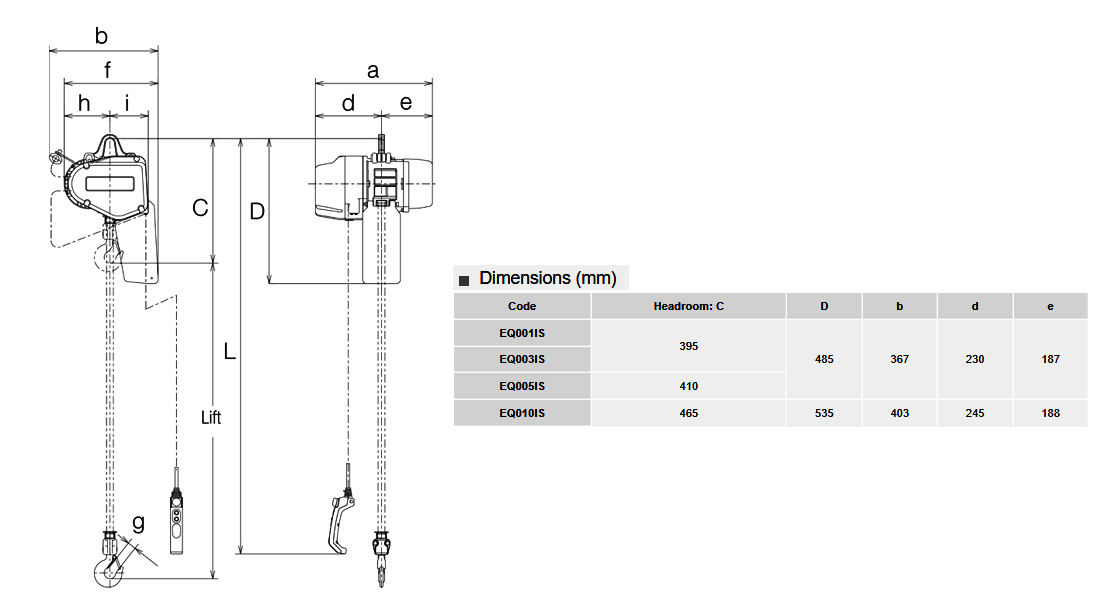 Type

Capacity (KG)

Body size

Standard lift (m)

Traversing motor

 

Lifting speed (m/min)

Load chain diameter (mm)

Chain fall

Classification FEM

Weight (KG)

Head room (mm)

Entire length (mm)

 

 

 

 

Output kW

Rating % ED

High (light load) 0-30% WLL

High 30-100% WLL

Low

 

 

 

 

 

 

EQ001IS

125

C

3

0.5

40/20

22.1

17

2.8

5.6 x 15.7

1

3m

30

395

417

EQ003IS

250

C

3

0.5

40/20

13

10

1.7

5.6 x 15.7

1

3m

30

395

417

EQ005IS

500

C

3

0.75

40/20

9.9

7.6

1.3

5.6 x 15.7

1

3m

32

410

417

EQ0010IS

 

1000

D

3

1.5

40/20

9.2

7.1

1.2

7.1 x 19.1

1

2m

42

465

433