Verlinde VR Electric Hoist
The design of the Verlinde VR electric hoist is somewhat contemporary in appearance and has been designed using the latest technology, new materials and new operating concepts which enable it to adapt to individual needs.
Brand::

Verlinde

Product Code:

verlinde-vr-electric-hoist

Availability:

In Stock
Call 01384 76961 for price.
The VR is also available with a step-less lifting speed mode which offers smoother lifting, rapid accelerations and slow- downs with no jerkiness; this is available as the VR Vario model with lifting capacities up to 2500kg.
Key Benefits of the Verlinde VR Electric Hoist
The Verlinde VR hoist comes in a wide range of lifting capacities which range from the smallest at 63kg to the largest at 5000kg. It also boasts the benefit of being able to lift up to 2500kg on a single fall of chain, other hoist brands often only lift to 1000kg on a single fall; this benefit can reduce the amount of chain, chain bag dimensions and chain maintenance and replacement costs needed.
Lifting speeds of the VR hoist have been increased to help you reach maximum productivity; you can see the actual speeds obtainable in the tables below.
The motor on the VR electric hoists comes with dual speed as standard. The motor is kept cool by the forced ventilation system, where the strategically placed fan and vents enable optimum hot air evacuation. Keeping the motor cool together with its own thermal protection will greatly extend its working life.
The main body or the hoist is robust, with clean, smooth lines. The special epoxy powder coating enables operation in extreme temperatures, from -20 up to +50 degrees centigrade. What's more these hoists comply with the ecology regulations and can be called environmentally friendly.
Another benefit to these hoists is the electronics used, printed circuit boards are used which incorporate removable plugs for ease of maintenance.
The lifting hook has been ergonomically designed to give you a much better gripping area. The rubberised coating also offers more protection to the lifting block. This larger than usual lifting hook comes with a safety catch and enables quick and easy attachment of lifting accessories. The top part (cone) of the hook has two purposes; it activates the electric limit switch and also serves to collect any surplus chain lubrication oil.
The Verlinde VR now incorporates a patented 5 pocket lifting nut with intermediate teeth which enables faultless control of the chain whilst avoiding the risk of jams. Electric limit switches secure up and down positions. The limiters will be activated alternately by the slack fall stop (under chain guidance system)and the hook's upper cone.
The gearbox, clutch and brake have been designed for maximum operating hours (up to 3200 hours). Thanks to the lifetime lubricated reducer, high precision gear trains, easy access clutch and high performing disc brake.
The pendant control unit has a removable plug, operates with low voltage at 48v and has IP65 protection. Pendants are available with 2, 4 or 6 operational buttons; the choice will depend on how the hoist will be used, i.e. independently or with a travel trolley.
Other Key Features or the Verlinde VR Electric Chain Hoist
3 metre height of lift as standard
Dual speed
IP55 lifting & travel motor
Thermal protection on motor
Removable command cable
Emergency stop button
Chain bag
Galvanised lifting chain
Power supply = 400v/3Ph/50Hz or 415v/3Ph/50Hz or 460v/3 Ph/60Hz
Lifting Gear Direct can also supply other Verlinde electric hoists including the slightly older VL range and Verlinde Stagemaker hoists. Our extensive range of hoisting equipment included not only electric chain hoists but also manual chain hoists and air hoists.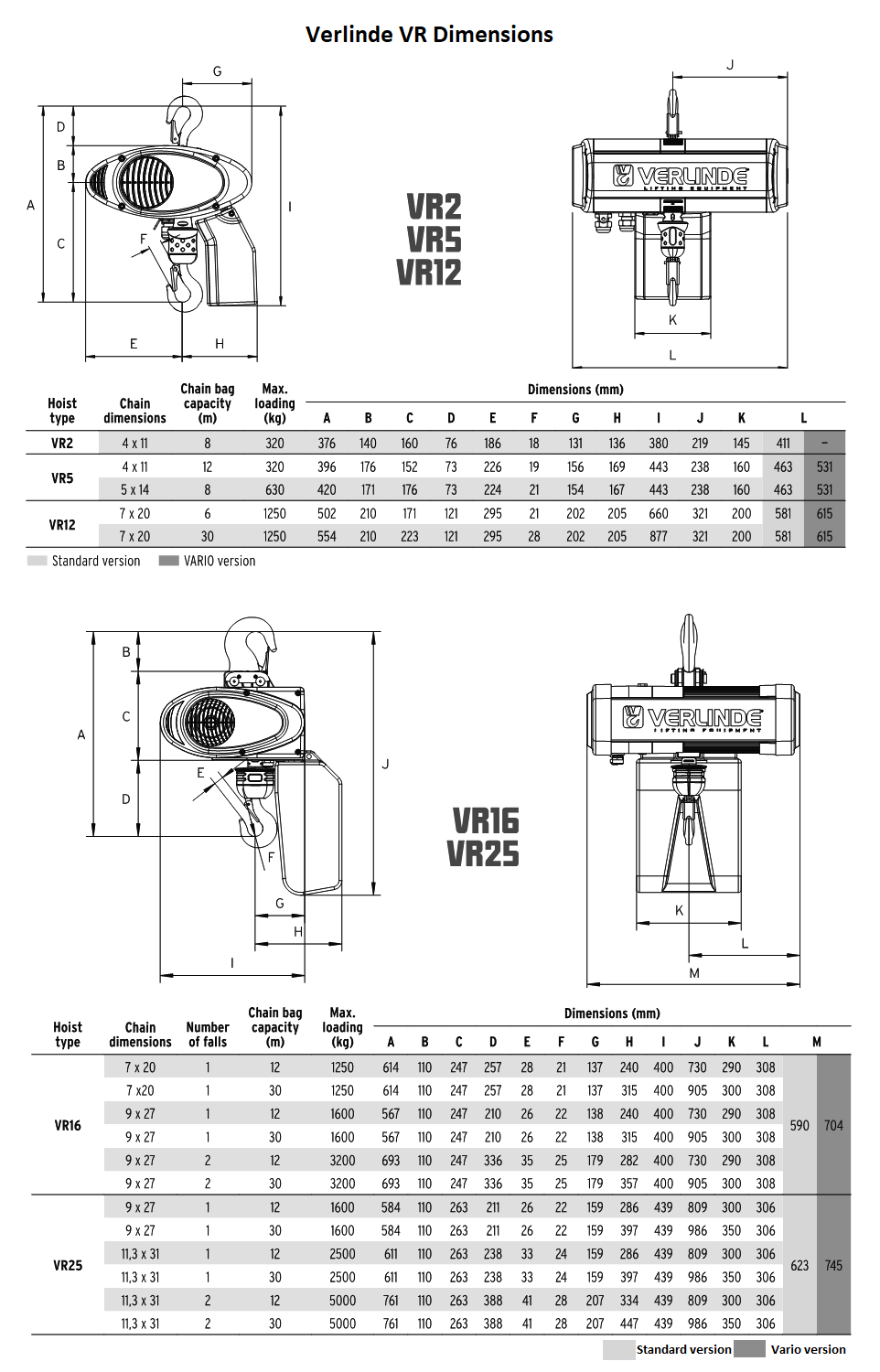 SWL (KG)
Frame size
Falls
Duty group ISO
Chain size
Gear life (h)
Motor type
Motor power HS (kW)
Hoisting speed (m/min) 
Max. Amb temp (

°c)?

ED%

?

Starts/hour
 
 
 
 
 
 
 
 
HS
LS
 
 
 
63
02
1
M6
4 x 11
3200
MT07CA104
0.45
8
2
40
50
300
02
1
M6
4 x 11
3200
MT07CA104
0.45
10
2.5
40
50
300
02
1
M6
4 x 11
3200
MT07CA104
0.45
16
4
40
50
300
02
1
M6
4 x 11
3200
MT07CA104
0.45
20
5
40
50
300
125
02
1
M6
4 x 11
3200
MT07CA104
0.45
8
2
40
50
300
02
1
M6
4 x 11
3200
MT07CA104
0.45
10
2.5
40
50
300
02
1
M5
4 x 11
1600
MT07CA104
0.45
16
4
40
50
300
02
1
M4
4 x 11
800
MT07CA104
0.45
20
5
40
30
180
160
02
1
M6
4 x 11
3200
MT07CA104
0.45
8
2
40
50
300
02
1
M6
4 x 11
3200
MT07CA104
0.45
10
2.5
40
50
300
02
1
M4
4 x 11
800
MT07CA104
0.45
16
4
40
30
180
250
02
1
M5
4 x 11
1600
MT07CA104
0.45
8
2
40
50
300
02
1
M4
4 x 11
800
MT07CA104
0.45
10
2.5
40
30
180
05
1
M6
5 x 14
3200
MT08CA206
0.45
4
1.3
40
50
300
05
1
M6
5 x 14
3200
MT08CA106
0.9
8
1.3
40
50
300
05
1
M5
4 x 11
1600
MT08CA106
0.9
16
2.6
40
50
300
05
1
M4
4 x 11
800
MT08CA106
0.9
20
3.2
40
30
180
320
02
1
M4
4 x 11
800
MT07CA104
0.45
8
2
40
30
180
05
1
M4
4 x 11
800
MT08CA106
0.9
16
2.7
40
30
180
500
05
1
M5
5 x 14
1600
MT08CA206
0.45
4
1.3
40
50
300
12
1
M6
7x20
3200
MT10CA206
0.9
4
1.3
40
50
300
05
1
M5
5 x 14
1600
MT08CA106
0.9
8
1.3
40
50
300
12
1
M6
7x20
3200
MT10CA106
1.8
8
1.3
40
50
300
05
1
M4
5 x 14
800
MT08CA106
0.45
10
1.6
40
30
180
12
1
M5
7x20
1600
MT10CA106
1.8
16
2.6
40
50
300
12
1
M4
7x20
800
MT10CA106
1.8
20
3.2
40
30
180
630
05
1
M4
5 x 14
800
MT08CA206
0.45
4
1.3
40
30
180
05
1
M4
5 x 14
800
MT08CA106
0.9
8
1.3
40
30
180
12
1
M4
7x20
800
MT10CA106
1.8
16
2.6
40
30
180
800
16
1
M6
7x20
3200
MT10CB106
2.3
16
2.6
40
50
180
25
1
M6
9 x 27
3200
MT10CC106
3.6
20
3.3
40
50
300
1000
12
1
M5
7x20
1600
MT10CA206
0.9
4
1.3
40
50
300
12
2
M6
7x20
3200
MT10CA106
1.8
4
0.7
40
50
300
12
1
M5
7x20
1600
MT10CA106
1.8
8
1.3
40
50
300
12
1
M4
7x20
800
MT10CA106
1.8
10
1.6
40
30
300
16
1
M5/M6*
7x20
3200
MT10CB106
2.3
12.5
2
40
50
180
25
1
M5/M6*
9 x 27
3200
MT10CC106
3.6
16
2.6
40
50
300
25
1
M5/M6*
9 x 27
3200
MT10CC106
3.6
20
3.3
40
50
300
1250
12
1
M4
7x20
1600
MT10CA206
1.8
4
1.3
40
50
300
12
1
M4
7x20
800
MT10CA106
1.8
8
1.3
40
30
180
16
1
M6
9 x 27
1600
MT10CB106
2.3
8
1.3
40
50
300
25
1
M6*
9 x 27
3200
MT10CC106
3.6
16
2.6
40
50
300
1600
12
2
M5
7x20
800
MT10CA106
0.9
4
0.7
40
30
180
12
2
M5
7x20
800
MT10CA106
1.8
5
0.8
40
30
180
16
1
M5
9 x 27
1600
MT10CB106
2.3
8
1.3
40
50
300
25
1
M6
11.3 x 31
3200
MT10CC106
3.6
12.5
2
40
50
300
2000
12
2
M5
7x20
1600
MT10CA106
1.8
4
0.7
40
50
300
12
2
M4
7x20
800
MT10CA106
1.8
5
0.8
40
40
240
16
2
M6
9 x 27
3200
MT10CB106
2.3
6.3
1
40
50
300
25
1
M6
11.3 x 31
3200
MT10CC106
3.6
8
1.3
40
50
300
2500
12
2
M4
7x20
800
MT10CA106
1.8
4
0.7
40
50
300
16
2
M6
9 x 27
3200
MT10CB106
2.3
4
0.7
40
50
300
25
1
M5
11.3 x 31
1600
MT10CC106
3.6
8
1.3
40
50
300
3200
16
2
M5
9 x 27
1600
MT10CB106
2.3
4
0.7
40
50
300
25
2
M6
11.3 x 31
3200
MT10CC106
3.6
6.3
1
40
50
300
4000
25
2
M6
11.3 x 31
3200
MT10CC106
3.6
4
0.7
40
50
300
5000
25
2
M5
11.3 x 31
1600
MT10CC106
3.6
4
0.7
40
50
300