GIS GCH Electric Hoist
The GIS GCH electric hoist is of a compact design and is robust in nature.
GIS
use advanced technology together with its own Swiss quality to produce the GCH hoist range. Now also available with the handy bench tool.
Brand::

GIS

Product Code:

gis-gch-electric-hoist

Availability:

In Stock
Call 01384 76961 for price.
There are several benefits to buying this brand of lifting equipment, including the impressive safety features that come as standard and the hard working, reliable components it uses.
Key features of the GIS GCH Electric Hoist
The GIS GCH electric hoist possesses an adjustable double slip clutch, making it one of the safest hoists around. This is also helped by the positioning of the new brake system, which is located after the clutch.
The hoist motor works well in arduous conditions and is available in single or dual speed versions. You also have the option of adding extras such as a temperature control system and/or insulation for high heat and humidity areas.
GCH Electric Hoist Chain & Build Quality
The load chain is fixed to the main body of the hoist and has no risk of jamming thanks to the two-part chain guide. The disc brake is maintenance free which is an added bonus.
Helical gearing means that the hoist is extremely quiet in operation. The chain wheel is manufactured from hardened steel and has extra pockets to help improve the smooth flow of the chain.
You can easily double the load capacity of these hoists by changing them from a single to a double fall, this is simple to do. Low voltage 42V control is standard. There is also a geared limit switch as standard for chain lengths of up to 120m.
The pendant controller fits nicely in the palm and has 2 button controls with an emergency stop as standard. A working hours counter can be added as an optional extra. This makes it easier to monitor the hoist and schedule maintenance at suitable intervals, which can be useful when high duty cycles are regularly handled.
GCH Electric Hoist Reliability & Versatility
The main body of the GIS GCH hoist is made from cast aluminium and incorporates cooling gills/fins to help keep the hoist cool in tough operating conditions. This has the added benefit of reducing wear and tear, as well as minimising the likelihood of unexpected downtime. So in terms of consistent performance and cost-effectiveness, this hoist is a real asset.
Also available is the chain handy - (pictured) for left & right hand use. There are 2 versions of this tool handler; the standard chain handy and the telescopic chain handy. Both can be used for SWL up to 250kg and enable a safe and quick method of moving goods around with exact positioning. Please note: this will now be based on the new GP hoist.
Order GIS Lifting Equipment Today
Lifting Gear Direct can supply GIS electric hoists in a range of models with WLL up to 5000kg, contact us if you require more information. We also supply the GIS GPM and the latest GP hoist range. GIS chain bags are readily available. A quick call to 01384 76961 is all you need to get a quote for any of our products or services.
| | | | | | | | | | | | |
| --- | --- | --- | --- | --- | --- | --- | --- | --- | --- | --- | --- |
| Types | A1 mm | A2 mm | A3 mm | A4 mm | B1 mm | B2 mm | B3 mm | C1 mm | C2 mm | C3 mm | H1 mm  |
| GCH 1000/1 | 321 | 367 | 190 | 52 | 367 | 180 | 32 | 214 | 69 | 615 | 482 |
| GCH 1000/2 | 321 | 367 | 224 | 52 | 367 | 180 | 32 | 214 | 69 | 615 | 556 |
| GCH 1600/1 | 345 | 424 | 221 | 75 | 389 | 180 | 37 | 230 | 135 | 696 | 608 |
| GCH 1600/2 | 345 | 424 | 263 | 75 | 389 | 180 | 37 | 230 | 135 | 696 | 690 |
| GCH 2000/1 | 345 | 424 | 221 | 75 | 389 | 180 | 37 | 230 | 135 | 696 | 608 |
| GCH 2000/2 | 345 | 424 | 263 | 75 | 389 | 180 | 37 | 230 | 135 | 696 | 690 |
| GCH 2500/1 | 345 | 424 | 221 | 75 | 389 | 180 | 37 | 230 | 135 | 696 | 608 |
| GCH 2500/2 | 345 | 424 | 263 | 75 | 389 | 180 | 37 | 230 | 135 | 696 | 690 |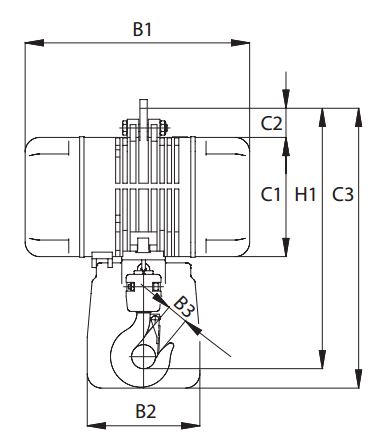 Model

M3 1Bm 150 s/h 25% duty (KG)

M4 1Am 180 s/h 30% duty (KG)

M5 2m 240 s/h 40% duty (KG) 

M6 3m 300 s/h 50% duty (KG)

M7 4m 360 s/h 60% duty (KG) 

Lifting Speed (m/min)

Motor Power (kw)

3x 400v 50Hz      (A)

No. Of chain falls

Eye/hook suspension weight 3m lift (kg)

weight per extra metre (kg)

 

Duty Classification/Lifting capacity

 

 

 

 

 

 

GCH 1000/1N

1000

800

630

500

400

8

1.45

1.45

1

45

1.04

GCH 1000/1NF

1000

800

630

500

400

8/2

1.45/0.36

1.45/0.36

1

46

1.04

GCH 1000/2N

2000

1600

1250

1000

800

4

1.45

1.45

2

50

2.08

GCH 1000/2NF

2000

1600

1250

1000

800

4/1

1.45/0.36

1.45/0.36

2

51

2.08

GCH 1600/1N

1600

1250

1000

800

630

8

2.44

2.44

1

63

1.75

GCH 1600/1NF

1600

1250

1000

800

630

8/2

2.44/0.61

2.44/0.61

1

65

1.75

GCH 1600/2N

3200

2500

2000

1600

1250

4

2.44

2.44

2

73

3.5

GCH 1600/2NF

3200

2500

2000

1600

1250

4/1

2.44/0.61

2.44/0.61

2

75

3.5

GCH 2000/1N

2000

1600

1250

1000

800

8

3.05

3.05

1

65

2.25

GCH 2000/1NF

2000

1600

1250

1000

800

8/2

3.05/0.77

3.05/0.77

1

67

2.25

GCH 2000/2N

4000

3200

2500

2000

1600

4

3.05

3.05

2

76

4.5

GCH 2000/2NF

4000

3200

2500

2000

1600

4/1

3.05/0.77

3.05/0.77

2

78

4.5

GCH 2500/1N

2500

2000

1600

1250

1000

6.4

3.05

3.05

1

65

2.25

GCH 2500/1NF

2500

2000

1600

1250

1000

6.4/1.6

3.05/0.77

3.05/0.77

1

67

2.25

GCH 2500/2N

5000

4000

3200

2500

2000

3.2

3.05

3.05

2

76

4.5

GCH 2500/2NF

5000

4000

3200

2500

2000

3.2/0.8

3.05/0.77

3.05/0.77

2

78

4.5