Hacketts Heavy Duty Chain Block
Product Code:

Hacketts Heavy Duty Chain Block

Availability:

In Stock
With a tough, sturdy design it is built to work seamlessly in a number of commercial settings. It is just one of many manual chain blocks available at LGD.
Hacketts Heavy Duty Chain Block Main Features
Twin pawls with zinc plated springs.
Bolt connected housing, with cap head screws and nyloc nuts.
Side plates fitted with caged roller bearings.
Lightweight, and easy to use, maintain and repair.
Conforms to EN13157, meets the machinery directive standards and is CE marked.
Brake lock out test of between 5% - 7% of the SWL.
Endurance tested to 1500 cycles.
Heavy duty forged safety catches.
Load chain meets EU & Japanese requirements.
Overview of Hacketts Heavy Duty Chain Block Range
While the core design cues and features remain the same across each manual chain block model in this range, the main difference will be the safe working limit that the units can offer. The base level example has a 500kg capacity, and there are also units with 1, 2, 3, 5 and 10 tonne limits on offer. After this, the SWL jumps up in increments of 10 tonnes until you reach the largest 50 tonne model.
Safe, straightforward lifting is assured with every chain block from Hacketts. They are also immensely durable, surviving cycle after cycle without faltering. Remember to get any lifting equipment tested to ensure it meets legal standards. The unfussy maintenance access offered by this range will make inspections a doddle.
Choosing a Heavy Duty Manual Chain Hoist
There are lots of factors to consider when selecting a chain block that is going to handle some of the toughest lifting tasks around. From the materials used in its construction to the number of chain falls that are required and the weight of the assembly in its unladen state, it pays to keep a lot of variables in mind when making a decision.
If this Hacketts chain block is missing something crucial, or does not fit your budget, we have other reliable options from leading brands. The Yalelift 360 hoist can manage loads of up to 20 tonnes, while the largest GT Viper has a capacity of 30 tonnes.
Looking for Guidance on Hacketts Heavy Duty Chain Blocks?
Full info on this range of hoists and all of the other products we stock can be accessed by getting in touch with LGD. The number to call to speak to our talented team members is 01384 76961. If you would rather email us, then head to our contact page where you will be able to do so from within your browser. We will reply quickly and knowledgably whichever method you choose.
| | | | | | | |
| --- | --- | --- | --- | --- | --- | --- |
| Capacity (tonnes) | A,mm | B,mm | E,mm | F,mm | G,mm | H,mm |
| 0.5 | 125 | 130 | 27.5 | 32 | 37 | 280  |
| 1 | 134 | 155 | 31.5 | 40 | 44 | 306  |
| 1.5 | 151 | 173 | 32.5 | 42 | 48 | 368 |
| 2 | 157 | 185 | 36.5 | 46 | 52 | 445  |
| 3 | 235 | 157 | 43.5 | 52 | 62 | 520  |
| 5 | 180 | 262 | 51 | 60 | 77 | 600  |
| 10 | 180 | 406 | 53 | 85 | - | 760  |
| 20 | 225 | 550 | 80 | 110 | - | 1150  |
| 30 | 360 | 680 | 80 | 110 | - | 1250 |
| 50 | 585 | 832 | 133 | 170 | - | 1700 |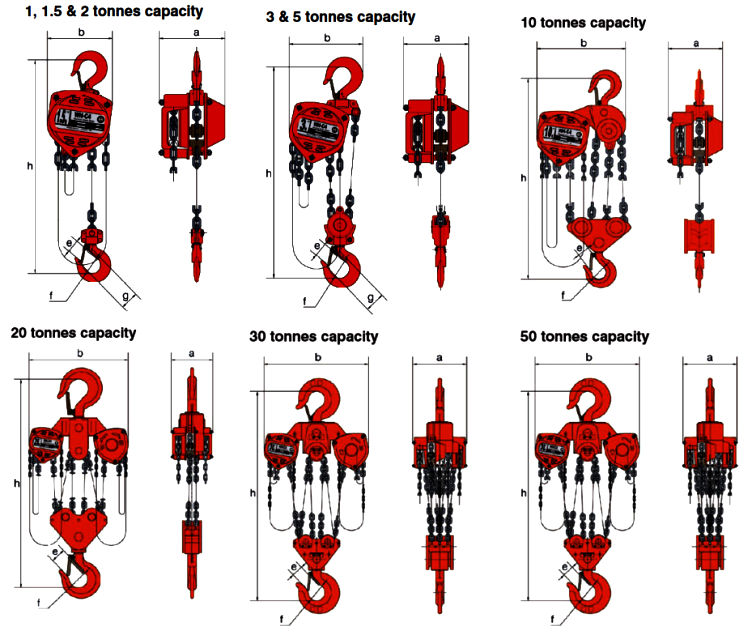 | | | | | | | | |
| --- | --- | --- | --- | --- | --- | --- | --- |
| Part Code | Capacity (tonnes) | No. Of falls | Load Chain size (mm) | Hand Chain (mm) | Standard Lift (m) | Mass (KG) | Extra Weight per MTR (KG) |
| 022.050 | 0.5 |  1 |  5.0 x 15 |  5.0 x 25 |  3 | 8.1 | 1.4 |
| 022.100 | 1 |  1 | 6.0 x 18 |  5.0 x 25 |  3 | 11.5 | 1.7 |
| 022.150 | 1.5 |  1 | 8.0 x 24 |  5.0 x 25 |  3 | 15.8 | 2.3 |
| 022.200 | 2 |  1 | 8.0 x 24 |  5.0 x 25 |  3 | 16.8 | 2.3 |
| 022.300 | 3 |  2 | 8.0 x 24 |  5.0 x 25 |  3 | 24.2 | 3.7 |
| 022.500 | 5 |  2 |  10.0 x 30 |  5.0 x 25 |  3 | 39.8 | 5.3 |
| 022.1000 | 10 | 4 |  10.0 x 30 |  5.0 x 25 |  3 | 89.7 | 9.6 |
| 022.2000 | 20 | 8 | 10.0 x 30 |  5.0 x 25 |  3 | 197 | 19.2 |
| 024.300 | 30 | 12 | 10.0 x 28 | 5 x 25 | 3 | 301 | 29.3 |
| 024.5000 | 50 | 20 | 10.0 x 28 | 5 x 25 | 3 | 465 | 46 |