Kito ER Electric Hoist
The Kito ER electric hoist is a compact lifting device from the
Kito electric hoist range
and boasts excellent reliability, durability and safety.
Brand::

KITO

Product Code:

Kito-ER-Electric-Hoist

Availability:

In Stock
Call 01384 76961 for price.
The Kito ER Electric Hoist at a Glance
The Kito ER series has some impressive features including:
Inverter for dual speeds, contactor control for single speeds.
upper & lower limit switches
carbon friction clutch
thermal protection
push button control.
EXTRA OPTIONS:
push, geared or motorized trolley
electric overload limiter
extra mechanical brake
radio remote control
Key Details of the Kito ER Series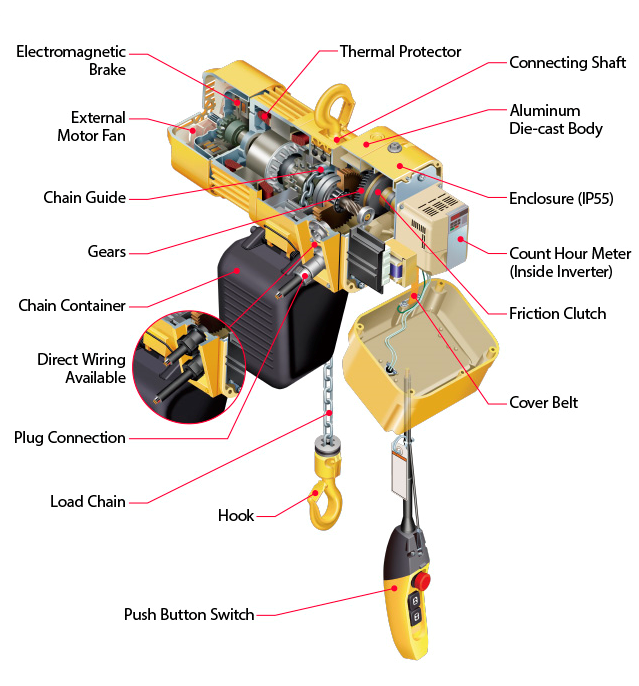 Just like the Kito EQ range this series of electric hoists also includes a built-in inverter. The main benefits to this inverter include much smoother stopping and starting and smoother lifting and lowering movements, load swing is also much reduced. Because operation is so much smoother you can attain much more accuracy when positioning a load. Standard speed ratios are 6:1 though these are adjustable up to 12:1 for lifting motions and 10:1 for traversing movements. Non-standard ratios may be requested at the time of ordering.
The ER series incorporates many safety features as standard. The friction slip clutch is of a long life design and prevents any damage to the hoist if overloading takes place. There are also both upper and lower limit switches to prevent over winding and thus further hoist damage.
Motor burn outs are prevented via thermal protection and the cooling motor fan has frame fins and a fan cover. Additionally the electro-magnetic brake has an electrical failsafe device. An emergency stop button on the controller enables immediate shut down should it become necessary during an emergency.
Maintenance is kept to a minimum thanks to the hoists design. Any maintenance needed is relatively simple thanks to the easily accessible panel. Here you can also access the inverter, complete with the operational hours counter. This counter provides the information to make an informed choice on when to carry out your maintenance and inspection procedures. This will be based on the actual operating time of the hoist, not just on the usual yearly basis. Often with high use hoists 12 monthly is too long for a thorough inspection.
Help & Quotes
Lifting Gear Direct can supply Kito ER electric hoists in a wide range of lifting capacities. The ER series starts at 125kg on one chain fall and goes right up to 20000kg with 8 chain falls, so there really is a model within the ER series to suit thousands of lifting applications. We can also supply electric hoists from other manufacturers as well as other types of hoisting systems such as manual hoists.
Please don't hesitate to contact us if you need help to choose the best hoist for your situation, our team are always ready to help. Need a service, inspection or spares? No problem, contact us now on 01384 76961 or email us here.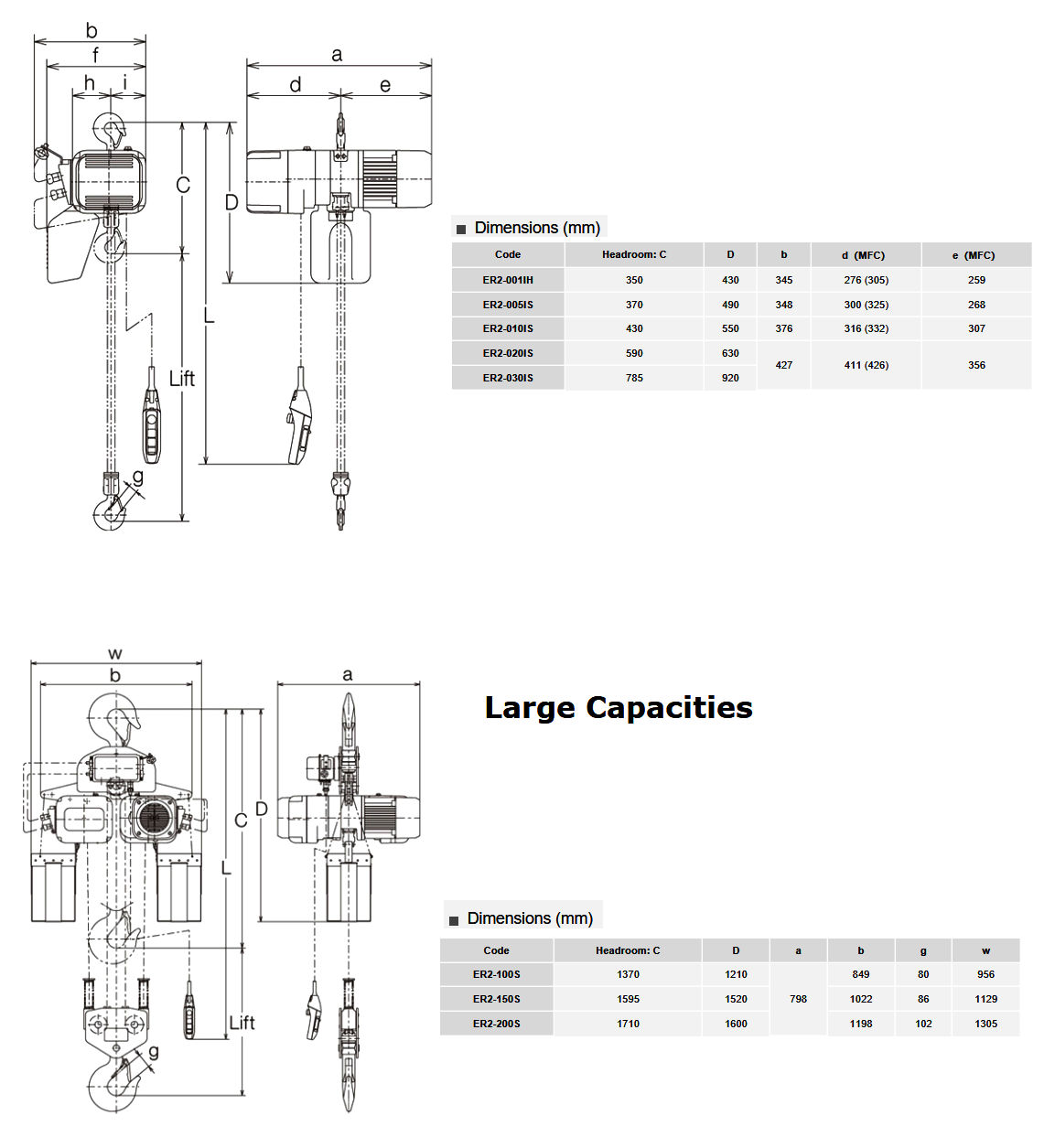 Single Speed - Hook suspension - 3m HOL as standard
| | | | | | | |
| --- | --- | --- | --- | --- | --- | --- |
| Type | Capacity (KG) | FEM | Lifting speed (m/min) | Rating (%) | Chain falls | Headroom (mm) |
| ER2-001H | 125 | 2m | 14.1 | 60 | 1 | 350 |
| ER2-003S | 250 | 2m | 9.1 | 60 | 1 | 350 |
| ER2-003H | 250 | 2m | 13.4 | 60 | 1 | 370 |
| ER2-005L | 500 | 2m | 3.8 | 60 | 1 | 370 |
| ER2-005S | 500 | 2m | 7.3 | 60 | 1 | 370 |
| ER2-010L | 1000 | 2m | 3.5 | 60 | 1 | 430 |
| ER2-010S | 1000 | 2m | 7.1 | 60 | 1 | 430 |
| ER2-016S | 1600 | 1Am | 4.5 | 60 | 1 | 510 |
| ER2-020L | 2000 | 1Am | 3.7 | 60 | 1 | 575 |
| ER2-020S | 2000 | 1Am | 7 | 60 | 1 | 590 |
| ER2-025S | 2500 | 1Am | 5.7 | 60 | 1 | 625 |
| ER2-032S | 3200 | 1Am | 4.4 | 60 | 2 | 785 |
| ER2-050S | 5000 | 1Am | 2.9 | 60 | 2 | 850 |
| ER2-100S | 10000 | 1Am | 2.9 | 60 | 4 | 1370 |
| ER2-100L | 10000 | 1Am | 1.4 | 60 | 4 | |
| ER2-150S | 15000 | 1Am | 1.9 | 60 | 6 | 1595 |
| ER2-200S | 20000 | 1Am | 1.4 | 60 | 8 | 1710 |
Dual Speed - Hook Suspension - 3m HOL as standard
| | | | | | | |
| --- | --- | --- | --- | --- | --- | --- |
| Type | Capacity (KG) | FEM | Lifting speed (m/min) | Duty rating (% ED) | Chain falls | Headroom (mm) |
| ER2-001IS | 125 | 3m | 16.6/2.8-1.4 | 40/20 | 1 | 350 |
| ER2-003IS | 250 | 3m | 10.8/1.8-0.9 | 40/20 | 1 | 350 |
| ER2-003IH | 250 | 3m | 15.7/2.6-1.3 | 40/20 | 1 | 370 |
| ER2-005IL | 500 | 3m | 4.5/0.8-0.4 | 40/20 | 1 | 370 |
| ER2-005IS | 500 | 3m | 8.5/1.4-0.7 | 40/20 | 1 | 370 |
| ER2-010IL | 1000 | 2m | 4.2/0.7-0.3 | 40/20 | 1 | 430 |
| ER2-010IS | 1000 | 2m | 8.2/1.4-0.7 | 40/20 | 1 | 430 |
| ER2-016IS | 1600 | 2m | 5.3/0.9-0.4 | 40/20 | 1 | 510 |
| ER2-020IL | 2000 | 1Am | 4.3/0.7-0.4 | 40/20 | 1 | 575 |
| ER2-020IS | 2000 | 1Am | 8.2/1.4-0.7 | 40/20 | 1 | 590 |
| ER2-025IS | 2500 | 1Am | 6.6/1.1-0.6 | 40/20 | 1 | 625 |
| ER2-032IS | 3200 | 1Am | 5.2/0.9-0.4 | 40/20 | 2 | 785 |
| ER2-050IS | 5000 | 1Am | 3.3/0.6-0.3 | 40/20 | 2 | 850 |