Kito LX Pull Winch
The Kito LX pull winch / ratchet lever hoist is ultra light and compact thanks to its aluminium design. Perfect for load positioning and moving lighter loads up to 500kg. Read on for all the details on this great lever hoist.
Brand::

KITO

Product Code:

Kito LX Pull Winch

Availability:

In Stock
About the Kito LX Pull Winch
The LX lever hoist is great for more delicate positioning applications such as bringing two parts very close together for connecting. They are also good in car garages and workshops; in fact this extra compact lever hoist can be used pretty much anywhere especially as it is very light and easy to carry around. There are 2 models in the LX range of lever hoists, the 250kg model which weighs just 1.7kg and the 500kg model which weighs in at 2.7kg.
Because the load chain is just 3.2 mm on the smaller model and 4.3mm on the largest the movements are very precise, so whether lifting or pulling each lever click is just 2mm. Also the handle is rather short at 150mm which makes it easy to operate even in cramped places.
The LX ratchet lever hoist boasts a chain overrun device with load-drop protection. If the hoist is in freewheel mode and a load is suddenly attached the brake will operate immediately. There is minimal risk of accidental free-wheeling whilst under load. A further benefit to this lever hoist is that it is corrosion resistant and maintenance friendly.
As an optional extra you can purchase a specially designed carry case for the Kito LX lever hoist; it can be attached to your belt and/or work utility trouser loops giving you the convenience of carrying it with you around the workplace or whilst out working on site.
The standard length of chain issued with the LX is 1.5 metres, but let us know your needs and we can customize the chain length for you.
Contacting Lifting Gear Direct
Do you need some friendly advice on the best lever hoist option for your intended operation? Speak to us on 01384 76961 or email us with your needs here. If you need some additional lifting equipment then we can help out there too! Lifting Gear Direct is a leading lifting gear supplier as well as manufacturing our own custom made mobile lifting gantries and factory jib cranes and we sell hoisting equipment from all the major players.
| | | | | | | | | |
| --- | --- | --- | --- | --- | --- | --- | --- | --- |
| Type | A | B | C | D | E | G | S | T |
| LX003 | 90.5 | 73.5 | 205 | 150 | 62 | 21 | 32 | 11 |
| LX005 | 102 | 93 | 246 | 180 | 68 | 24.5 | 35.5 | 12 |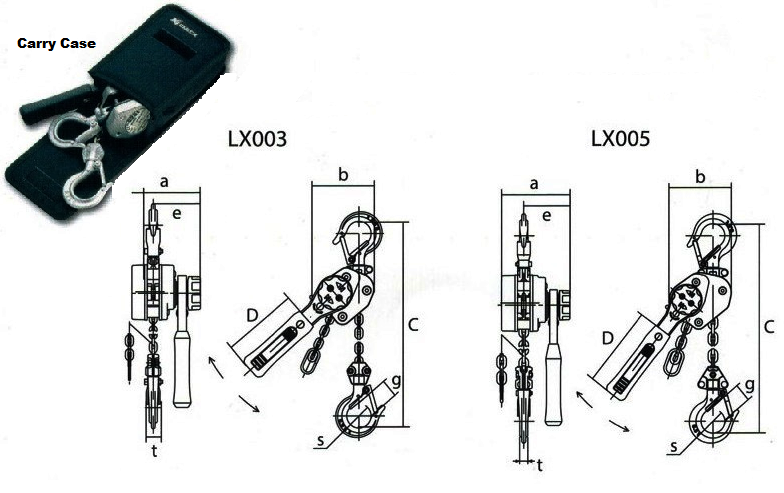 | | | | | | | | | |
| --- | --- | --- | --- | --- | --- | --- | --- | --- |
| Type | Capacity (KG) | Standard lift (m) | Hand pull to lift full load (daN) | Load chain diameter (mm) | Chain fall | Net weight (KG) | Test weight (KG) | Weight for additional 1m lift (KG) |
| LX003 | 250 | 1.5 | 20 | 3.2x9 | 1 | 1.7 | 380 | 0.2 |
| LX005 | 500 | 1.5 | 31 | 4.3x12 | 1 | 2.7 | 750 | 0.4 |