Ridgegear RGA 4 rescue Block
15 metre fall arrest block for height safety tasks.
Brand::

RidgeGear

Product Code:

Ridgegear RGA 4

Availability:

In Stock
Call 01384 76961 for price.
About the Ridgegear RGA 4 rescue Block
The Ridgegear RGA 4 fall arrest and rescue block has a 15m working length wire rope with a double action connector made from high tensile alloy steel.
The RGA 4 has an up and down winch mechanism and a standard fall arrest capability.
This block is also available with an additional steadying handle the RGA 4H.

This 3 way retrieval block can be used as a standard fall arrest block, however if a fall occurs the operative may be winched up or down to safety.( most retrieval systems only move down). This is ideal if the area below is not safe or suitable to lower the person to.
This system can be used with the RGR1 tripod when used with the special bracket the RGA 4B

The RGA 4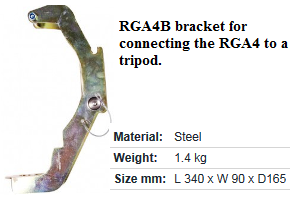 THE RGA 4H