Tiger TCB Chain Block
The Tiger TCB chain block is made from high quality materials, is lightweight and compact in design.
Brand::

Tiger

Product Code:

tiger tcb

Availability:

In Stock
Call 01384 76961 for price.
It still manages to pack a punch in terms of practicality thanks to its variety of load capacities. It also forms part of a wider range of Tiger hoist products, which includes ATEX rated adaptations.
Core Features of Tiger TCB
C
hain Block
Available in lifting capacities from 500kg up to 30000kg.
Alloy calibrated load chain, can be chained to suit your needs.
Twin pawl brake with double cover protection.
Individual spares easily available
Advantages of Choosing a Tiger TCB Chain Block
The most important perk of the design of this chain block from Tiger is that it is essentially simple and entirely oriented around smooth, safe lifting. It does not have a particularly visually arresting exterior, but what it lacks in aesthetic impact it more than makes up for in raw functionality.
Another point to mention is that this unfussy approach also makes this hoist simple and affordable to maintain. Lifting equipment inspections are required to comply with safety regulations, so you will want to pick a chain block that can be repaired without costing you an arm and a leg.
The sturdy braking system that comes with this chain block is a good reason to add the Tiger TCB to your wish list. It provides a means of preventing sudden drops, as well as putting operators in total control of loads at all times.
Pick a Chain Hoist – General Use or Specialised Model?
The Tiger TCB chain block is offered across a range of load capacities, as mentioned above. However, this is effectively where its versatility ends, since it is not built to be especially durable in scenarios where the atmosphere is particularly harsh. For that purpose, corrosion resistant hoists like the Tiger SS12 are more suitable. Battling corrosion using special coatings can keep hoists usable after extended exposure to marine environments.
Alternatively, you might need a chain block that boasts a higher load limit than is available as part of the TCB range. In this case, it is sensible to consider the Kito CB, which is a range that goes all the way up to 50 tonnes of lifting capacity before it runs out of steam.
Confused by the Tiger TCB Chain Block Range?
You do not need to worry about which model to pick when you contact Lifting Gear Direct. Our team will give you chain block info, quotes and general advice when you call them on 01384 76961 or click through to our contact page and ask a question via email. We want to make the process as clear and uncomplicated as possible, so get in touch today.
Product Code

Capacity (tonne)

Dimensions (mm)

 

 

A

B

C

D

E

F

F1

G

CB-0050

0.5

93

66

 

52

78

 

24

305

CB-0100

1

93

66

 

63

87

 

28

340

CB-0150

1.5

98

73

 

78

102

 

34

385

CB-0200

2

101

79

 

87

113

 

35

420

CB-020L

2

98

73

 

78

102

 

35

399

CB-0300

3

109

84

 

98

157

 

36

550

CB-030T

3

98

73

 

60

148

 

36

465

CB-0500

5

101

79

 

122

209

 

49

575

CB-0800

8

101

79

 

140

238

 

51

745

CB-1000

10

109

84

 

153

263

 

54

660

CB-1500

15

110

84

 

225

378

 

59

840

CB-2000

20

161

90

 

148

360

 

81

1050

CB-200T

20

161

161

 

383

383

 

81

1050

CB-3000

30

220

220

 

388

388

 

91

1200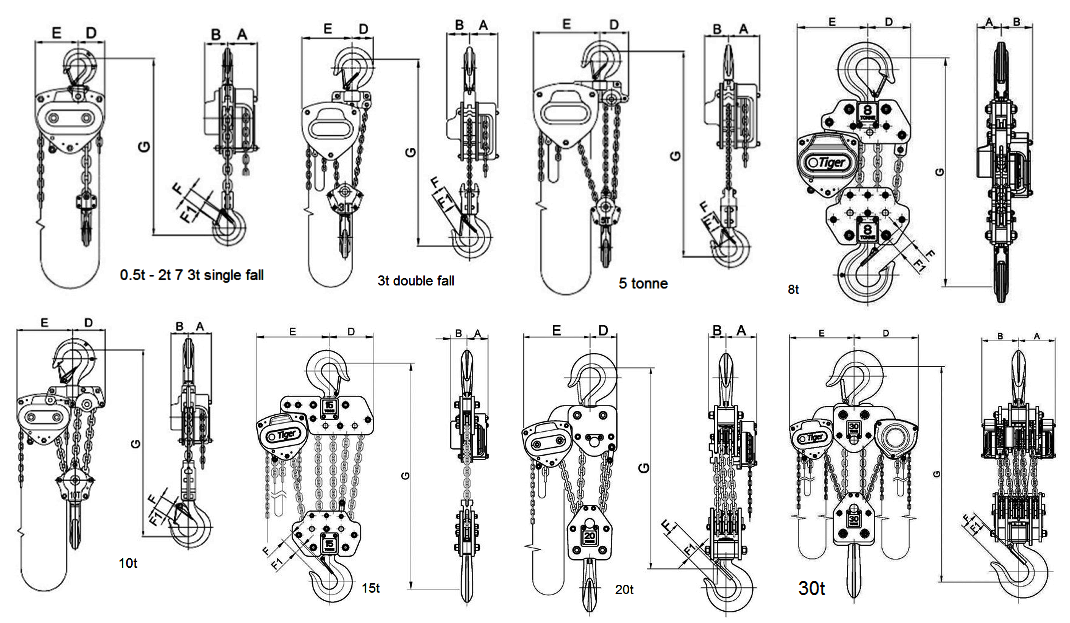 Product Code

Capacity (tonne)

Effort (kg)

Load Chain

Standard HOL (m)

Mass Kg @ std HOL

 

 

 

Diameter (mm)

No. of falls

 

 

CB-0050

0.5

21

Ø6.3

1

3

10.8

CB-0100

1

25

Ø6.3

1

3

11.8

CB-0150

1.5

32

Ø7.1

1

3

16.2

CB-0200

2

34

Ø8.0

1

3

20

CB-020L

2

42

Ø7.1

1

3

16.7

CB-0300

3

38

Ø10.0

1

3

30.6

CB-030T

3

34

Ø7.1

2

3

23.3

CB-0500

5

37

Ø8.0

3

3

37.8

CB-0800

8

37

Ø8.0

4

3

64

CB-1000

10

40

Ø10.0

3

3

64

CB-1500

15

41

Ø10.0

5

3

128.5

CB-2000

20

43

Ø10.0

6

3

178.7

CB-200T

20

43

Ø10.0

6

3

210.4

CB-3000

30

42

Ø10.0

10

3

306.9