Topal VFB Drum Clamp
With 3 different options the Topal VFB Drum Clamp can solve your drum handling needs.
Brand::

TOPAL

Product Code:

Topal VFB

Availability:

In Stock
Call 01384 76961 for price.
About the Topal VFB Drum Clamp
The VFB steel drum lifting clamp is able to lift drums both horizontally and vertically as well as rotating the drum for easy emptying.
Available with 3 options; semi-automatic; fully automatic and rotation feature.
Automatic locking system and reduction gear allows the drum to be rotated easily.
Ref

WLL (KG)

Drum

Ø

A

B

C

D

E

F

G

H

I

J

Weight (KG)

 

VFB 03 S

300

600

465

946

730

930

20

86

425

80

64

23

53

VFB 03 A

300

600

465

946

730

930

20

170

425

80

64

23

58

VFB 03 AR

300

600

465

1175

730

930

20

170

425

80

64

23

80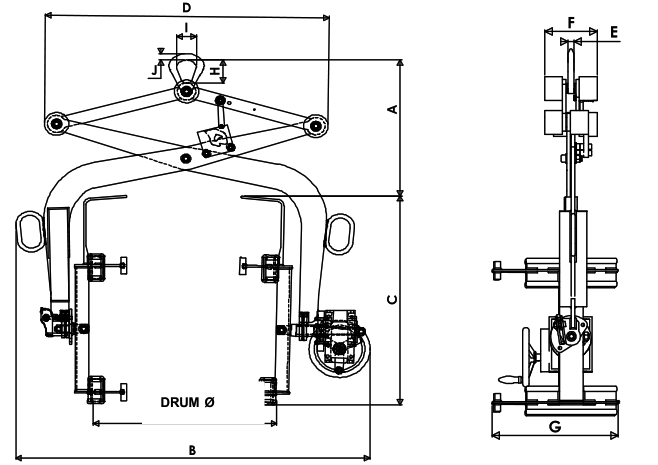 Model

WLL (KG)

Weight (KG)

Drum

Ø mm

VFB 03 S Semi automatic

300

53

600 (220L)

VFB 03 A Automatic

300

54

600 (220L)

VFB 03 AR Rotation feature

300

66

600 (220L)