Tractel Bravo Pull Winch
These hoists are suitable for lifting applications as well as pulling, securing and tensioning operations.
Brand::

Tractel

Product Code:

Tractel Bravo Pull Winch

Availability:

In Stock
Call 01384 76961 for price.
About the Tractel Bravo Pull Winch
The Bravo lever hoist comes in a good range of lifting capacities starting at 250kg and going up to 9000kg with 6 incremental stages in-between. It should be noted that the smallest 250 kg model does not have the double click system.
The double click system ensures safe use and prevents shock loading, it also doubles the accuracy of load movement.
The hoists exclusive handle/lever design together with the gear ratio ensures that it is almost impossible to overload it.
The Bravo ratchet lever hoist is easy to handle with a comfortable handle grip. There are safety catches on the suspension and load hooks to ensure optimum safety. A special coating has been applied to the Bravo which contains Teflon to ensure considerably reduce any friction which may occur between components. A further benefit to this lever hoist is the load chain; it is a grade 80 chain with a Coralim coating which consists of flakes of zinc in a special matrix of chromate which provides its corrosion resistancy. Hydrogen embrittlement is absent thanks to the coating process.
The specialized coating provides up to 400 hours of salt water spray resistance without harm and red dust becoming apparent. What's more it is heat resistant up to 280 degrees C with no visible changes.
The standard height of lift for the Bravo is 1.5 metres, however any length can be supplied at additional cost per metre.
Other design elements of the Bravo Lever Hoist
There is a free-wheeling chain device to use when the hoist is not loaded; this enables easy pulling through of the chain to the required position, helping to easily attach the load to be lifted.
· Easy to handle
· Compact and lightweight design
· Nyloc nuts are used
· ISO grade 80 from 500 kg
· EN-13157 from 500 kg model
· Spares available.
Calling to order.
Getting in touch with Lifting Gear Direct for more information or to order a hoist or spares or even to book a thorough inspection is easy; simply call 01384 76961 or use the contact page to email us. Remember we also supply other top branded lever hoists as well as all kinds of loose lifting tackle and lifting equipment accessories to compliment any hoisting device.
Tractel Bravo Lever Hoist at a Glance
The new and improved Bravo lever hoist is compact with an easier to use handle.
Available in 8 lifting capacities from 0.25t up to 9 t.
This lever hoist consists of nyloc nuts, cast steel hook catches and a better safety catch.
Corrosion resistant galvanised chain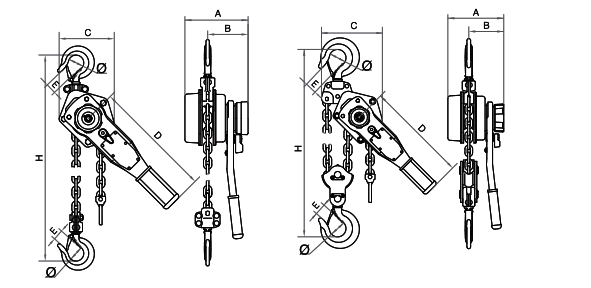 WLL (tonnes)

Chain dimensions (type t)

Dimensions (mm)

 

 

A

B

C

D

E

Ø

0.25

4x12

91

70

71

157

21

28

0.5

5x15

110

80

122

228

23

35

0.75

6x18

147

87

126

268

26

37

1

6x18

147

87

126

268

27

40

1.5

7x21

178

105

146

368

31

45

3

10x30

203

110

193

348

40

55

6

10x30

203

110

235

348

45

65
Model

WLL (KG)

Number of strands

 

Standard lifting height (m)

Maximum force on lever (daN/KG)

Weight (KG)

Chain size (mm)

250

250

1

1.5

26

2

4x12

500

500

1

1.5

34

5

5x15

750

750

1

1.5

20

7

6x18

1500

1500

1

1.5

26

11

7x21

3000

3000

1

1.5

33

20

10x30

6000

6000

2

1.5

34

30

10x30