Tractel Magfor II Lifting Magnet
The Tractel Magfor ll standard lifting magnet has 5 lifting capacities ranging from 100kg up to 2000kg; there is also the mk1 original magnet available in 3000 and 5000kg capacities.
Brand::

Tractel

Product Code:

Tractel Magfor II Lifting Magnet

Availability:

In Stock
Call 01384 76961 for price.
This is just one of many high quality lifting products from Tractel that we sell, providing excellent performance in the specific role of handling sheets and cylinders of metal.
Key Features of the Tractel Magfor II
2 stage deactivation process for extra safety
Independent self locking safety device
Can lift cylindrical objects
Minimum maintenance & no electric needed.
Neodymium magnet
The rotor which enables orientation of magnetic strength on the load is placed with a robust lever.
Benefits of the Magfor II Range
As you can tell from the quick rundown of the key features, this range of lifting magnets is versatile and well equipped, while still being a cost-effective alternative to battery powered models. There is even a high temperature variant available for lifting applications that involve the handling of very hot metals.
Using machinery to lift heavy loads can be dangerous, so it makes sense to work with a permanent magnet like this which has so many baked-in safety features. From its auto-locking catch which prevents drops to its sturdy design which avoids wear and tear taking its toll, there is a lot to like about the Magfor II, in all its variations.
It is sensible to compare the working load limit of each model, because there are differences in how much weight it can take depending on whether the object is flat or curved. The limit for a round surface is usually half that of a flat sheet, for reasons of safety and stability.
Lifting Equipment Contrasted
If you need to shift magnetic loads, then a lifting magnet like this is an obvious choice. If you have different duties to take care of, our full range of handling products will come into play. We even build bespoke, customisable crane assemblies from top quality materials and using the best components available.
If you do not need something as comprehensive, we can supply lifting accessories and loose tackle to add to existing gear. Check out our wire rope products to find a full array of options in this popular category as well.
Contact LGD for Guidance on Magnet Lifters
At Lifting Gear Direct we understand that you might need a helping hand when picking a product, so our team is ready and waiting to provide just that. Our contact form is available to get in touch online, or if a phone conversation with an expert is what you need then you can call us on 01384 76961.
| | | | | | | | | |
| --- | --- | --- | --- | --- | --- | --- | --- | --- |
| Type | A | B | C | D | E | F | G | Ø |
| Magfor 100 | 135 | 70 | 75 | 125 | 45 | 40 | 125 | 10 |
| Magfor 300 | 190 | 90 | 85 | 175 | 70 | 50 | 180 | 12 |
| Magfor 500 | 255 | 110 | 100 | 195 | 70 | 50 | 210 | 16 |
| Magfor 1000 | 350 | 140 | 130 | 270 | 105 | 60 | 325 | 25 |
| Magfor 2000 | 440 | 180 | 180 | 320 | 105 | 60 | 340 | 25 |
| Magfor 3000 | 480 | 220 | 215 | 415 | 150 | 80 | 700 | 40 |
| Magfor 5000 | 540 | 370 | 315 | 515 | 150 | 85 | 700 | 50 |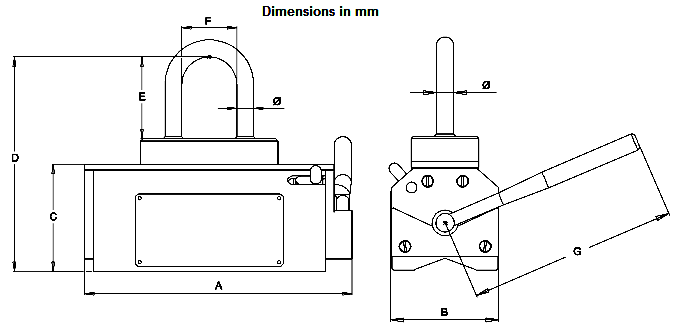 Code

Model

WLL On plate surface (KG)

WLL On round surface (KG)

Weight (KG)

Min chain

Ø (mm)

185438

Magfor II 100

100

50

3

10

185448

Magfor II 300

300

125

9.5

12

185458

Magfor II 500

500

215

13

16

185468

Magfor II 1000

1000

450

31.5

20

185478

Magfor II 2000

2000

800

95

25

54668

Magfor 3000

3000

1200

190

40

54678

Magfor 5000

5000

2400

400

50