Under braced 125KG Jib Crane with 4MTR Under beam x 3MTR Arm
For an
underbraced jib crane
that offers a little more height, this model with a four metre under beam measurement should be a sensible selection. The
Lifting Gear Direct
team can craft custom kit of all kinds, with this 125kg capacity model being amongst the most compact.
Call 01384 76961 for price.
Sturdy & stable Swing Jib Crane
In spite of its limited capacity, this jib crane will still find an audience, especially with operators of small businesses that want a well made piece of lifting equipment to enhance their daily operations.
Underbracing allows the crane to squeeze beneath overhanging obstacles, from ceiling beams to other pieces of equipment.
Take your choice of beam attachments, make full use of the 4 metre supporting strut and the 3 metre arm and see how much of a difference this product can make.
Things to consider for the Floor Mounted Jib Crane
If you are worried that underbracing will be too much of a problem because of the arm being blocked off right next to the vertical beam, our overbraced jib crane range is the ideal alternative.
We can also produce mobile gantries with capacities of up to five tonnes, so our range is not restricted to fixed position cranes.
Contacting LGD about an Underbraced 125KG Jib Crane with 4MTR Under beam x 3MTR Arm
Complete our enquiry form or call 01384 76961 when you are prepared to ask our sales experts a question, or to request a competitive quote for your very own underbraced jib crane.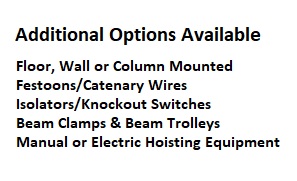 | | | |
| --- | --- | --- |
| SWL | Height Under Beam | Arm Length |
| 125KG | 4000mm | 3000mm |