Yale CPE/F Electric Hoist
The Yale CPE electric hoist is the largest capacity electric hoist from Yale available from Lifting Gear Direct. Up to 10 Ton available upon request.
DELIVERY CURRENTLY 4 WEEKS DUE TO COVID AND BREXIT DELAYS.

Brand::

YALE

Product Code:

Yale CPE/F electric hoist

Availability:

In Stock
The standard hoist is available with lifting capacities up to 7500kg, however there is a special model which enables lifting up to 10000kg / 10 tonne, this is the CPE 100-2 twin hoist model which is essentially made up of two CPE 50-2 hoists fitted to a special framework.
The CPE hoisting system can be supplied as shown here, as a standard fitted suspension hook electric hoist or with an integral trolley system, you can view the details of the CPE with Integral Trolley here.
Yale Hoist Options
These hoists come in two types, the CPE models are single speed hoists and the CPE/F electric hoist models are dual speed hoists, the two speeds are the main or fastest speeds and the second speed is for finer lifts or creep speeds.
The dual speed models deliver added precision, while still offering faster lifting and lowering for tasks that need to be completed quickly. All electric chain hoist models from this manufacturer are all compliant with industry standards for safety and performance, so you can buy with confidence.

Designed for professional applications the high quality, efficient, heavy duty Yale CPE electric hoist is produced for a long working life. Servicing and maintenance is also simple, all due to there being only three main components.
KEY Features of the CPE Electric Hoist
The gearbox is of the planetary type and is permanently lubricated in an oil bath for consistent smooth running; it also enables a lower overall height. This component should perform effectively for the lifetime of the electric chain hoist, which makes it a great long term investment.
The load wheel has 5 pockets, and matches flawlessly with the chain, made from wear resistant, hardened steel you can be assured of smooth and precise chaining.
The low voltage control and motor with thermal protection add to the safety of these hoists. In addition there is a spring pressure brake (adjustable) on the heavy duty squirrel cage motor which will ensure the load will hold firm even if there is complete power failure.
All of the materials used in the construction of this Yale hoist are tough and built to last. From the zinc-plated link chain to the hardened steel of the casing, this range can provide years of work without succumbing to wear and tear.
The pendant control included with these electric chain hoist models is also sturdy, with IP65 certification helping it to resist damage when exposed to dust and liquid. Even the motor has an IP54 rating, which means it can withstand water splashes and avoid being invaded by dirt particles of all kinds.
There are a number of other add-ons that can be specified for these Yale hoist models to add to the standard capabilities. So if you have specific needs then there should be something to suit the lifting tasks you want to tackle.

Other Features of the CPE/F Hoists
Encapsulated pendant control
Suspension hooks and load hooks made from high tempered alloy steel (non-aging)
Case hardened, zinc plated link chain
400v, 3 phase, 50Hz euro-voltage.
1, 2, 3 & 4 chain fall models
Optional Extras include stainless steel load chains, chain containers, limit switches, stainless steel brakes, 90 degree swivel suspension hook and additional operating voltages.
Your Yale Hoist Questions Answered
Check out the technical details below for models, capacities, speeds & dimensions. If you need any other information on the electric chain hoist models we sell, or would like a quote for our services, contact us today. Get in touch by calling 01384 76961 to talk to one of our friendly team, or email us for a quick response.
Model

CPE/CPEF 16-8

CPE/CPEF 20-8

CPE/CPEF 25-5

CPE/CPEF 30-5

 

CPE/CPEF 32-4

CPE/CPEF 40-4

CPE/CPEF 50-2

CPE/CPEF75-1.6

CPE/CPEF 100-2

A, mm

516

516

516

516

681

681

681

950

1068

A1, mm

286

286

286

286

428

428

428

479

651

A2 (13m), mm

430

430

430

430

430

430

430

 

 

A2 (21m), mm

 

530

530

530

530

530

530

530

530

555

B, mm

35

35

35

35

45

45

45

60

60

C, mm

37

37

37

37

46

46

46

52

52

D, mm

24

24

24

24

30

30

30

40/45

40/45

E, mm

24

24

24

24

24

24

24

 

 

F1, mm

160

160

160

160

160

160

160

160

160

F2, mm

178

178

178

178

178

178

178

178

178

G, mm

220

220

220

220

220

220

220

220

 

G1, mm

180

180

180

180

140

140

140

268

315

G2 (13m), mm

257

257

257

257

218

218

218

 

 

G2 (21m), mm

277

277

277

277

238

238

238

345

408

H1, mm

110

110

110

110

110

110

110

110

135

H2, mm

135

135

135

135

135

135

135

307

256

K1, mm

100

100

100

100

100

100

100

92

92

K2, mm

51

51

51

51

51

51

51

62

62

M, mm

50

50

50

50

10

10

10

138

 

N, mm

84

84

84

84

124

124

124

136

390

Q1, mm

280

280

280

280

280

280

280

280

280

Q2 (CPE), mm

362

362

362

362

362

362

362

362

362

Q2 (CPEF), mm

417

417

417

417

417

417

417

417

417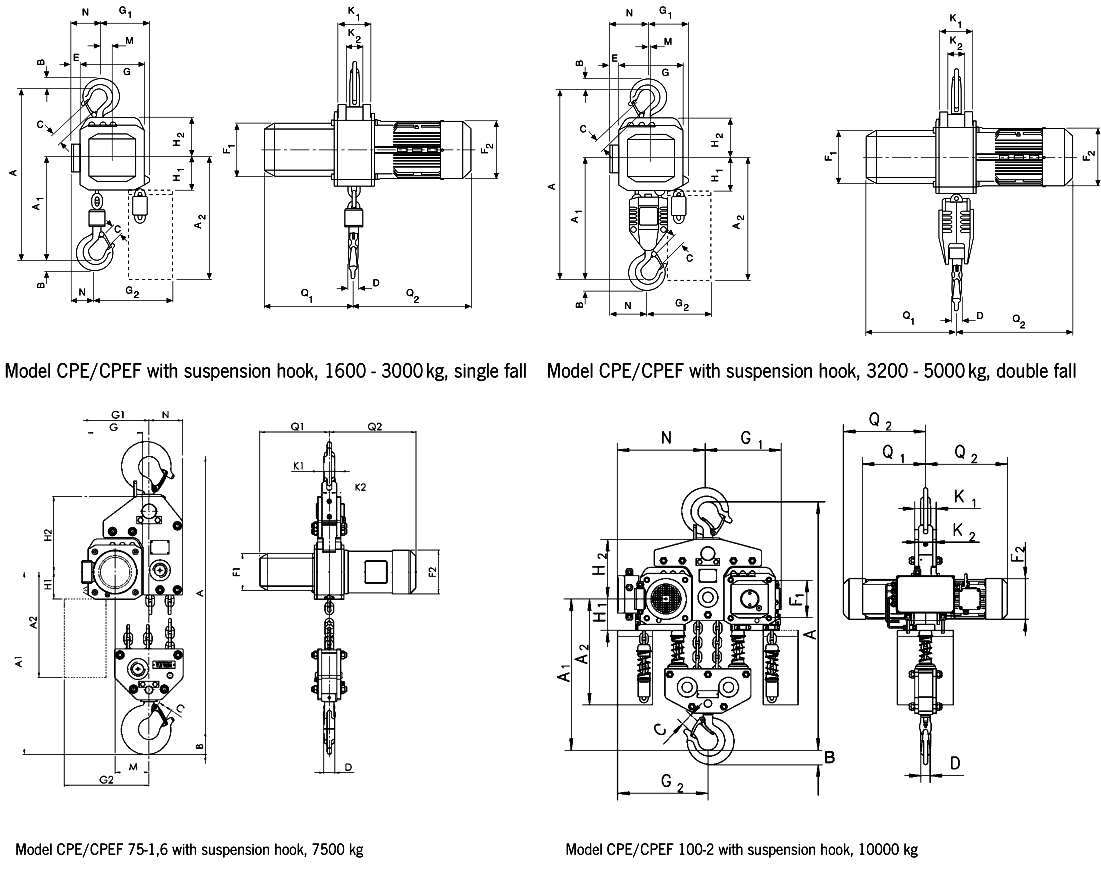 Model

Capacity in kg/number of chain falls

Chain dimensions d x p (mm)

Classification FEM/ISO

Lifting speed

       main lift m/min

Lifting speed fine lift m/min

Hoist Motor (kW)

Motor Rating ED%

CPE 16-8

1600/1

11 x 31

1Am/M4

8

 

2.3

40

CPE/F 16-8

1600/1

11 x 31

1Am/M4

8

2

2.3/0.58

40/20

CPE 20-8

2000/1

11 x 31

1Bm/M3

8

 

2.8

25

CPE/F 20-8

2000/1

11 x 31

1Bm/M3

8

2

2.8/0.7

25/15

CPE 25-5

2500/1

11 x 31

1Am/M4

5

 

2.3

40

CPE/F 25-5

2500/1

11 x 31

1Am/M4

5

1.25

2.3/0.58

40/20

CPE 30-5

3000/1

11 x 31

1Bm/M3

5

 

2.8

25

CPE/F 30-5

3000/1

11 x 31

1Bm/M3

5

1.25

2.8/0.7

25/15

CPE 32-4

3200/2

11 x 31

1Am/M4

4

 

2.3

40

CPE/F 32-4

3200/2

11 x 31

1Am/M4

4

1

2.3/0.58

40/20

CPE 40-4

4000/2

11 x 31

1Bm/M3

4

 

2.8

25

CPE/F 40-4

4000/2

11 x 31

1Bm/M3

4

1

2.8/0.7

25/15

CPE 50-2

5000/2

11 x 31

1Am/M4

2.5

 

2.3

40

CPE/F 50-2

5000/2

11 x 31

1Am/M4

2.5

0.6

2.3/0.58

40/20

CPE 75-1.6

7500/3

11 x 31

1Am/M4

1.6

 

2.8

40

CPE/F 75-1.6

7500/3

11 x 31

1Am/M4

1.6

0.4

2.8/0.58

40/20

CPE 100-2

10000/4

11 x 31

1Am/M4

2.5

 

2x2.3

40

CPE/F 100-2

10000/4

11 x 31

1Am/M4

2.5

0.6

2x2.3/0.58

40/20