Yale PT Lever Hoist / Pull Lift
This is a universal ratchet lever hoist manufactures from pressed steel to enable it to have a low self weight. A hoist that s ideal for use in demanding conditions.
Brand::

YALE

Product Code:

Yale PT Lever Hoist / Pull Lift

Availability:

In Stock
About the Yale PT Ratchet Lever Hoist
The pressed steel housing makes this a sturdy hoist whilst being easy to use and transport around as it's lightweight. There are 4 models to choose from in the PT lever hoist range, their lifting capacities are 800kg; 1600kg; 3200kg & 6300kg meaning there should be a suitable model for most every day applications.
All models have the option of adding an overload protection mechanism if required. This is a factory pre-set slip clutch and will provide an additional safety feature. The factory setting is to 125% of the maximum working load limit, so if a load is lifted at this weight or higher the clutch will slip and prevent any further lifting.
Key Features of the Yale PT Lever Hoist
The PT boasts a free chaining device as standard, this allows the chain to be quickly pulled out to the length required to attach to the load. The chain can be pulled through in both directions.
Little effort is needed to operate this lever hoist and the short handle lever has a rubber cover for easier and comfier handling. The Zinc plated alloy steel link chain and the yellow chromated finish are in accordance with national and international standards & regulations.
Both upper and lower hooks include robust safety latches to ensure load safety. The hooks have been drop forged from non-ageing, high tensile steel and are tough enough for the most arduous tasks.
Other Lifting Gear you may need
Lifting Gear Direct can supply a wide range of additional lifting gear to work together with your chosen hoist, whether it is a lever hoist or a chain block. Slings and shackles are popular in any lifting application and our range of lifting clamps is great for lifting particular items, such as sheet materials, pipes, blocks and even containers. We have beam attachments like beam clamps and trolley's to enable easy fitting of your hoist to a crane.
Get in Touch
Call 01384 76961 to speak to us about your lifting requirements or place an order. You can also go to the contact page to email us. We can quote on multiple items together so just let us know what your lifting task is and we will endeavour to tell you which products you are likely to need.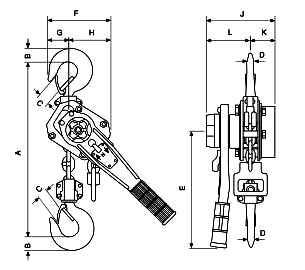 | | | | | |
| --- | --- | --- | --- | --- |
| Model | PT 800 | PT 1600 | PT 3200 | PT 6300 |
| A min, mm | 290 | 330 | 430 | 580 |
| B mm | 21 | 27 | 36 | 53 |
| C mm | 24 | 31 | 35 | 46 |
| D mm | 13 | 20 | 24 | 43 |
| E mm | 235 | 370 | 370 | 370 |
| F mm | 120 | 138 | 177 | 259 |
| G mm | 38 | 41 | 53 | 85 |
| H mm | 82 | 97 | 124 | 174 |
| J mm | 142 | 163 | 185 | 185 |
| K mm | 52 | 65 | 83 | 83 |
| L mm | 90 | 98 | 102 | 102 |
Model

Capacity (KG)

Number of chain falls

Chain dimensions dxp (mm)

Lift with one full lever turn (mm)

Handle pull at WLL (daN)

Weight at standard lift (1.5m) KG

 

PT 800

800

1

5.6x17.1

24

26

5.5

PT 1600

1600

1

7.1x21.2

23

30

9.6

PT 3200

3200

1

9x27.2

16

38

16

PT 6300

6300

2

9x27.2

8

39

31