Yale C85 Pul-lift / Lever Hoist
This lever hoist is essentially the same as the
Yale D85 pul-lift
with the exception of the load chain. Whereas the D85 has a standard link chain this C85 model has a roller link chain which is like a bicycle chain.
Brand::

YALE

Product Code:

Yale C85 Pul-lift

Availability:

In Stock
Call 01384 76961 for price.
About the Yale C85 Pul-lift
This lever hoist incorporates an enclosed cover, lever/handle and lower block all made from high tensile, malleable cast iron for a robust construction designed for arduous lifting tasks.
The special sprocket for the roller chain is made from chromium molybdenum, heat treated steel, its teeth have been machined for complete precision to ensure the roller chain can consistently roll over smoothly. The smooth operation of these Yale C85 lever hoists makes them ideal for use in the electricity supply industry and overhead line works.
The C85 comes in 5 capacity increment starting at 750kg and going up to 10000kg you can see all the technical details and dimensions in the specification tables below.
Optional Extras
The Yale C85 Pul-lift has a number of optional extras, whilst these extras will enhance the lever hoist they are not essential which means the price can be kept to a minimum – you only have to order the bits you really need.
First of all there is the option of overload protection which comes in the form of a slip clutch, so if the load is too heavy the chain will slip and prevent the load from being lifted any more but it can be lowered. This is a great option if you lift loads of different types, and varying capacities.
Another optional extra is the free chaining device; this enables the chain to be released from the guide/sprocket so it can be pulled through unhindered. This extra can make attaching the load much quicker, especially when the load hook is farther away from the load.
Additional Lifting Gear
Nine times out of ten you will require some other equipment to be able to complete your lifting application, this could be a simple lifting shackle to use as a connection to a lifting sling, a special lifting clamp to suit your load or maybe you could use a lifting A-frame or Jib crane. If you need any type of lifting equipment, hoisting equipment, bespoke crane or loose tackle then we can help, not only do we supply all types of lifting gear we also manufacture our own mobile lifting A-frame gantry systems and Jib crane to suit your needs.
We supply all the leading brand names and can quote on different ones so you can see the price differences. Yale is one of our top selling brands and we can supply a vast range of Yale lifting equipment. Lifting equipment inspections can also be carried out on gear by our trained engineers.
Call us with your lifting requirements today on 01384 76961 or email us here.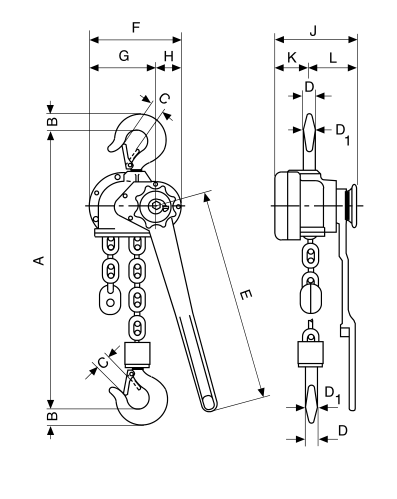 | | | | | | |
| --- | --- | --- | --- | --- | --- |
| Model | PUL-LIFT C85 750 | PUL-LIFT C85 1500 | PUL-LIFT C85 3000 | PUL-LIFT C85 6000 | PUL-LIFT C85 10000 |
| A min, mm | 322 | 389 | 403 | 560 | 785 |
| B mm | 21 | 27 | 35 | 48 | 61 |
| C mm | 27 | 30 | 34 | 46 | 54 |
| D mm | 15 | 20 | 25 | 40 | 40 |
| D1 mm | 17 | 23 | 25 | 40 | 45 |
| E mm | 443 | 443 | 570 | 570 | 570 |
| F mm | 112 | 189 | 197 | 197 | 305 |
| G mm | 56 | 134 | 142 | 142 | 163 |
| H mm | 56 | 55 | 55 | 55 | 142 |
| J mm | 142 | 171 | 179 | 218 | 218 |
| K mm | 39 | 72 | 76 | 76 | 76 |
| L mm | 103 | 99 | 103 | 142 | 142 |
Model

Capacity (KG)

Number of chain falls

Chain dimensions dxp (inch)

Lift with one full lever turn (mm)

Handle pull at WLL (daN)

Weight at standard lift (1.5m) KG

 

PUL-LIFT C85 750

750

1

5/8"x 3/8"

115

38

8.7

PUL-LIFT C85 1500

1500

1

1" x 1/2"

45

31

17

PUL-LIFT C85 3000

3000

1

1 1/4" x 5/8"

36

40

22.2

PUL-LIFT C85 6000

6000

2

1 1/4" x 5/8"

18

44

38

PUL-LIFT C85 10000

10000

3

1 1/4" x 5/8"

12

44

67