Yale Handy Lever Hoist
This little ratchet lever hoist certainly lives up to its name the Yale Handy. It is the smallest lever hoist on offer from
Yale
and comes in two lifting capacity models, either 250kg or 500kg.
Brand::

YALE

Product Code:

Yale Handy Lever Hoist

Availability:

In Stock
About the Yale Handy Lever Hoist
At just 240mm tall this handy ratchet lever hoist is perfect for keeping in your work vehicle or tool box. It is very compact and light in weight which means it's great for site work as it's easy to carry around. Its compact nature also means that it can be really useful in confined places where a standard lever hoist would be too large. The Yale Handy lever hoist is commonly used by tradesmen, utility companies and workshops, though the usefulness of this little hoist could easily be extended to pretty much any industry.
Key Features of the Yale Handy Ratchet Lever Hoist
The Handy ratchet lever hoist has some great features including its short lever which is covered in a grip friendly rubber. The internal working parts of the hoist are protected from debris contamination thanks to the enclosed design. There is a free chaining mechanism as standard on the Handy to enable you to quickly pull the chain through the device in any direction; it also makes load attachment easier and faster too.
A disc type load brake is incorporated into this lever hoist, it is manufactured from corrosion protected, high quality materials. The suspension and load hooks are both drop forged from high tensile steel and are fitted with robust safety catches to ensure the load stays firmly attached.
The hoist comes with an alloy steel link chain with zinc plated resp. And a yellow chromated finish, all in accordance with all the necessary standards.
The smaller 250kg model can lift up to 80mm with one full lever turn and the 500kg model can lift 40mm with one full lever turn.
Other Lifting Accessories
When using a lifting hoist, no matter what kind, it is common to use other lifting equipment alongside it so that the lifting operation can be completed easier and safer. Lifting slings are often used to harness the load and attach it to the hoist. Sometimes lifting clamps are used to connect the hoist to specific load types, for example a plate clamp may be used to lift a piece of sheet steel. If the hoist is anchored on a crane then a beam clamp or beam trolley will frequently be seen.
Getting in Touch
Should you need advice on which lifting gear or hoisting equipment just give us a call on 01384 76961. You can email any enquiries for quotes through our contact us page.
Overview
Ideal for the tool box or work vehicle.
Versatile and suitable for numerous applications.
250kg and 500kg models available.
Extremely compact design with low tare weight.
Quick to attach to the load thanks to the standard free chaining mechanism.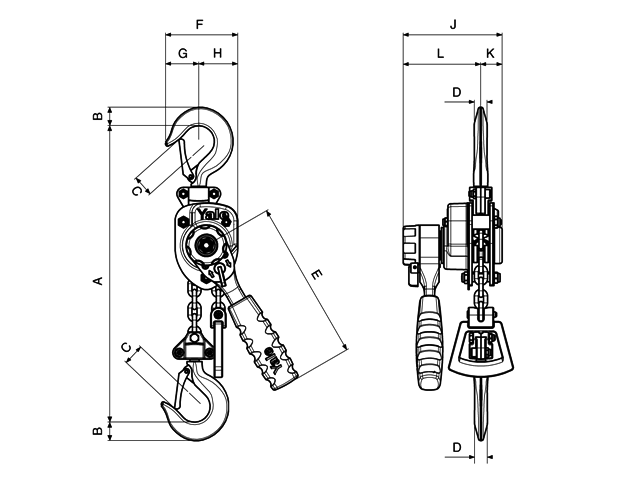 | | | |
| --- | --- | --- |
| Model | Yalehandy 250 | Yalehandy 500 |
| A min, mm | 240 | 282 |
| B mm | 20 | 17 |
| C mm | 21 | 24 |
| D mm | 14 | 12 |
| E mm | 160 | 160 |
| F mm | 72 | 104 |
| G mm | 33 | 38 |
| H mm | 39 | 66 |
| J mm | 98 | 116 |
| K mm | 21 | 36 |
| L mm | 77 | 80 |
| | | | | | | |
| --- | --- | --- | --- | --- | --- | --- |
| Model | Capacity (KG) | Number of chain falls | Chain dimensions dxp (mm) | Lift with one full lever turn (mm) | Handle pull at WLL (daN) | Weight at standard lift (1.5m) KG |
| Yalehandy 250 | 250 | 1 | 4x12 | 80 | 25 | 2.2 |
| Yalehandy 500 | 500 | 1 | 4x12 | 40 | 25 | 2.8 |