Yale YLLHP/G Low Headroom Chain Block with Trolley
Yale is a respected manufacturer of chain hoists and lifting equipment of all types. This manual chain hoist model is resilient, reliable and available in a number of different configurations.
Brand::

YALE

Product Code:

Yale-YLLHP/G Low Headroom Chain Block with Trolley

Availability:

In Stock
Call 01384 76961 for price.
It is part of a wider range of Yale chain blocks you can buy from Lifting Gear Direct. Like its stable mates, the YLLHP/G is built to a high standard and comes with plenty of perks, which are listed below to give you a rundown of its capabilities.
Yale YLLHP/G Low Headroom Chain Block Features
The YLLHP/G Low Headroom manual chain hoist has an integral trolley system.
Ultra low headroom for where space is tight.
The YLLHP is the push travel trolley version.
The YLLHG is the geared trolley version.
Special chain reeving system & guide enable the bottom block to be pulled laterally almost up to the beam flange.
Quick and easy trolley assembly.
Anti tilt & drop devices.
Machined steel wheels with encased, pre-lubricated ball bearings to provide smooth movements.
Available in WLL from 500kg up to 10000kg.
Various falls of chain and beam width sizes dependant on model.
Yale TLLHP/G Low Headroom Chain Hoist Benefits
The obvious advantage of choosing this type of manual chain hoist over the other models in the Yale range is that it is supremely compact. Its design is tweaked for use in environments where headroom is limited and yet heavy duty lifting tasks still need to be completed quickly and efficiently.
The addition of safety devices, which prevent large loads from tilting or dropping unexpectedly, will give you peace of mind. They will also help you to comply with regulations governing the use of lifting equipment. Whether you run a small workshop or a large factory, keeping on top of these requirements with safe, secure equipment like this is essential.
Another thing to note about the YLLHP/G low headroom chain hoists from Yale is that they promise to provide a smooth, seamless lifting experience day after day. With the hazards of manual handling, it makes sense to get a helping hand from a sturdy bit of kit like this, especially as a trolley is included.
Yale YLLHP/G Low Headroom Chain Block Options
This specific model can be specified with a number of different safe working limits, stating at 500kg and going all the way up to 10 tonnes. This scalability and variety is typical of Yale, but if you need something different, remember to check out the other chain blocks we stock. This includes cutting edge models from GT, Gunnebo, Raptor, Kito and many more big name brands.
Contact LGD with your manual chain block questions
With so many different models of Yale chain hoist available, it can be difficult to know which model is right for you. Contact the Lifting Gear Direct team by calling 01384 76961 or emailing us via our site. We will talk you through the products and services we offer, give you a quote and unpick any questions you might have.
| | | | | | | |
| --- | --- | --- | --- | --- | --- | --- |
| Model | YLLH 500 | YLLH 1000 | YLLH 2000 | YLLH 3000 | YLLH 5000 | YLLH 10000 |
| A min, mm | 188 | 211 | 264 | 316 | 425 | 565 |
| A1,mm | 223 | 250 | 289 | 346 | 345 | 365 |
| A2,mm | 381 | 427 | 511 | 614 | 612 | 665 |
| B,mm | 17 | 22 | 30 | 38 | 45 | 68 |
| C,mm | 24 | 29 | 35 | 40 | 47 | 68 |
| D,mm | 14 | 19 | 22 | 30 | 37 | 50 |
| F (geared trolley), mm | 92 | 92 | 91 | 107 | 150 | 150 |
| H1,mm | 24 | 24 | 24 | 32 | 31 | 45 |
| I (pushed trolley), mm | 72 | 72 | 96 | 131 | 143 | 170 |
| I (geared trolley), mm | 77 | 77 | 98 | 133 | 149 | 170 |
| L,mm | 270 | 310 | 360 | 445 | 525 | 485 |
| L1,mm | 130 | 130 | 150 | 180 | 209 | 225 |
| L2,mm | 444 | 488 | 582 | 690 | 720 | 805 |
| L3,mm | 124 | 135 | 172 | 203 | 175 | 215 |
| L4,mm | 184 | 201 | 230 | 265 | 283 | 348 |
| M,mm | M18 | M22 | M27 | M30 | M42 | M48 |
| O,mm | 60 | 60 | 80 | 112 | 125 | 150 |
| P (geared trolley), mm | 108 | 110 | 112 | 112 | 117 | 165 |
| T (area A), mm | 280 | 290 | 305 | 320 | 364 | 440 |
| T (area B), mm | 400 | 410 | 425 | 440 | 484 | 540 |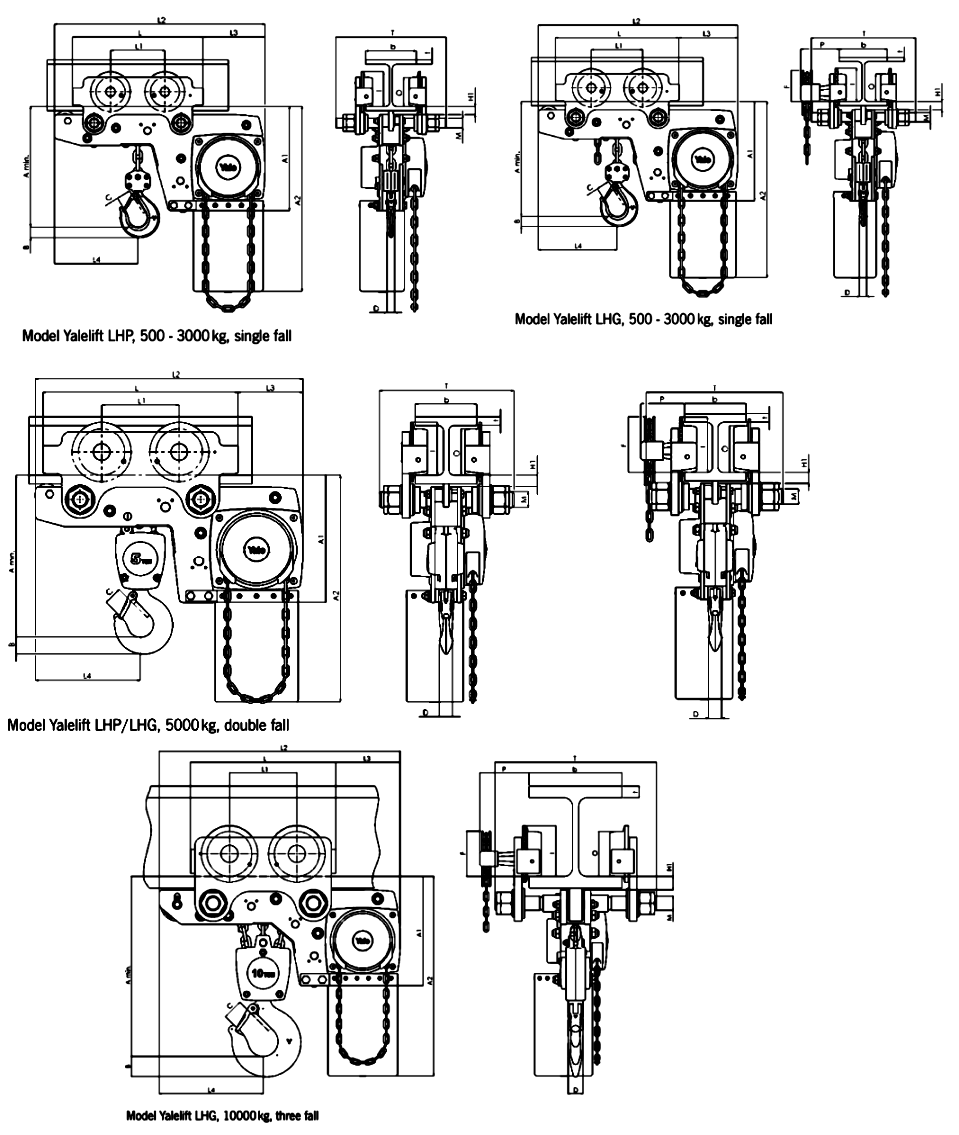 Model

Capacity in kg/number of chain falls

Size

Beam flange width b (mm)

Beam flange thickness t max (mm)

Curve radius min (m)

Weight at standard lift (3m)-P (KG)

Weight at standard lift (3m)-G (KG)

Weight at standard lift (3m) with locking device- P (KG)

Weight at standard lift (3m) with locking device- G (KG)

YLLH 500

500/1

A

60-180

19

0.9

27

31

33

38

YLLH 500

500/1

B

180-300

19

0.9

27

32

34

38

YLLH 1000

1000/1

A

70-180

19

0.9

35

40

43

48

YLLH 1000

1000/1

B

180-300

19

0.9

36

41

44

49

YLLH 2000

2000/1

A

82-180

19

1.15

61

65

69

73

YLLH 2000

2000/1

B

180-300

19

1.15

62

67

70

75

YLLH 3000

3000/1

A

100-180

19

1.5

107

112

116

121

YLLH 3000

3000/1

B

180-300

19

1.4

109

114

118

123

YLLH 5000

5000/2

A

110-180

28

2

152

157

162

167

YLLH 5000

5000/2

B

180-300

28

1.8

156

161

166

171

YLLH 10000

10000/3

A

125-180

40

1.8

On Request

 

230

On Request

 

On Request

 

YLLH 10000

10000/3

B

180-310

40

1.8

On Request

 

232

On Request

 

On Request

 

P in connection with weight = with pushed trolley

                        G in connection with weight = with geared trolley