Hacketts Geared Trolley - WH-GT
A geared travel beam trolley available in a range of capacities from 500kg up to 10 tonne with ATEX rated and corrosion resistant versions also available in limited capacities, see below for all the details.
Product Code:

Hacketts Geared Trolley

Availability:

In Stock
Call 01384 76961 for price.
About the Hacketts Geared Trolley – WH-GT
Easier to use and position precisely than the push travel version this geared travel trolley by William Hackett is engineered with high quality components.
Moving or traversing the trolley across the beam is as simple as pulling on the chain to turn the geared wheels. Even when a fully loaded hoist is fitted, operation will remain smooth.
The geared wheels have been machined with precision and incorporate maintenance sealed ball bearings for smooth operation.
The hand chain loop has been specially designed so it it around 500mm from ground level for easy use.
Anti-jump bars and rubber end stops are fitted as standard as with all Hacketts trolleys.
Other Versions of the WH-GT
Lifting Gear Direct can offer two other versions of the Hacketts WH-GT geared travel trolley; there is a corrosion resistant variant which is available in models up to 5 tonne with the same size specifications.
The Atex rated version is only available in the 0.5, 1 & 2 tonne variants. Solid bronze geared wheels and a bronze hanging plate are incorporated into the design for this Atex range.

Other Beam Trolleys
You will find many types of beam trolleys on the Lifting Gear Direct website, most of which can be purchased directly online. You will find models from all the major players including Yale and GT (there are more in the shop by brand category) and we also have our own push travel option. Powered trolleys are also featured in this category for when you need the most power and precision.
So choose from the push travel, geared travel or powered travel trolley options and give us a call if you need help.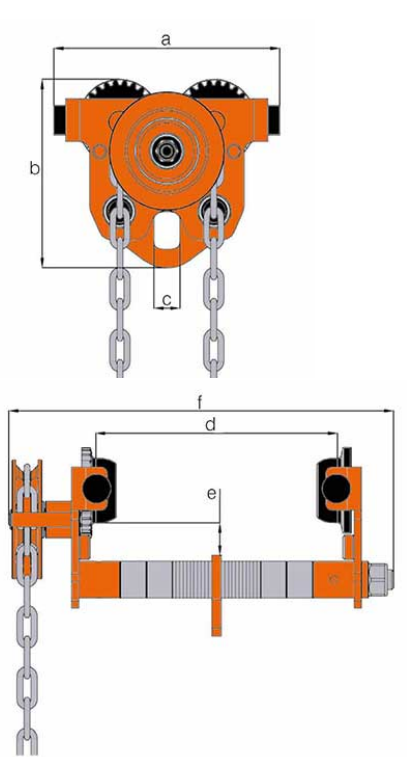 WLL
t

Min.radius
of Curve m

a
mm

b
mm

c
mm

e
mm

0.5

0.8

190

154

22

27

1

0.9

206

180

30

26

2

1

246

210

37

26

3.2

1.2

300

249

42

28

5

1.3

336

277

50

37

10

2

396

334

58

37

Standard Range 1

WLL
t

I Beam Width
mm

d Max. width
mm

f Max.
mm

Mass
kg




 0.50

 50-203

 203

323

9.6




 1.00

 64-203

 203

332

12.3

 2.00

 88-203

 203

341

17.2

 3.20

 100-203

 203

359

28.4

 5.00

 114-203

 203

366

40.1

 10.00

 124-203

 203

386

62

Extended Range 2

WLL
t

I Beam Width
mm

d Max. width
mm

f Max.
mm

Mass
kg




0.5

-

-

-

-




1

64-305

305

434

13.7

2

88-305

305

443

19

3.2

100-305

305

461

31.2

5

114-305

305

468

44.2

10

124-305

305

488

67