Camlok CY Plate Clamp (Hinged)
If you want to lift plate materials at a variety of angles, the
Camlok
CY is the
plate clamp
to pick.
With 3 different capacity options and a design that affords users lots of different lifting orientations, it should improve efficiency.
Brand::

Camlock

Product Code:

Camlok CY Plate Clamp (Hinged)

Availability:

In Stock
Specifications explained of the Camlok CY Plate Clamp
The CY hinged plate clamp is ideal for transporting and lifting sheet materials.
· The hinged hook rings enable transportation at various angles. i.e. Can be lifted in a horizontal orientation and placed down in the vertical.
· Load capacities will be reduced at various angles. (refer to diagram)
· Due to the hinged hook ring they are ideal for use in pairs with a 2 leg chain sling, thus eliminating the need for a spreader beam.
· 3 models available with WLL from 1000kg up to 3000kg.
Capacity considerations
As with many types of lifting equipment, the angle of use has an impact on the WLL of the Camlok CY plate clamp line up. The capacity rating attached to each model is based on use in a vertical lifting configuration, while angled load handling will reduce this accordingly, so you need to stick to recommended capacities on a case by case basis.
Another thing to bear in mind is that there is actually a lower limit for loads in the case of the CY clamp, with each model having a specific minimum which the load must reach to ensure safe use. For the smallest model this is 100kg and for the largest it is 300kg.
Compatible accessories
The hinged design means that the CY plate clamp from Camlok can be used effectively in conjunction with a lifting sling, specifically a chain sling with a pair of legs, each of which is attached to an identical clamp for maximum stability and load capacity.
You can pair plate lifting equipment like this with other products found on our site, such as hoists and gantry systems.
Give us a call or send us an email
Lifting Gear Direct is home to many experienced specialists in this field, so ring us on 01384 76961 or email our experts if you have any questions.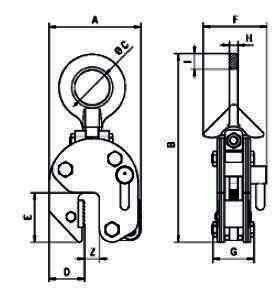 Model

 

A mm

B mm

C mm

D mm

E mm

F mm

G mm

H mm

I mm

CY1

126

270

50

49

70

95

63

12

23

CY2

192

382

80

75

96

132

92

20

30

CY3

192

382

80

75

96

132

92

20

30
| | | | |
| --- | --- | --- | --- |
| Model | WLL (KG) | Jaw (Z) capacity (mm) | Weight (KG) |
| CY1 | 100-1000 | 0-20 | 4.6 |
| CY2 | 200-2000 | 0-32 | 14 |
| CY3 | 300-3000 | 0-32 | 14 |