Camlok L J Plate Clamp
Created by
Camlok
, this
plate clamp
is available with 2 different
load capacities
, with both variants offering additional protection to the materials that are being moved thanks to the inclusion of interchangeable contact pads.
Brand::

Camlock

Product Code:

Camlok L J Plate Clamp

Availability:

In Stock
Basic benefits of the Camlok L J Plate Clamp
The LJ is ideal for lifting, turning and transporting sheet materials.
· The special pads on the jaws protect the sheet material from all marks.
· 3 types of pads are available to suit various materials; rubber, leather and plastic.
· Can be used for steel, aluminium, iron and timber.
· 2 models available with WLL from 500 up to 1500kgs.
· easy to maintain and repair.
Additional considerations
The rated WLLs for the Camlok LJ range not only have upper limits, but also lower capacity requirements which need to be met in order to ensure complete safety. These lower limits are set at 25kg and 180kg respectively across the two models in the range.
The versatility of this plate clamp is certainly convenient for operators who expect to encounter several different material types in the normal course of their duties. While some plate lifting solutions are suited to just one variety, the adaptations of the Camlok LJ make it appropriate for use in everything from construction to manufacturing and workshop tasks.
Order more equipment from us
Lifting Gear Direct is home to lifting and material handling equipment of many kinds. Furthermore we can make bespoke assemblies from scratch to suit the needs of individual clients, so if you want a jib crane or gantry system to tackle tough chores, we are here to help.
You might just need a few more components to compliment your order of the Camlok LJ plate clamp, in which case one of our lifting slings might catch your eye.
Ask questions & get quotes
Get in touch with LGD by calling 01384 76961 or using our contact form to request more details or find out about our pricing.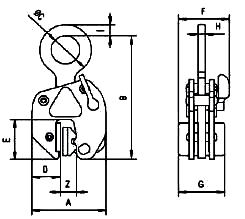 Model

A mm

B mm

C mm

D mm

E mm

F mm

G mm

H mm

I mm

 

LJ 500

127

200

50

52

69

86.5

76

13

20

LJ 1500

215

345

85

75

135

131

118

20

24
| | | | |
| --- | --- | --- | --- |
| Model | WLL (KG) | Jaw capacity (mm) | Weight (KG) |
| LJ 500 | 25-500 | 0-10 | 3.5 |
| LJ 1500 | 180-1500 | 0-20 | 12 |