Camlok PP Pile Pulling Clamp
The Camlok PP is a clamp for pile pulling operations. We have other piling clamp options available at Lifting Gear Direct.
Brand::

Camlock

Product Code:

Camlok PP

Availability:

In Stock
Call 01384 76961 for price.
About the Camlok PP Pile Pulling Clamp
Designed and built by Camlok, this particular piece of lifting equipment has a specific use case in mind, unlike some of the general purpose products we stock for hoisting and material handling.
Brief introduction
The Camlok PP is a clamp for pile pulling purposes. They have been designed to aid in the removal of driven piles or trench shielding.
KEY FEATURES:
· Narrow opening
· deep slot to ensure firm grip
· double locking mechanism
NOTE:
Due to the nature of pile pulling, the forces necessary to pull out the pile are very difficult to determine so it is recommended that a load cell indicator is used to ensure the safe working load maximum is not breached.
Facts & figures
In terms of the working load limits that the Camlok PP pile pulling clamp offers, there are three different options; 3000kg, 8000kg and 12,000kg.
This lifting clamp has other version differences to keep in mind when choosing. The jaw capacity is clearly relevant, with up to 30mm available. The throat depth for each model can also be compared using the details in the table below.
Complacency around key issues like this can compromise safety, so read up before you order or ask us for help to avoid ambiguity.
Other clamp products
Lifting Gear Direct is home to a healthy dose of well designed lifting clamps, including lifting grabs which can cope with pipes, blocks and other awkwardly shaped payloads.
To ensure that you are sticking within the operational limits of the clamp you select, invest in load cells and force calculation equipment. We have lots of well made options from big brands available to buy on our site.
LGD can also supply everything from lifting slings to height safety equipment, so whatever you need we have got your covered.
How to ask for help
Speaking to LGD before you buy the Camlok PP pile pulling clamp is sensible and we can provide assistance if you call 01384 76961 or email our specialists today.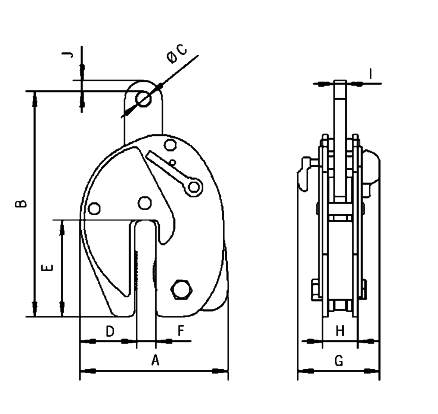 | | | | |
| --- | --- | --- | --- |
| Model | PP3 | PP8 | PP12 |
| A mm | 224 | 294 | 361 |
| B mm | 325 | 445 | 486 |
| ØC mm | 20 | 30 | 40 |
| D mm | 88 | 109 | 145 |
| E mm | 147 | 194 | 190 |
| F mm | 25 | 42 | 41 |
| G mm | 123 | 146 | 167 |
| H mm | 60 | 72 | 90 |
| I mm | 20 | 25 | 30 |
| J mm | 18 | 26 | 32 |
Model

WLL (KG)

Jaw Capacity (mm)

Throat depth mm

Weight (KG)

 

PP3

3000

0-16

147

12

PP8

8000

0-30

194

28

PP12

12000

0-30

190

52