Camlok TBG/TST Block Grabs
We can supply the Camlok TBG/TST block grabs together with any other lifting gear at great prices. Read on below to find out more details.
Brand::

Camlock

Product Code:

Camlok TBG/TST

Availability:

In Stock
Call 01384 76961 for price.
About the Camlok TBG/TST Block Grabs
We stock plenty of different lifting grabs here at Lifting Gear Direct, including the Camlok TBG and TST models that are designed to cope with block lifting operations speedily and safely. Read on for more information on these particular models or get in touch for extra advice.
Model options & capabilities
There are 2 types of these block grabs, the TBG which has rubber lined jaws and the TST which has steel serrated jaws.
These block grabs are able to lift any object with parallel surfaces which can withstand a clamping pressure 2 x as high as the load being lifted.
There are a range of jaw capacities available, with 2 models with a small jaw and 4 models with larger jaws - consult chart below.
An automatic opening/closing device is also available as an optional extra.
N.B: The TBG rubber lined models should be used on surfaces free from grease & oil and should be clean and dry.
Capacities & dimensions
There are six different versions of the Camlok TBG and TST block grabs, distinguished from one another by their WLLs.
At the lower end of the scale there is the TBG and TST 500S, with a 500kg weight capacity and a jaw capacity of up to 150 millimetres. The largest models have 1000kg weight capacities and 1100 millimetre jaw capacities.
Clearly the size of the grab in question impacts its standalone weight, so remember to take this into account when planning your operations to avoid mistakes.
Alternatives
LGD can supply the Camlok TBG and TST block grabs to customers from across the country, as well as offering up ample other lifting equipment options.
For awkward load handling our plate lifting products will tick all the boxes, while the option to add lifting slings, accessories and other kit to your order should make buying with us especially convenient, whatever lifting challenges you face on a daily basis.
Give us a call now
You can reach LGD on 01384 76961 or alternatively use our contact page to send us an email. Our expert advice and competitive prices will be sure to put a smile on your face today.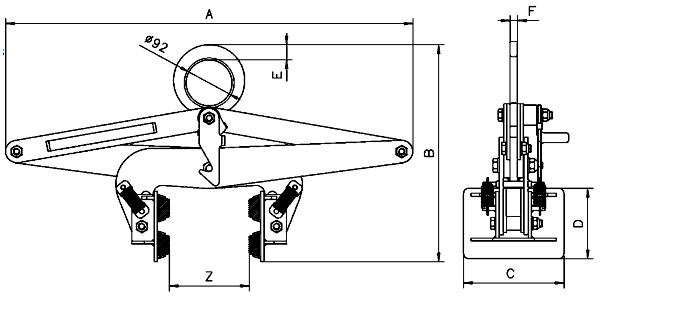 SMALL JAW
| | | |
| --- | --- | --- |
| Model | TBG/TST500S | TBG/TST1000S |
| A mm | 815 | 1050 |
| B min mm | 420 | 460 |
| B max mm | 760 | 980 |
| C mm | 200 | 250 |
| D mm | 160 | 160 |
| E mm | 30 | 29 |
| F mm | 15 | 20 |
| Z mm | 0-150 | 50-250 |
LARGE JAW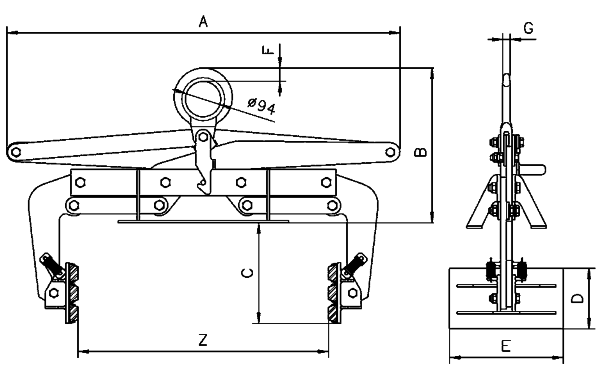 | | | | | |
| --- | --- | --- | --- | --- |
| Model | TBG/TST200L | TBG/TST300L | TBG/TST500L | TBG/TST1000L |
| A mm | 1040 | 1040 | 1120 | 1320 |
| B min mm | 390 | 390 | 390 | 390 |
| B max mm | 840 | 840 | 840 | 840 |
| C mm | 275 | 275 | 275 | 275 |
| D mm | 160 | 160 | 160 | 160 |
| E mm | 300 | 300 | 300 | 300 |
| F mm | 35 | 35 | 35 | 35 |
| G mm | 20 | 20 | 20 | 20 |
| Z mm | 200-500 | 400-700 | 600-900 | 800-1100 |
Model

WLL (KG)

Jaw capacity (mm)

Weight (KG)

 

TBG/TST500S

500

0-150

27

TBG/TST1000S

1000

50-250

50

TBG/TST200L

200

200-500

49

TBG/TST300L

300

400-700

52

TBG/TST500L

500

600-900

55

TBG/TST1000L

1000

800-1100

72