Camlok TRU Round Stock grabs
Buy the Camlok TRU Round Stock grabs at great prices from Lifting Gear Direct. Ideal for pipe handling/laying scenarios.
Brand::

Camlock

Product Code:

Camlok TRU

Availability:

In Stock
About the Camlok TRU Round Stock Grabs
Camlok is known for its wide range of lifting equipment designed for handling awkward loads, including lifting clamps and plate clamps. The TRU round stock grabs are available in several capacities and suit round stock lifting operations.
Brief overview
The TRU round stock grabs enable easy lifting and transporting of pipes, tubes, rolls and other cylindrical materials with diameters up to 600mm.
Easy to use. There are options of standard jaws or rubber lined jaws to minimise marking.
Also available with an automatic opening/closing device.
For the rubber lined jaws it is important to ensure the surfaces are clean, dry and free from oils & greases.
Further spec breakdown
There are a total of six models in the Camlok TRU round stock grabs range, the most compact of which sports a working load limit of 100kg. Models above this in terms of size vary in capacity right up to 4 tonnes.
The other thing to bear in mind when checking out the specifications of any lifting grab is the capacity of the jaws, which again will vary in the case of the TRU range. There are minimum and maximum diameter loads that each model can handle and the technical data provided in the table below should help you work out which is the right option for you.
More models available
Our lifting grab line up is just one category amongst myriad other equipment options that are found right here on the Lifting Gear Direct site.
From hoists and accessories to gantry systems and wire rope, we supply products from high quality brands and also make our own bespoke equipment for customers.
Order lifting grabs from LGD
You can speak to our team about ordering the Camlok TRU or any other lifting equipment product by calling 01384 76961 or sending us an email. Even if you just need more information or advice, do not hesitate to get in touch.
Model

TRU 100

TRU 500

TRU 1000

TRU 1500

TRU 3000

TRU 4000

A mm

270

503

509

720

740

1420

B min mm

292

417

437

520

582

930

B max mm

458

723

745

937

960

1815

C mm

97

150

178

204

220

318

D mm

43

56

82

84

125

205

E mm

8

15

15

20

20

30

F mm

 

17

17

30

25

30

35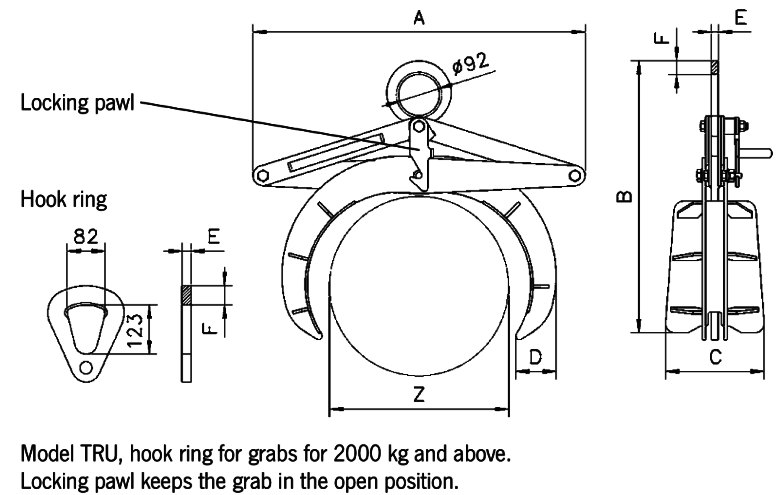 Model

WLL (KG)

Jaw capacity (mm)

Weight (KG)

 

TRU 100

100

50-150

3.9

TRU 500

500

35-200

13.6

TRU 1000

1000

35-200

13.6

TRU 1500

1500

80-300

27

TRU 3000

3000

80-300

49

TRU 4000

4000

200-600

204