Commercial D Shackles
Our range of commercial d shackles are for general anchoring / joining together of objects; they must not be used in any type of lifting application or in any load bearing tasks.
You will notice that there is No safe working load in the technical data below - there is no load rating, this is due to the fact that they have not been tested to any current standards and because of this they are possibly the cheapest D shackles around.
Construction & Finish of Commercial D Shackles
Manufactured from mild steel which is left untreated, in grade 3; with an electro-galvanised finish. This is moderately durable, without quite offering the same levels of protection as a higher level of galvanisation. As such these shackles will be fairly resilient and long-lasting in typical environments, but might succumb to corrosion in atmospheres that are particularly moisture-rich. Of course, with their comparative affordability, this may not be much of a problem as replacements will be inexpensive.
Design Features
These shackles have the typical screw pin for securing. This makes them both easy to use and speedy to fasten or unfasten. For applications where the shackle regularly needs to be removed or repositioned for whatever reason, this could be an advantage.
More Shackles to Investigate
Lifting Gear Direct are able to supply commercial dee shackles in a variety of dimensions. See table below for all technical data and dimensions. We also supple Commercial Bow Shackles. These are built to similar specifications, with no promises about load limits made. The bow design also means that they can be used at an angle, which may be more convenient than the straight-on anchoring capabilities of our commercial dee shackles.
You do not have to stick to our cost-effective commercial shackles if you need to take on tough lifting tasks. For that our green pin dee shackles deliver strength and safety in equal measure, with load limits of up to 55 tonnes available. Meanwhile our special shackles cover industry-specific designs that standard units cannot match. Cast your eye over the full range for more options.
Speak to LGD online or over the phone
Find out about our shackles and other products is simple. You can call 01384 76961 and have a natter with our experienced team in real time, or fill out our email form if an online back and forth is preferred.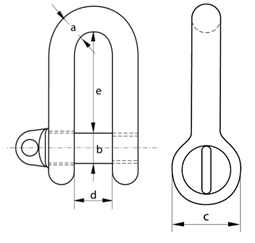 | | | | | | |
| --- | --- | --- | --- | --- | --- |
| Diameter Bow | Diameter Pin | Diameter Eye | Width Inside | Length Inside | Weight per 100 Pieces |
| a mm | b mm | c mm | d mm | e mm | kg |
| 5 | 5 | 10 | 10 | 20 | 1.47 |
| 6 | 6 | 12 | 12 | 24 | 2.56 |
| 8 | 8 | 16 | 16 | 32 | 6.06 |
| 10 | 10 | 20 | 20 | 40 | 11.8 |
| 11 | 11 | 22 | 22 | 44 | 15.8 |
| 12 | 12 | 24 | 24 | 48 | 20.5 |
| 14 | 14 | 28 | 28 | 58 | 32.5 |
| 16 | 16 | 32 | 32 | 64 | 48.5 |
| 19 | 19 | 40 | 38 | 76 | 94.7 |
| 22 | 22 | 44 | 44 | 88 | 126 |
| 25 | 25 | 50 | 50 | 100 | 185 |
| 28 | 28 | 56 | 56 | 112 | 260 |
| 32 | 32 | 64 | 64 | 128 | 388 |
| 38 | 38 | 76 | 76 | 152 | 650 |