High Tensile Eye Nuts - Metric
With our metric thread eye nuts made using high tensile steel, you get all the load bearing power of standard carbon steel eye nuts mixed with superior strength and durability.

This material is made to withstand forces that would cause other anchor points to deform and break. For total peace of mind, it is an excellent choice, especially if safety is a concern.
Key Facts for the high tensile eye nut
Aside from the innate properties of high tensile steel, which we have already covered, the most important statistics relating to these metric thread eye nuts are the safe working load restrictions that apply to each unit. The larger the nut, the greater its load lugging potential. This gives buyers a range of options, with SWLs starting at 300kg and topping out at 2.2 tonnes.
The minimum breaking load for each unit is five times its SWL, which should give you complete confidence during lifting operations.
The self-colour finish of these eye nuts can be augmented with a layer of zinc, applied through electro galvanisation. However, such an addition will up the price, so it is worth keeping this in mind before you order.
Impressive Lifting Products
We are proud to offer some of the best lifting accessories and loose tackle you will find anywhere in the UK. Aside from our line up of eye nuts and bow nuts,we stock the lines of collared eye bolts, swivel eye bolts and anchor points that can cater to every lifting scenario imaginable.
As you might imagine, Lifting Gear Direct is about a lot more than these add-ons; we also supply equipment of all shapes and sizes to help you overcome whatever handling challenge you face. If you need an entirely custom crane or gantry system, we can take care of this for you. If you are looking for load restraints, we have a laundry list of potential options to pick.
Getting in touch with us
There are a number of routes you can take if you want to talk to LGD about your eye bolt or equipment needs. Emailing our team is always straightforward, with quick responses assured. You can also talk to us by calling 01384 76961 if you want to get extra product info or quotes in a flash.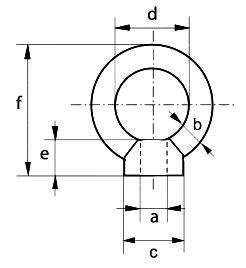 | | | | | | | | |
| --- | --- | --- | --- | --- | --- | --- | --- |
| Safe Working Load | Diameter Thread | Diameter Eye | Diameter Base | Diameter Eye Inside | Base Height | Height Overall | Weight Each |
| tonnes | a mm | b mm | c mm | d mm | e mm | f mm | kg |
| 0.3 | 10 | 13 | 29 | 44 | 22 | 78 | 0.25 |
| 0.5 | 12 | 13 | 29 | 44 | 22 | 78 | 0.26 |
| 0.8 | 16 | 13 | 29 | 44 | 22 | 78 | 0.27 |
| 1.2 | 20 | 16 | 39 | 49 | 26 | 84 | 0.45 |
| 2.2 | 24 | 19 | 44 | 52 | 38 | 111 | 0.79 |