High Tensile Eye Nuts Whitworth Thread
Equipped with a BSW compatible thread, these high tensile steel eye nuts are the perfect counterpoint to our metric thread units.

Call 01384 76961 for price.
If you are tired of lifting accessories that deform or take damage too easily, the ultra-tough material used to manufacture these eye nuts will be a boon. You can get plenty of information on this product range right here, or contact Lifting Gear Direct for more details.
Main Perks of the High tensile Eye Nuts Whitworth Thread
There is a lot about these Whitworth thread eye nuts that should give you confidence. The high tensile steel is clearly a good starting point, since it can fight fatigue and generally last longer under more intensive usage regimes than its counterparts. The option to snap up galvanised versions of this eye nut should also be reassuring, especially for those who want to reduce the likelihood of corrosion occurring.
Next you should consider the safe working load ratings that are found across the range. The fact that these are present at all is an indication of the comprehensive testing which has been carried out to ensure these eye nuts are sturdy, compliant and conform to international standards. All of this information can be found in the technical data, with SWLs of around 250kg to 2.2 tonnes offered.
Our Lifting Gear Range
It is tough to cover all of the different options you have when you shop for lifting equipment with LGD. Our lifting accessory line up alone is packed with products that can help dominate a deluge of different tasks.
If the axial lifting limitations of our eye nuts and bow nuts are an issue, consider our other eye bolts or swivel eye bolts as an alternative. If you need a lifting solution that will work in places where space is limited, while still providing plenty of strength, our hydraulic kit could be a sensible choice. Take a look at all our equipment varieties and you are certain to encounter the component you require.
Need a Helping Hand?
We are happy to point you in the direction of the best lifting gear for your circumstances, whether you choose to talk to us over the phone on 01384 76961 or email the LGD experts. We have years of experience helping customers just like you, so get in touch today and see what a difference we can make.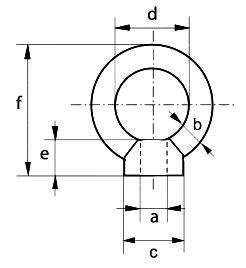 | | | | | | | | |
| --- | --- | --- | --- | --- | --- | --- | --- |
| Safe Working Load | Diameter Thread | Diameter Eye | Diameter Base | Diameter Eye Inside | Base Height | Height Overall | Weight Each |
| cwts | a inch | b mm | c mm | d mm | e mm | f mm | kg |
| 5 | 3/8 | 13 | 29 | 44 | 22 | 78 | 0.24 |
| 10 | 1/2 | 13 | 29 | 44 | 22 | 78 | 0.26 |
| 16 | 5/8 | 13 | 29 | 44 | 22 | 78 | 0.26 |
| 24 | 3/4 | 16 | 39 | 49 | 26 | 84 | 0.45 |
| 32 | 7/8 | 16 | 39 | 49 | 26 | 84 | 0.45 |
| 44 | 1 | 19 | 44 | 52 | 38 | 111 | 0.79 |