Yellow Pin Alloy D Shackles
These yellow pin alloy d shackles are the economy version; they are made from grade 6 high tensile steel and come with a screw pin connection.
They are a popular option amongst our full dee shackle line up, which also includes high end green pin units that are similarly sought after.
Yellow Pin D Shackle Compliance Info
Rather than the typical EU standards these yellow pin alloy d shackles are to US Fed Spec RR-C-271 and an EC declaration of conformity will also be issued.
Dee shackles like this are suited to inline lifting tasks, where the direction from which the load applies force is uniform. If the load needs to be managed from multiple angles, a bow shackle will be a better option.
Impressive Dee Shackle Variety
There are no less than 16 models in this range; the safe working load limits range from 0.5 tonne to 55 tonne and various increments between. Pin, bow and eye diameters all vary between the differing WLL's. As do the inside dimensions; the inside length from the bow to the pin range from 22mm up to 203mm and the inside width between the two sides range from 12mm up to 105mm.
Scroll down to see the full technical data table that outlines the dimensions and WLLs of every shackle in this range. If you still have questions, take advantage of our contact details below and get in touch so that we can clear everything up for you.
Which Shackle should you pick?
Everyday lifting tasks are ideal for using these yellow pin alloy d shackles, available for purchase at low prices from Lifting Gear Direct.
Yellow pin bow shackles are also available at great prices. Furthermore we stock special shackles that are not designed for generic use, but instead fit into specific roles within a number of industries. This includes a green pin trawling dee shackle along with sling saver shackles and piling shackles.
If load bearing is not important but you want a shackle for simple fastening and anchoring tasks, our commercial dee shackles might catch your eye. These are even more inexpensive than their yellow pin counterparts, but come with the downside of not being rated with any kind of WLL, which should not be overlooked.
Talk to LGD about Shackles
Use our contact us form to get in touch, or give our team a call on 01384 76961. We have a superb sales team that can answer questions, provide quotes and hook you up with full details on any product we stock, so drop us a line today.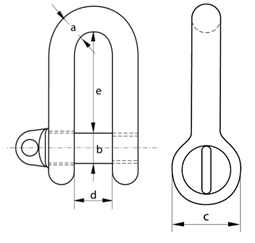 | | | | | | | |
| --- | --- | --- | --- | --- | --- | --- |
| Working Load Limit | Diameter Bow | Diameter Pin | Diameter Eye | Inside Width | Inside Length | Weight Each |
| tons | a mm | b mm | c mm | d mm | e mm | kg |
| 0.5 | 6 | 8 | 16 | 12 | 22 | 0.05 |
| 0.75 | 8 | 10 | 19 | 13.5 | 26 | 0.08 |
| 1 | 10 | 11 | 23 | 17 | 32 | 0.13 |
| 1.5 | 11 | 13 | 27 | 19 | 37 | 0.2 |
| 2 | 13 | 16 | 30 | 20 | 41 | 0.27 |
| 3.25 | 16 | 19 | 38 | 27 | 51 | 0.57 |
| 4.75 | 19 | 22 | 46 | 32 | 60 | 1.19 |
| 6.5 | 22 | 25 | 53 | 36 | 71 | 1.43 |
| 8.5 | 25 | 28 | 61 | 43 | 81 | 2.16 |
| 9.5 | 28 | 32 | 68 | 46 | 90 | 3.06 |
| 12 | 32 | 35 | 76 | 51 | 100 | 4.11 |
| 13.5 | 35 | 38 | 84 | 57 | 111 | 5.28 |
| 17 | 38 | 42 | 92 | 60 | 122 | 7.24 |
| 25 | 45 | 50 | 106 | 73 | 146 | 12.14 |
| 35 | 50 | 57 | 119 | 83 | 171 | 16.86 |
| 55 | 65 | 70 | 145 | 105 | 203 | 32.65 |