Yellow Pin Alloy Bow Shackles
The yellow pin alloy bow shackle is from our economy range and offer a cheaper alternative to the high quality
green pin bow shackle
.
If value for money is vital, then you have found the perfect product. The range still offers a good variety of load limits and general durability, but will leave less of a dent in your budget.
Features of Yellow Pin Alloy Bow Shackles
They are a cost efficient, removable connector for lifting applications and static systems. This is the standard screw pin version. We also offer a yellow pin bow shackle with a safety bolt added if this is the kind of configuration you require.
Available with safe working loads up to 55 tonne and internal bow diameters up to 185mm. If you are to be using a wide sling you might be better with a green pin sling shackle which has larger internal bow widths/diameters up to 680mm.
The bow design makes these shackles capable of bearing a load even if it is applied from an angle, which makes them fairly versatile. You can also find dee shackles on our site which are better suited to single direction load handling applications.
Construction & Compliance
These grade 6 high tensile shackles have a hot dipped galvanised finish, and the standards they conform to are generally US-fed-spec-rr-c-271. EC declarations of conformity are always issued.
As you can see, in spite of the relatively low expense of these shackles, they are still made to meet international standards and so can be trusted to fulfil their minimum performance expectations. It is simply important to keep tabs on load limits and maintain safe lifting practices at all times.
Our specialised selection of shackles gives you even more choice, with sub-sea ROV shackles sitting alongside extended piling shackles. Browse to your heart's content or search for something specific on the LGD site.
Our Contact Info
There is no sense in being sheepish if you have a question about our bow shackles or other products. We have a friendly, experienced team of people ready to answer any query you might pose them. Use our email form or our phone number of 01384 76961 to get a speedy reply or a quote in a jiffy.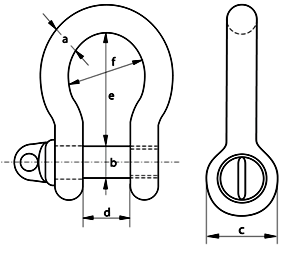 | | | | | | | | |
| --- | --- | --- | --- | --- | --- | --- | --- |
| Working Load Limit | Diameter Bow | Diameter Pin | Diameter Eye | Inside Width | Inside Length | Width Bow | Weight Each |
| tons | a mm | b mm | c mm | d mm | e mm | f mm | kg |
| 0.33 | 5 | 6 | 14 | 9.5 | 22 | 15 | 0.03 |
| 0.5 | 6 | 8 | 16 | 12 | 29 | 20 | 0.05 |
| 0.75 | 8 | 10 | 19 | 13.5 | 31 | 21 | 0.09 |
| 1 | 10 | 11 | 23 | 17 | 37 | 26 | 0.14 |
| 1.5 | 11 | 13 | 27 | 19 | 43 | 29 | 0.17 |
| 2 | 13 | 16 | 30 | 20 | 48 | 33 | 0.33 |
| 3.25 | 16 | 19 | 38 | 27 | 60 | 43 | 0.62 |
| 4.75 | 19 | 22 | 46 | 32 | 71 | 50 | 1.07 |
| 6.5 | 22 | 25 | 53 | 36 | 84 | 58 | 1.64 |
| 8.5 | 25 | 28 | 61 | 43 | 95 | 68 | 2.28 |
| 9.5 | 28 | 32 | 68 | 46 | 108 | 74 | 3.36 |
| 12 | 32 | 35 | 76 | 51 | 119 | 82 | 4.31 |
| 13.5 | 35 | 38 | 84 | 57 | 133 | 92 | 6.14 |
| 17 | 38 | 42 | 92 | 60 | 146 | 98 | 7.81 |
| 25 | 45 | 50 | 106 | 73 | 177 | 127 | 12.61 |
| 35 | 50 | 57 | 119 | 83 | 197 | 138 | 18.33 |
| 55 | 65 | 70 | 145 | 105 | 260 | 185 | 37.9 |