Large D Shackle
Large D Shackles are perfect for larger perpendicular lifting operations as side loading is not advisable. Sizes up to 9.5 Ton available to buy online. Larger sizes available on request. All prices are for self colour.
Bow shackles need to be used instead if side loading is necessary. If you are in need of high quality d shackles, our green pin units may be a good option. We cater to various budgets and industries here at Lifting Gear Direct, so you are sure to find a shackle that fits the bill.
Large D Shackle Key Specs
Lifting Gear Direct can supply many sizes of large d shackles the smallest having a working load limit of 0.25 tonne and the largest 20 tonne. The dimensions of the shackle will vary according to the model chosen, for example the inside length can vary from 1 inch up to 8 ¼ inches and the inside width from ½ inch up to 4 ¼ inches, so there should be a large dee shackle to suit most straight, in-line lifting applications.
You can find a full table covering the dimensions of each large dee shackle in this range below, which should clear up any questions you might have about their size and shape.
Durability of Large Dee Shackles
With a hot dipped galvanised finish and a standard screw pin these shackles conform to BS 3032 table 2 standards and are supplied complete with an EC declaration of conformity for your satisfaction.
Minimum breaking loads are 5 times the working load limit (WLL) ensuring a very good safety factor. Safety is vital in any lifting operations, so take care when choosing every part of an assembly to make sure there is no weak link, both literally and figuratively. With our wide selection of wire rope products, our high quality hoists and our bespoke crane systems, you can stay on the right side of the regulations.
Various Shackle Models to choose
We can also supply dee shackles in stainless steel for specific operating conditions, see our stainless steel shackles page for more information. Our lifting shackles are not limited to dee or bow designs, as we also offer special shackles that might be more appropriate. Our piling shackles, for example, come with a shank that is a lot longer than usual.
Send us your Shackle questions
To get in touch with Lifting Gear Direct and ask us anything about shackles, accessories and equipment, you can either email us with your question or give us a ring on 01384 76961. Our sales team is experienced, approachable and swift to respond to any query. They can also conjure up a quote if you need one and take your order today.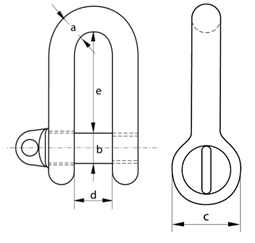 | | | | | | | |
| --- | --- | --- | --- | --- | --- | --- |
| Working Load Limit | Diameter Bow | Diameter Pin | Diameter Eye | Inside Width | Inside Length | Weight Each |
| tons | a inch | b inch | c inch | d inch | e inch | kg |
| 0.25 | 1/4 | 3/8 | 3/4 | 1/2 | 1 | 0.06 |
| 0.5 | 3/8 | 1/2 | 1 | 3/4 | 1.1/2 | 0.16 |
| 0.75 | 1/2 | 5/8 | 1.1/4 | 1.1/8 | 2.1/8 | 0.35 |
| 1.5 | 5/8 | 3/4 | 1.1/2 | 1.1/4 | 2.1/2 | 0.63 |
| 2 | 3/4 | 7/8 | 1.3/4 | 1.1/2 | 2.7/8 | 1 |
| 3 | 7/8 | 1 | 2 | 1.3/4 | 3.1/4 | 1.54 |
| 3.75 | 1 | 1.1/8 | 2.1/4 | 2 | 3.3/4 | 2.21 |
| 5 | 1.1/8 | 1.1/4 | 2.1/2 | 2.1/8 | 4.1/8 | 3.11 |
| 6 | 1.1/4 | 1.3/8 | 2.3/4 | 2.3/8 | 4.1/2 | 4.33 |
| 7 | 1.3/8 | 1.1/2 | 3 | 2.5/8 | 5 | 5.33 |
| 9.5 | 1.1/2 | 1.3/4 | 3.1/2 | 2.3/4 | 5.3/8 | 8.46 |
| 11.25 | 1.5/8 | 1.7/8 | 3.3/4 | 3 | 5.3/4 | 10.48 |
| 13 | 1.3/4 | 2 | 4 | 3.1/4 | 6.1/8 | 12.66 |
| 14.25 | 1.7/8 | 2.1/8 | 4.1/4 | 3.5/8 | 7 | 15.34 |
| 16.25 | 2 | 2.1/4 | 4.1/2 | 3.7/8 | 7.3/8 | 18.5 |
| 18 | 2.1/8 | 2.3/8 | 4.3/4 | 4.1/8 | 7.3/4 | 23.8 |
| 20 | 2.1/4 | 2.1/2 | 5 | 4.1/4 | 8.1/4 | 28.6 |