125kg Over Braced Swing Jib
The smallest jib crane with over bracing to provide maximum height under the jib arm. 125kg safe working load and with a max. slewing range of 270 degrees.
Call 01384 76961 for price.
Benefits of our 125kg Over Braced Swing Jib Crane
This crane is just one of a number of own-brand products we manufacture to the specifications required by our customers. It is the smallest of the over braced swing jib cranes available, with a capacity of 125kg and a range of mounting options available. If you need a little more load-lugging power, our over braced jibs range right up to 3000kg.
Crane Comparisons
The over braced design is beneficial because it increases the amount of support which is provided across the entire arm, rather than focusing the strength closer to the main body of the crane. The downside is that this means the crane needs a bit more space above the arm to accommodate the brace. Our under braced jib cranes address this, helping to take on low headroom lifting applications.
Of course with an under braced crane, there is an obstruction below the beam which gets in the way of the smooth running of any trolley and hoist that is mounted on it. Over bracing solves this issue and acts as another selling point of this impressive 125kg swing jib.
Flexibility
When ordering an over braced swing jib crane with us, you can specify a number of optional design features and extra hardware to improve its practicality and adapt it to your specific requirements.
This 125kg model can be mounted on a column, affixed to a structural wall or attached to a floor post of its own. It can be endowed with whatever useful equipment and accessories you need, including beam clamps, trolleys, chain hoists and much more.
If you need festoons and catenaries adding to any crane and gantry system, we can handle this for you. We can even deliver and install the crane, testing it to ensure compliance with regulations, then returning to maintain it in future.
Contact LGD for Jib Crane Quotes and Advice
Our products can seem complex if you are not familiar with lifting equipment, which is why we are more than happy to answer your questions and give guidance before you buy. A quick call to 01384 76961 is all it takes to talk to one of our team members. For email enquiries, head to our contacts page.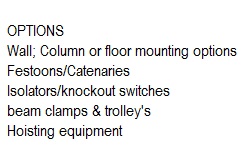 | | | |
| --- | --- | --- |
| SWL | Height Under Beam | Arm Length |
| 125KG | 3000mm | 3000mm |
| 125KG | 3000mm | 3500mm |
| 125KG | 3000mm | 4000mm |
| 125KG | 4000mm | 3000mm |
| 125KG | 4000mm | 3500mm |
| 125KG | 4000mm | 4000mm |
| 125KG | 5000mm | 3000mm |
| 125KG | 5000mm | 3500mm |
| 125KG | 5000mm | 4000mm |
| 125KG | 5000mm | 5000mm |