2000KG Aluminium Lifting Gantry
With the highest Safe Working Load of our aluminium gantry range the 2000kg model is available in 3 maximum heights (2500mm, 3000mm, 3500mm) with each coming in 2 span sizes (2000mm, 3000mm).
Call 01384 76961 for price.
2000kg Aluminium Gantry Crane Key Benefits
This Lightweight aluminium gantry is the largest model weighing just 213kg and so still easily transportable. Due to the larger size it is recommended that 2 people assemble this gantry.
If you need a smaller aluminium lifting gantry, then our range goes right down to units with capacities of just 250kg. These are compact enough to be assembled by a single person, which is advantageous in a number of industries and work settings.
It folds to a compact size and secured with 2 included straps. This makes it even easier to transport, especially if you are going out and about with this gantry and want to load it in and out of an LCV with minimal fuss. Just remember to observe safe lifting practices when handling this assembly.
For a more permanent solution, why not take a look at the jib cranes we sell? These custom-built units are perfect for any business and we manufacture high quality examples for floor, wall or column mounting.
Using your 2000kg Aluminium Lifting Gantry
Aluminium gantries are ideal for clean and refrigerated environments and they have good corrosion resistance. They will not contaminate the environment, nor be contaminated by it, which is a double-handed perk for a variety of commercial operations. Furthermore this means that each of the gantries we sell is going to last longer and cost our customers less to maintain over time. So if you want to comply with regulations for lifting equipment, these units will keep you in the good books of the industry authorities.
Enhancing your 2000kg Aluminium Gantry
Extras include optional levelling feet for use on uneven ground heights and optional winch to aid ease, speed and safety of height adjustments.
The number of add-ons which you can include when you order this gantry from Lifting Gear Direct is impressive. These are about more than just making the lifting process more convenient, as they come with other benefits that are worth mentioning.
For example, the parking jacks that stop the whole assembly from moving and also help to level it out when the surface below it is not particularly favourable are definitely worth considering. Safety is important and the statistics make grim reading, so if you want to keep your organisation up and running while also protecting your employees from injury, such add-ons could be a sensible investment.
A good reason to buy gantries from us is that we give our customers the flexibility to pick the extras they need, which keeps our prices competitive while ensuring a more bespoke shopping experience.
Any Aluminium Gantry Questions Answered
Below you will find the technical details on the 2000kg aluminium lifting gantry but should you have any more questions or would like a quick quotation then please contact us here at Lifting Gear Direct on 01384 76961, or use the contact us page to email us your enquiry. Our team will do its best to talk you through your options and give you up to date information on all of our products.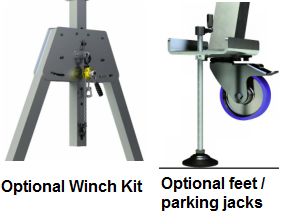 Feet/jacks ideal on uneven ground; Winch aids height adjustments/
SWL

Model Number

Beam Length

Clear Span

Trolley Travel

Max Width

Load Pin Height Min

Load Pin Height Max

Overall Height Min

Overall Height Max

Tread

KG

 

 

C

B

A

 

 

D

D

E

2000KG

LGD400608M

2000

1840

1208

2220

1904

2404

2180

2683

1381

LGD400610M

2404

2904

2680

3183

LGD400612M

2904

3404

3180

3683

LGD400808M

2500

2340

1708

2720

1904

2404

2180

2683

LGD400810M

2404

2904

2680

3183

LGD400812M

2904

3404

3180

3683

LGD401008M

3000

2840

2208

3220

1904

2404

2180

2683

LGD401010M

2404

2904

2680

3183

LGD401012M

2904

3404

3180

3683

LGD401208M

3500

3340

2708

3720

1904

2404

2180

2683

LGD401210M

2404

2904

2680

3183

LGD401212M

2904

3404

3180

3683

LGD401508M

4500

4340

3708

4720

1904

2404

2180

2683

LGD401510M

2404

2904

2680

3183

LGD401512M

2904

3404

3180

3683