Camlok CH Plate Clamp
Part of a range of
plate clamps
that come from respected brand
Camlok
, the CH can help with a variety of
lifting operations
in which handling materials horizontally makes the most sense.
Brand::

Camlock

Product Code:

Camlok CH Plate Clamp

Availability:

In Stock
Lifting Gear Direct can supply this and many other plate lifting equipment products at great prices.
Usage & specifications of the Camlok CH Plate Clamp
The CH Plate Clamps are used in pairs for transporting plate materials in a horizontal orientation.
· Can be used for single or multiple plates with a minimum thickness of 5mm.
· Ideal for small sheets, in pairs with a 2 leg chain sling or for larger sheets with 2 pairs and a spreader beam.
· Smooth jaws as standard; hardened steel serrated jaws available as an optional extra which can only be used for single sheets.
· Available in 15 variations, with WLL from 100kg up to 20000kg. with various jaw widths.
In depth details
You can find a table outlining the specific dimensions and capacities of each plate clamp in the Camlok CH range below. It is important to consider carefully the capabilities of any clamp before investing in it, as the WLL is not the only thing that matters. Aspects like the weight of the clamp itself can come into play when working out whether it is suitable for your needs.
As mentioned earlier, you will also need to use two of these plate clamps in tandem to achieve the desired results. Thankfully Lifting Gear Direct can also supply the chain slings and accessories that will let you unleash all of the potential of the clamps you order.
For customers who do not have any kit at the moment and are looking to stock up on products to comprise a custom assembly, LGD is a great place to shop. We can not only supply plate clamps and other gear from big brands but also manufacture and test jib crane and gantry systems.
Contact us today
For the lowdown on any of our plate lifting products or to get advice on which equipment to order, email LGD or call us now on 01384 76961.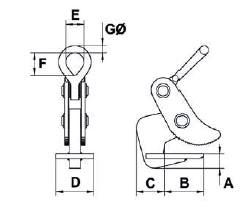 Model

A mm

B mm

C mm

D mm

E mm

F mm

G mm

 

CH1

15

82

60

100

32

44

13

CH2

30

82

60

100

50

73

18

CH2L

30

82

60

100

50

73

18

CH4

40

112

80

100

64

92

25

CH4L

40

112

80

100

64

92

25

CH6

55

172

100

130

90

130

35

CH6L

55

172

100

130

90

130

35

CH8

 

55

172

105

130

90

130

35

CH8L

55

172

105

130

90

130

35

CH10

65

215

120

150

114

114

35

CH10L

65

215

120

150

114

114

35

CH15

71

230

120

150

114

114

35

CH15L

71

230

120

150

114

114

35

CH20

70

220

118

220

80

120

38

CH20L

70

220

118

220

80

120

38
Model

WLL (KG)

Jaw Capacity (mm)

Weight (KG)

CH1

1000

5-32

8

CH2

2000

5-32

11

CH2L

2000

20-50

12

CH4

4000

5-50

17

CH4L

4000

50-100

23

CH6

6000

5-75

46

CH6L

6000

50-125

56

CH8

 

8000

5-75

53

CH8L

8000

50-125

60

CH10

10000

5-100

95

CH10L

10000

50-150

108

CH15

15000

5-100

110

CH15L

15000

50-150

123

CH20

20000

5-100

165

CH20L

20000

50-150

172