Camlok CZ Plate Clamp (Heavy Duty)
Part of
Camlok
s extensive
plate clamp
line up, the CZ offers ample capacity options and a convenient vertical lifting orientation. There are many other types of lifting clamps available from Lifting Gear Direct.
Brand::

Camlock

Product Code:

Camlok CZ Plate Clamp (Heavy Duty)

Availability:

In Stock
This plate clamp can help when lifting plate materials in various contexts, improving efficiency as well as making potentially tricky tasks safer.
Feature overview

of the Camlok CZ Plate Clamp
The CZ is a Heavy Duty Vertical Plate Clamp.
· Locking lever.
· Rotate through 180°
· Lift and transport sheet materials in a vertical orientation.
· Jaws open and close via the locking lever.
· The Safety lock spring loads the cam jaw and so preventing the jaws from opening.
· Easy to use, service and maintain.
Versatility
Although the CZ is describe as being a heavy duty plate clamp, it is not solely aimed at users who have very heavy loads that need to be transported, even if this is possible with the largest models available.
At the entry level, the smallest Camlok CZ clamp has a WLL of 1000kg and like other clamps it also has a lower limit which loads must meet in order to be suitable for handling; in this case 100kg.
The range has 22 models in total, with the biggest we stock sporting a 30 tonne WLL and itself weighing 295kg. This level of variety is clearly advantageous and you can find out all you need to know about each model by checking out the technical data in the table below.
Alternatives
Camlok is not the only manufacturer working in the plate clamp market segment and Lifting Gear Direct endeavours to stock as many different options in this category as possible.
Choose clamps from Raptor, Riley, Topal and other popular brands, or check out options from Camlok's own line up including the 92 Series.
Get help and place orders
You can ask us about the CZ plate clamp range and get quotes today by ringing LGD on 01384 76961 or filling out our response form.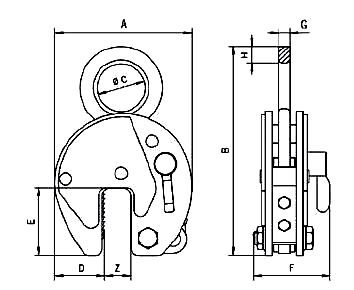 Model

A mm

B mm

C mm

D mm

E mm

F mm

G mm

H mm

 

CZ1

140

254

51

48

70

83

13

19

CZ1L

161

260

51

48

70

83

20

19

CZ2

197

323

67

68

93

110

20

20

CZ2L

228

330

67

68

93

110

20

20

CZ3

197

371

80

68

93

110

20

30

CZ3L

228

390

80

68

93

110

20

30

CZ4

197

371

80

68

93

129

20

30

CZ4L

228

390

80

68

93

129

20

30

CZ6

193

484

89

95

143

129

25

35

CZ6L

362

524

89

95

143

129

25

35

CZ8

293

492

89

95

143

129

25

42

CZ8L

362

524

89

114

143

129

25

42

CZ10

293

545

110

95

143

139

25

45

CZ10L

362

545

110

114

143

139

25

45

CZ12

360

613

130

125

162

154

30

55

CZ12L

460

678

130

175

162

154

30

55

CZ15

360

613

130

125

162

204

45

55

CZ15L

460

678

130

175

162

204

45

55

CZ20

462

755

130

165

210

235

45

65

CZ20L

560

805

130

195

210

235

45

65

CZ30

462

732

60

165

210

295

65

/

CZ30L

 

560

797

60

195

210

295

65

/
Model

WLL (KG)

Jaw (Z) capacity (mm)

Weight (KG)

 

CZ1

100-1000

0-20

4

CZ1L

100-1000

20-40

5

CZ2

200-2000

0-32

11

CZ2L

200-2000

30-60

13

CZ3

300-3000

0-32

12

CZ3L

300-3000

30-60

15

CZ4

500-4000

0-32

12

CZ4L

500-4000

30-60

18

CZ6

700-6000

0-50

21

CZ6L

700-6000

50-100

28

CZ8

950-8000

0-50

26

CZ8L

950-8000

50-100

32

CZ10

1500-10000

0-50

30

CZ10L

1500-10000

50-100

37

CZ12

1800-12000

0-50

54

CZ12L

1800-12000

50-100

63

CZ15

3000-15000

0-50

75

CZ15L

3000-15000

50-100

88

CZ20

4000-20000

0-65

123

CZ20L

4000-20000

65-130

136

CZ30

6000-30000

0-65

195

CZ30L

 

6000-30000

65-130

295