Eclipse Lifting Magnet Ultralift TP
The Ultralift TP lifting magnet is designed specifically for thin plate materials. With a light weight design, effective safety features and no need for a separate power supply, it is an excellent
permanent lifting magnet
option for shifting slender steel sheets efficiently.
Brand::

Eclipse

Product Code:

Eclipse Ultralift TP Lifting Magnet

Availability:

In Stock
Call 01384 76961 for price.
Ultralift TP Lifting Magnet Design Benefits
This lifting magnet removes single sheets from a stack with ease. This gives it a lot more precision than its larger, more powerful stable mates like the Ultralift Plus.
It can lift steel sheets with thicknesses of just 5mm, with maximum lengths varying between 1.5m and 2.0m. There are two models on offer, the first of which has a load limit of 200kg for sheets of up to 10mm thick. The second has a higher 200kg SWL for the same material specs, which of course ups the unit weight from 8kg to 15kg to account for this.
Safety of Eclipse Lifting Magnets
There are a few unique safety concerns that come with using magnetic lifters. Unexpected drops are obviously an issue, but thankfully the TP has an inbuilt safety button to lock the handle to prevent accidental release.
The fact that it is designed to work with very thin sheets of metal also means that it is a better option for operations where power is less important than being able to work quickly and accurately. When just one sheet needs to be moved from a pile, rather than multiple being snatched at once, this Ultralift model is an excellent choice.
Battery Powered Magnetic Lifters and more
There is no need to limit your search to permanent magnets for lifting, as we also offer models from brands like BUX which come with integrated rechargeable batteries. This extra onboard power means that they are better able to handle heavier loads, rather than being limited in this area.
Our full range of lifting equipment supplies is packed with compelling alternatives, from hoists to wire rope products. So if the load you are looking to move is not magnetic, or comes in a configuration that will not work safely with a magnetic lifter, you have lots of other options available.
Ask for Assistance when Choosing Lifting Magnets
There is no need to be shy if you are having a hard time finding the perfect permanent lifting magnet, or want to identify which Eclipse model is most suitable. Feel free to call LGD on 01384 76961 or let our team know about your issue in an email. We will explain things clearly; provide quotes and give whatever assistance you need.
| | | | | | | |
| --- | --- | --- | --- | --- | --- | --- |
| Product Number | A (mm) | B (mm) | C (mm) | D (mm) | E (mm) | F (mm) |
| TP150 | 181 | 52 | 74 | 74 | 150 | 202 |
| TP300 | 181 | 52 | 74 | 74 | 300 | 352 |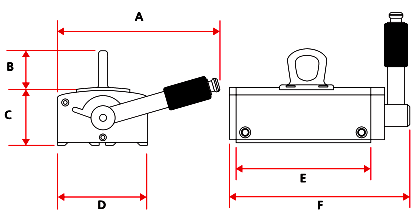 Product Number

Material Thickness 10mm Length Max (mm)

Material Thickness 10mm SWL (kg)

Material Thickness 5mm Length Max (mm)

Material Thickness 5mm SWL (kg)

 

Material Thickness 6mm Length Max (mm)

Material Thickness 6mm SWL (kg)

 

Material Thickness 8mm Length Max (mm)

Material Thickness 8mm SWL (kg)

Unit Weight (kg)

TP150

1500

200

1500

75

1500

100

1500

150

8

TP300

2000

400

2000

150

2000

200

2000

300

15