Eclipse Ultralift Plus Magnet Lifter
The ultimate magnet lifter, the Eclipse Ultralift Plus is ideal for use in factories and workshops for lifting a wide variety of loads.
Brand::

Eclipse

Product Code:

Eclipse Ultralift Plus Magnet Lifter

Availability:

In Stock
Call 01384 76961 for price.
It is kitted out with a wide range of safety features not found on other models in the range, like the Ultralift LM. Read on to learn all about its features and inclusive perks.
Key Features of the Ultralift Plus
High power to weight ratio
'Rare earth' neodymium magnet material.
No running costs.
Can lift flat & round materials.
Extra Safety Devices Included
Lifting eye sensor; automatically locks handle when under tension.
Safety shim; allows pre-testing of the load to ensure a 3:1 guaranteed safety factor.
Safety Button; to lock the handle/lever in place.
Advantages of Eclipse Permanent Magnets
As briefly mentioned above, all our permanent magnets, from this model to the Yale TMP 1.0, require no power source to activate or maintain their magnetic properties. Instead you simply throw a switch mounted on the side once the unit is positioned over the steel sheet or cylinder you want to lift, then marvel as it grips it with this enviable invisible force.
You do not have to risk accidents occurring thanks to the wealth of safety features that are bundled in with the design of the Ultralift Plus. Once activated, the handle will never get knock back and result in a drop because it can detect when a load is being borne. Operators can even lock the lever in one position mechanically for added peace of mind.
With load capacities ranging from 125kg to 2000kg, the models in the Ultralift Plus range are varied in terms of their price and performance potential. SWL are always lower when handling irregularly shaped loads, so keep this in mind to make sure you select the correct unit for your needs.
Other Magnetic Lifter Options
This permanent magnet from Eclipse is not the only product designed for moving metal sheets and cylinders around. Our battery magnet lifters can be controlled remotely, while also offering higher load capacities for those heavy duty jobs.
We also stock hand-operated magnetic grabs and claws which come in handy in many manufacturing environments where sheets need to be moved swiftly and in large volumes.
Our full line up of plate lifting equipment includes clamps, dogs and other useful accessories to make this sometimes tricky process much simpler, as well as significantly safer.
Ordering your Eclipse Ultralift Plus
Buying a magnet lifter of any kind is easy thanks to the help we provide all customers of Lifting Gear Direct. Use our site to send us an email, or simply give our team a ring on 01384 76961 to request further information, get a competitive quote or place an order right now.
| | | | | | | | | |
| --- | --- | --- | --- | --- | --- | --- | --- | --- |
| Product Number | A (mm) | B (mm) | C (mm) | D (mm) | E (mm) | F (mm) | G (mm) | H (mm) |
| UL0125+ | 101 | 155 | 69 | 74 | 64 | 152 | 34 | 27 |
| UL0250+ | 155 | 214 | 92 | 96 | 94 | 214 | 51 | 40 |
| UL0500+ | 224 | 300 | 122 | 128 | 122 | 266 | 63 | 49 |
| UL1000+ | 260 | 359 | 176 | 174 | 140 | 382 | 71 | 55 |
| UL2000+ | 368 | 477 | 223 | 227 | 196 | 552 | 102 | 79 |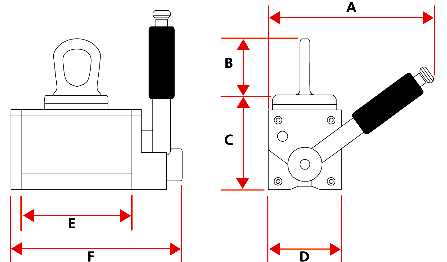 | | | | | | | | | | | | | | | |
| --- | --- | --- | --- | --- | --- | --- | --- | --- | --- | --- | --- | --- | --- | --- |
| Product Number | Self Weight (kg) | Material Length Max (mm) | Flat Section SWL (kg) | Flat Section Thickness Min (mm) | Round Section Dia. Max (mm) | Round Section SWL (kg) | A (mm) | B (mm) | C (mm) | D (mm) | E (mm) | F (mm) | G (mm) | H (mm) |
| UL0125+ | 4 | 1500 | 125 | 20 | 200 | 50 | 101 | 155 | 69 | 74 | 64 | 152 | 34 | 27 |
| UL0250+ | 11 | 1500 | 250 | 25 | 300 | 100 | 155 | 214 | 92 | 96 | 94 | 214 | 51 | 40 |
| UL0500+ | 27 | 2000 | 500 | 30 | 400 | 200 | 224 | 300 | 122 | 128 | 122 | 266 | 63 | 49 |
| UL1000+ | 63 | 3000 | 1000 | 45 | 450 | 400 | 260 | 359 | 176 | 174 | 140 | 382 | 71 | 55 |
| UL2000+ | 157 | 3000 | 2000 | 70 | 600 | 800 | 368 | 477 | 223 | 227 | 196 | 552 | 102 | 79 |