Yale Permanent Lifting Magnet TPM 1.0
The largest in the TPM range has a maximum working load limit of 1000kg and requires a minimum flat plate/pack thickness of 40mm in order to obtain this. It is not limited to use with sheet metals, but can also accommodate objects with curved surfaces, which makes it more efficient than other types of
lifting equipment
.
Brand::

YALE

Product Code:

Yale TPM 1.0 Permanent Lifting Magnet

Availability:

In Stock
If the one tonne payload is more than you need, check out our full permanent lifting magnet range for models from Yale, BUX and Tractel.
Yale TPM 1.0 Features
It can work with both flat and cylindrical materials up to 3500mm in length.
For cylindrical materials the WLL will be reduced to 500kg and the diameter should be between 200-300mm.
This model weight 60kg.
W
hy pick this Lifting Magnet?
The TPM 1.0 provides a tonne of load capacity, which is impressive for a unit that is so small. It also has no need for any kind of power system to keep its magnet in operation. Instead a simple lever on the side is used to orient the direction of its magnetic field. This keeps the cost to a minimum and means that it does not need to be recharged or maintained at great expense.
Another perk of the TPM 1.0, along with all of its siblings in the same range, is that the lever which activates the magnet will automatically lock in place, securing loads and eliminating the likelihood of accidental detachments occurring. There are some specific safety guidelines which apply to magnetic lifting devices like this. Being aware of the built-in failsafe mechanisms is sensible.
Alternative Lifting Magnets to Choose
A permanent magnet lifter might not provide enough power to satisfy your needs. You might also want to invest in a unit that can be operated remotely, rather than requiring workers to be in direct contact with it to turn it on or off. In that case a battery powered lifting magnet might be the better option.
With rechargeable batteries, models like the BUX BM5000 can last for up to eight hours on a single charge and provide five tonnes of WLL for you to harness. Of course these types of equipment will not be as affordable or straightforward to use and maintain as the Yale TPM 1.0. But in the right setting they will make more sense as an investment.
Call or Email for more info on the Yale Permanent Lifting Magnet TPM 1.0
Getting in touch with Lifting Gear Direct for advice on permanent magnet lifters or any other products and services we offer could not be simpler. You can email your query to us via our contact page, or give us a ring on 01384 76961. Our staff are friendly, experienced and equipped with all the details you might need to make a decision.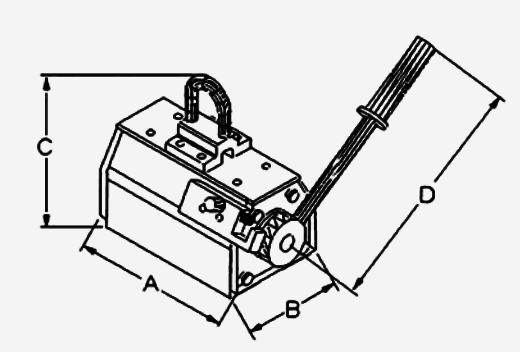 Model

Dimensions

 

 

A mm

B mm

C mm

D mm

TPM 0.1

122

69

185

160

TPM 0.3

192

95

225

250

TPM 0.5

232

120

270

250

TPM 0.8

302

154

320

450

TPM 1

332

154

320

450

TPM 2

392

196

420

450
Model

Flat material

 

Round material

 

Tear off force (KG)

Weight (KG)

 

 

Maximum capacity WLL (KG)

Minimum thickness to obtain max WLL (mm)

Maximum length of material (mm)

 

Maximum capacity WLL (KG)

Diameter (mm)

Maximum length of material (mm)

 

 

 

TPM 0.1

100

15

2000

50

200-300

2000

300

6

TPM 0.3

300

19

2500

150

200-300

2500

900

15.5

TPM 0.5

500

25

3000

250

200-300

3000

1500

29.5

TPM 0.8

800

35

3500

400

200-300

3500

2400

53

TPM 1

1000

40

3500

500

200-300

3500

3000

60

TPM 2

2000

55

3500

1000

200-400

3500

6000

126