Yale Permanent Lifting Magnet TPM 0.3
The TPM 0.3 is a permanent lifting magnet with a maximum working load limit of 300kg.
Brand::

YALE

Product Code:

Yale TPM 0.3 Permanent Lifting Magnet

Availability:

In Stock
It weighs just 15.5kg and so is easily portable. There are a number of different models in the TPM range, with the most compact of the bunch being the TPM 0.1 with its 100kg load limit. Meanwhile the largest example we offer is the TPM 1.0 which can cope with weights of up to 1000kg.
Basic Benefits of the Yale Permanent Lifting Magnet TPM 0.3
You will need to lift a minimum thickness of 19mm in order to achieve the maximum WLL.
For flat materials the maximum WLL. is 300kg, and work with loads up to 2500mm in length safely.
For cylindrical materials or 200-300mm in diameter the maximum WLL will be 150kg, and also work with lengths of 2500mm.
Simple to operate.
Usability of the Yale TPM 0.3
Like our other permanent lifting magnets, this model from Yale comes with a handle mounted on the side to allow the orientation of its magnetic field to be altered on the fly. When the magnet is applied to a steel sheet or cylinder, it will cling on for as long as is required. It does not need any outside power to keep its grip, which makes it safe and convenient for lighter lifting duties. For magnetic lifting with a bit more grunt, our battery powered models will be a better choice.
The design of the TPM 0.3 includes a metal eye bolted onto the top of the casing which is designed to accommodate a hook from a separate hoist. This means it will need to be combined with existing lifting gear to work correctly. Our magnetic grabs are the best option for hand held lifting of metal sheets.
Permanent Lifting Magnet Safety Features
Clearly any equipment that is operated via a handle has the opportunity to create risks if that mechanical element is moved, knocked or displaced accidentally. To counteract this likelihood and keep loads stable and safe, the TPM 0.3 and all of its stable mates come with a locking system. The lever will remain engaged and the magnet will stay attached to the objects it is attracting until the operator makes a deliberate choice to change this.
From warehouses and factories to facilities that deal with scrap metal, this light weight unit will be an efficient and safe investment to help speed up lifting operations of all types.
Stuck on Lifting Magnets? LGD can help
If you are having trouble choosing between our magnet lifters, all you need to do is ask for assistance. You can do this when you call 01384 76961, or you have the option of emailing your query to us. Our friendly, knowledgeable staff will get back to you as soon as possible.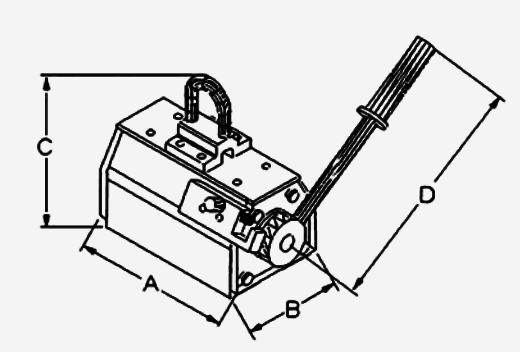 Model

Dimensions

 

 

A mm

B mm

C mm

D mm

TPM 0.1

122

69

185

160

TPM 0.3

192

95

225

250

TPM 0.5

232

120

270

250

TPM 0.8

302

154

320

450

TPM 1

332

154

320

450

TPM 2

392

196

420

450
Model

Flat material

 

Round material

 

Tear off force (KG)

Weight (KG)

 

 

Maximum capacity WLL (KG)

Minimum thickness to obtain max WLL (mm)

Maximum length of material (mm)

 

Maximum capacity WLL (KG)

Diameter (mm)

Maximum length of material (mm)

 

 

 

TPM 0.1

100

15

2000

50

200-300

2000

300

6

TPM 0.3

300

19

2500

150

200-300

2500

900

15.5

TPM 0.5

500

25

3000

250

200-300

3000

1500

29.5

TPM 0.8

800

35

3500

400

200-300

3500

2400

53

TPM 1

1000

40

3500

500

200-300

3500

3000

60

TPM 2

2000

55

3500

1000

200-400

3500

6000

126