Yale Permanent Lifting Magnet TPM 0.5
This mid-range TPM model has a maximum working load limit of 500kg, but this will be dependent on the type, size, shape and condition of the material. It can manage metal loads with flat surfaces, as well as those with rounded exteriors, which gives it the edge in terms of convenience and productivity over other lifting options.
Brand::

YALE

Product Code:

Yale TPM 0.5 Permanent Lifting Magnet

Availability:

In Stock
It is just one of the excellent Yale products we stock, with this brand being an industry leader in many market segments.
Yale Permanent Lifting Magnet TPM 0.5 Features
A minimum of 25mm material/pack thickness is required to achieve the maximum WLL.
Flat materials of up to 3000mm may be lifted with this magnet.
Cylindrical materials of up to 3000mm and with a diameter of between 200-300mm can be lifted, but the WLL will be reduced to 250kg.
Weighs 29.5kg.
Permanent Magnet Lifters – The Benefits
Like the many permanent lifting magnets we stock at LGD, the TPM 0.5 from Yale is built to avoid many of the limitations that come with choosing a battery powered alternative. Since there is no electricity involved in activating its magnetic properties, it will be simple and effective in a wide range of situations. From shifting metal sheets, beams and poles to lugging irregular scrap metal objects from A to B, its no-nonsense design and innate reliability are both big selling points.
Another factor worth celebrating is its minimal maintenance requirements. Magnets are fairly straightforward, in spite of their slightly mystical properties, so there is no real need to repair or replace this bit of kit over time. Conversely with a powered setup, the battery can begin to degrade and lose performance in the long term.
Yale TPM 0.5 Permanent Lifting Magnet Safety
The lever which activates and deactivates the magnet of this lifter is prominently displayed on the side of the unit, so it should be within easy reach. This also means it is fairly exposed and could be jogged or knocked during transit, which might lead to the load being released unexpectedly.
For obvious reasons this handle is designed to lock in place when under load, so it will not slip out and cause a catastrophe. All you need to think about is whether the load itself is within the safe weight range, as well as how its shape will impact the capacity limits of the TPM 0.5.
Get Lifting Magnet Help and Quotes Today
To find out all there is to know about the Yale TPM 0.5 or any other kit we stock, your best option is to call or email us. Lifting Gear Direct has an experienced, friendly team standing by to chat when you dial 01384 76961, or you can send us a message on our site. We can even be contacted via fax or letter, so the way you ask your question is up to you!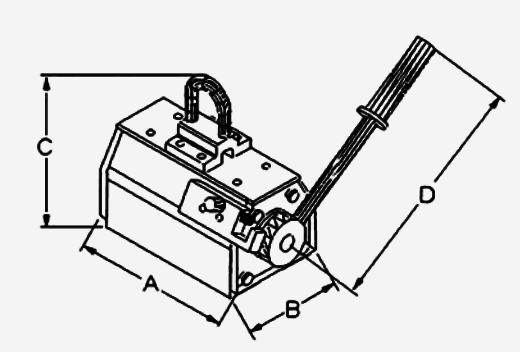 Model

Dimensions

 

 

A mm

B mm

C mm

D mm

TPM 0.1

122

69

185

160

TPM 0.3

192

95

225

250

TPM 0.5

232

120

270

250

TPM 0.8

302

154

320

450

TPM 1

332

154

320

450

TPM 2

392

196

420

450
Model

Flat material

 

Round material

 

Tear off force (KG)

Weight (KG)

 

 

Maximum capacity WLL (KG)

Minimum thickness to obtain max WLL (mm)

Maximum length of material (mm)

 

Maximum capacity WLL (KG)

Diameter (mm)

Maximum length of material (mm)

 

 

 

TPM 0.1

100

15

2000

50

200-300

2000

300

6

TPM 0.3

300

19

2500

150

200-300

2500

900

15.5

TPM 0.5

500

25

3000

250

200-300

3000

1500

29.5

TPM 0.8

800

35

3500

400

200-300

3500

2400

53

TPM 1

1000

40

3500

500

200-300

3500

3000

60

TPM 2

2000

55

3500

1000

200-400

3500

6000

126