Yale Permanent Lifting Magnet TPM 0.1
The smallest of the TPM range of lifting magnets, the TPM 0.1 has a weight lifting capacity of 100kg and weight just 6kg. Our magnet lifters ar perfect for lifting steel sheets.
Brand::

YALE

Product Code:

Yale TPM 0.1 Permanent Lifting Magnet

Availability:

In Stock
It's extremely compact nature makes it simple to carry around and use, while its handle operation requires no power and can keep loads in place for as long as you need. It rivals other permanent lifting magnets like the Eclipse Ultralift LM.
Quick Overview of the Yale Permanent Lifting Magnet TPM 0.1 Features
For flat materials the maximum length it can lift is 2000mm, and needs a minimum thickness of 15mm to obtain the maximum WLL.
For cylindrical materials the maximum lifting capacity is reduced to 50kg, and is suitable for diameters of 200-300mm and lengths of up to 200mm.
Quick and easy to use and transport, ideal in workshops and warehouses.
Perks of Permanent Lifting Magnets
The decision to use a magnet lifter like the Yale TMP 0.1 will be influenced by a number of factors. If you need to move metal sheets or cylinders of relatively small sizes in an efficient, cost-effective way, then it is ideal for the job.
It is also much more affordable than an equivalent battery powered lifting magnet. While it cannot match its powered cousins in terms of safe working load, it can step in for jobs where a higher capacity is not necessary.
Magnet Lifter Considerations
As already discussed, this small scale piece of equipment should only be used with sheet metal and curved cylinders that sit within the weight limits set by the manufacturer. When working with magnetic lifters like the Yale TPM 0.1, you also need to consider other factors which could impact safety, such as the temperature of the materials you are shifting.
This model is not equipped to cope with newly produced metals which have yet to cool completely, but thankfully there are alternatives like the Tractel Magfor II HT which are safe to use with loads of up to 250 degrees Celsius.
Extra Lifting Magnet Issues
Another thing to think about when picking this type of lifting gear is that the magnetic field produced by the TPM 0.1 and its counterparts will actually impact the metal with which it makes contact. The good news is that because this is a small, unpowered model, it will not turn steel plates, beams and poles into magnetised objects themselves. A residual magnetic influence will remain, but it will not be enough to cause problems further along the production line.
Looking for Lifting Magnet Advice?
Speak to Lifting Gear Direct by calling 01384 76961 or visiting our contact page for other ways to get in touch. We can point you in the direction when it comes to picking permanent lifting magnets like the TPM 0.1 and its siblings, give you a quote for our products or talk through our other services, which include lifting equipment inspections.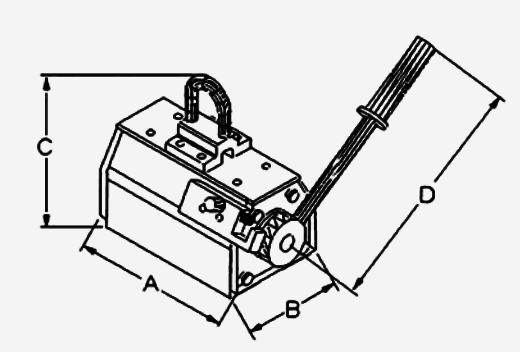 Model

Dimensions

 

 

A mm

B mm

C mm

D mm

TPM 0.1

122

69

185

160

TPM 0.3

192

95

225

250

TPM 0.5

232

120

270

250

TPM 0.8

302

154

320

450

TPM 1

332

154

320

450

TPM 2

392

196

420

450
Model

Flat material

 

Round material

 

Tear off force (KG)

Weight (KG)

 

 

Maximum capacity WLL (KG)

Minimum thickness to obtain max WLL (mm)

Maximum length of material (mm)

 

Maximum capacity WLL (KG)

Diameter (mm)

Maximum length of material (mm)

 

 

 

TPM 0.1

100

15

2000

50

200-300

2000

300

6

TPM 0.3

300

19

2500

150

200-300

2500

900

15.5

TPM 0.5

500

25

3000

250

200-300

3000

1500

29.5

TPM 0.8

800

35

3500

400

200-300

3500

2400

53

TPM 1

1000

40

3500

500

200-300

3500

3000

60

TPM 2

2000

55

3500

1000

200-400

3500

6000

126