Yale THM Magnetic Claws
The THM magnetic claw is ideal for operations that require
manually
moving steel sheets, and other magnetisable steel.
Brand::

YALE

Product Code:

Yale THM

Availability:

In Stock
Call 01384 76961 for price.
Built to be reliable and resilient, they are just one of the magnetic grab products we stock at Lifting Gear Direct.
Usability of Yale THM Magnetic Claws
The magnetic claws are simple to use and provide a good hand hold on the steel for the user to grip safely and securely.
These claws can be used on plate thicknesses from 1 to 5 mm. Pulling capacities of 70kg and 100kg are available on the two models in this range. Meanwhile lifting capacities are set at 120kg and 170kg respectively. Be sure to study the specifications of any gear you are considering, as there can be variations that will make a big impact on your buying decision.
To operate, simply place on the steel (surface must be oil and grease free) press down the handle to activate the cam to release the magnetic claw from the housing. This ease of use makes them simple for almost anyone to pick up and start harnessing, so long as the correct procedures are followed.
Durability Benefits
The magnetic claws are maintenance free. This means that they can be deployed in commercial environments over long periods without needing to be stripped down, repaired or adjusted in any way. This is all down to the simplicity of the design, which works in favour of their reliability as well.
Of course you may have a need for lifting equipment that can cope with higher capacity steel loads, which is where our battery powered lifting magnets come into play. Models like the BUX BM5000 deliver working load limits of up to five tonnes.
Contact LGD and get Advice on Magnetic Claws
Working out whether magnetic claws like the Yale THM are right for you can be difficult. But with the help of our experts, you should have no trouble finding the perfect product. You can call us about any of the items we stock, for information or a quote, on 01384 76961. Click through to our contact page for other ways to get in touch.
| | | | | | |
| --- | --- | --- | --- | --- | --- |
| Model | A (mm) | B (mm) | C (mm) | D (mm) | E (mm) |
| THM 120 | 84 | 140 | 130 | 25 | 172 |
| THM 170 | 116 | 140 | 130 | 25 | 172 |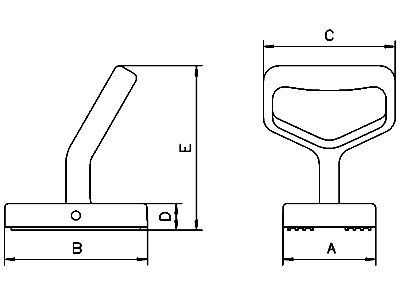 Model

Lifing capacity (KG)

Pulling capacity (KG)

Width (mm)

Length (mm)

Height (mm)

Weight (mm)

 

THM 120

120

70

84

140

172

1.2

THM170

170

100

116

140

172

1.7