Yale Permanent Lifting Magnet TPM 0.8
The TPM 0.8 possesses a maximum working load limit of 800kg, and weigh 53kg. It is a
permanent magnet lifter
from Yale and sits above smaller models like the
TPM 0.1
.
Brand::

YALE

Product Code:

Yale TPM 0.8 Permanent Lifting Magnet

Availability:

In Stock
In spite of its larger size, this model is still fairly compact in its design, as well as being easy to use, safe and reliable.
Overview of the Yale Permanent Lifting Magnet TPM 0.8
In order to achieve the maximum WLL the minimum plate/pack thickness should be 35mm for flat materials.
Material lengths of up to 3500mm flat or cylindrical may be lifted with this magnet.
Cylindrical materials should be between 200-300mm in diameter, and the reduced maximum WLL will be 400kg.
One of the larger models yet still easy to use and transport.
Permanent Lifting Magnets vs Battery Powered Models
As with all permanent lifting magnets, the Yale TPM 0.8 is activated via a large, accessible lever, which is really the only interactive element that it offers. There are not complex panels, button-filled pendant remotes or even wireless controls. Operators just need to flip the switch to activate or deactivate the magnet.
This alone sets it apart from battery powered lifting magnets, which are larger, more technically complex and offer higher load capacities. The option to control them remotely does give them the edge in terms of safety, but the TPM 0.8 has a few tricks up its sleeve in this respect. This includes a locking mechanism on the lever which prevents unexpected deactivation of the magnet when under load.
Other Lifting Equipment Options Explained
Clearly a permanent lifting magnet like the Yale TPM 0.8 has a fairly specialised set of uses. While it can be attached to a standard hoist via the sturdy eye that sits on its top surface, it is not exactly an all-rounder.
To that end it might be worth investing in this model alongside additional equipment, such as a gantry system so that it can be moved quickly to different positions on a given site. If you just need loose tackle to affix it to an existing lifting assembly, you can also find that on our site.
This magnetic lifter may not need much maintenance, which is a perk of its design. However, it should still be used in compliance with regulations and will require inspection, which we can provide affordably on an ongoing basis.
Need our Advice on Lifting Gear?
We want to make sure you have all the product info and guidance you need to make an informed decision, whether you are buying lifting magnets or any other handling equipment on our site. To get help with an order, call 01384 76961 or use our contact form and we will email you a response.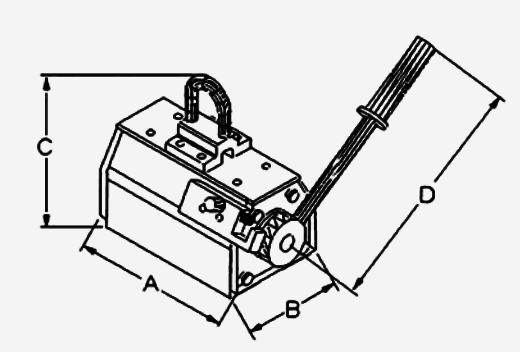 Model

Dimensions

 

 

A mm

B mm

C mm

D mm

TPM 0.1

122

69

185

160

TPM 0.3

192

95

225

250

TPM 0.5

232

120

270

250

TPM 0.8

302

154

320

450

TPM 1

332

154

320

450

TPM 2

392

196

420

450
Model

Flat material

 

Round material

 

Tear off force (KG)

Weight (KG)

 

 

Maximum capacity WLL (KG)

Minimum thickness to obtain max WLL (mm)

Maximum length of material (mm)

 

Maximum capacity WLL (KG)

Diameter (mm)

Maximum length of material (mm)

 

 

 

TPM 0.1

100

15

2000

50

200-300

2000

300

6

TPM 0.3

300

19

2500

150

200-300

2500

900

15.5

TPM 0.5

500

25

3000

250

200-300

3000

1500

29.5

TPM 0.8

800

35

3500

400

200-300

3500

2400

53

TPM 1

1000

40

3500

500

200-300

3500

3000

60

TPM 2

2000

55

3500

1000

200-400

3500

6000

126